ATP World Tour Finals 2015: 'Incredible' Novak Djokovic reaches new heights by crushing Kei Nishikori
Novak Djokovic beats Kei Nishikori 6-1, 6-1
Paul Newman
O2 Arena
Monday 16 November 2015 08:04 Comments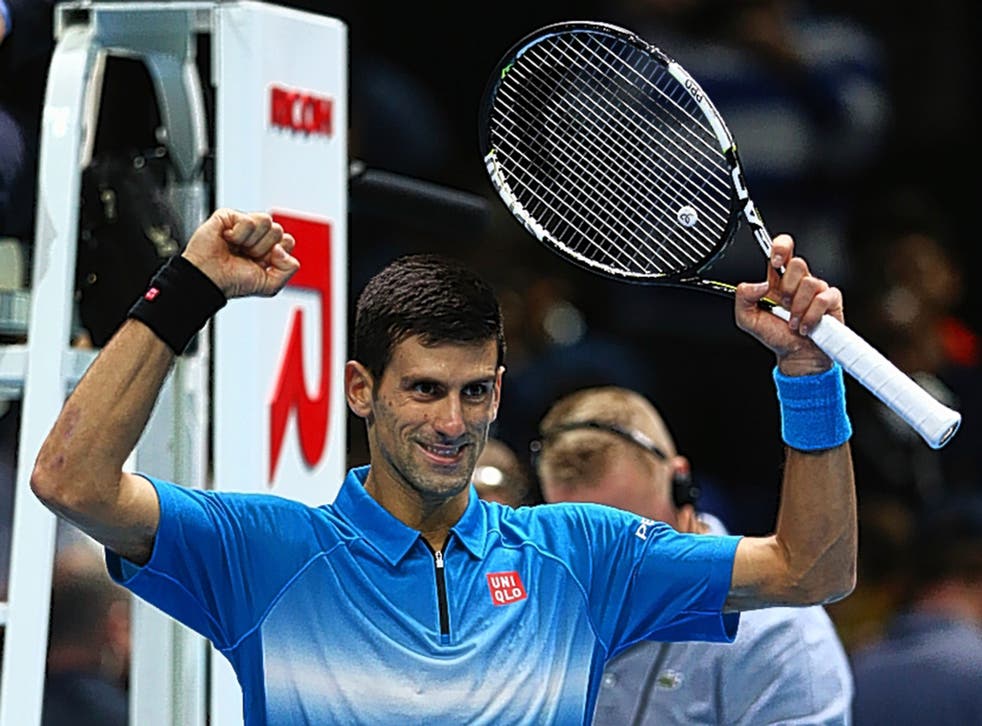 As the greatest year of his career comes to a close, Novak Djokovic might be saving his best for last. The world No 1 began his campaign to win the season-ending Barclays ATP World Tour Finals at the O2 Arena for the fourth year in a row with a crushing 6-1, 6-1 victory yesterday over Kei Nishikori. "I think I was at my best," Djokovic said afterwards. "It's been an incredible performance."
Nishikori has struggled with his fitness of late, having had to retire midway through his second match at the Paris Masters earlier this month, but the 25-year-old Japanese has still been one of the year's outstanding players, winning three titles and cementing his position as the best of the next generation.
The world No 7 had also won two of his previous meetings with Djokovic, including a memorable victory in last year's US Open semi-finals. Nishikori was the only player to take a set off the Serb here 12 months ago.
Djokovic, who completed his 65-minute victory with a typically aggressive charge to the net and smart volley, dropped just nine points on his serve throughout the match. Nishikori, meanwhile, was under constant pressure on his serve and faced nine break points, only five of which he defended successfully.
Nishikori said Djokovic had played "unbelievable tennis" and had forced him on to the defensive by attacking his second serve at every opportunity. "I didn't feel I had any chance today," Nishikori said. "I'm very ashamed with this score."
Djokovic said: "I've had for an opponent one of the quickest tennis players, somebody that possesses a lot of talent and loves to play aggressively, but I didn't allow him to dictate the play. I mixed up the pace.
"I was feeling very comfortable on the court, feeling like I could get most of the balls back. I served efficiently. I mixed up the second serves as well. I didn't really give him the same look twice. I always tried to change. The tactics worked very well."
Djokovic will nevertheless face a major challenge in his second round-robin match tomorrow when he plays Roger Federer, the only man who has beaten him twice this year. The world No 3 began his own campaign to win this title for the seventh time by beating Tomas Berdych 6-4, 6-2.
Federer started slowly, dropping his serve to love to go 2-0 down, but order was quickly restored as the Swiss raced to his 49th victory in his 14th consecutive appearance in these year-end finals.
Before his match Djokovic had been presented with his trophy as the year-end world No 1. He ensured several weeks ago that he would finish on top of the rankings for the fourth time in the last five years. His current run at the top dates back to his second Wimbledon triumph 16 months ago.
Since the first week of the season Djokovic has reached 14 finals in a row, winning 10 of them. Asked how he guarded against complacency, the Serb said: "I accept every single day of my life as a new day, where I have an opportunity to do something good for myself and others in this sport. It motivates me. I have so much motivation and a lot of sources of inspiration to keep working and practising.
"I love the sport. I love going on the practice court. It doesn't bother me. It doesn't put weight on my shoulders. Of course, I have days where I don't feel that inspired to hit for two hours, but I look at the big picture."
Before Djokovic's match a minute's silence was observed in memory of those who died in the terrorist attacks in Paris on Friday. Some of the players also wore black ribbons on their shirts. Security measures at the stadium were reviewed in the light of events in Paris.
Next week's Davis Cup final between Belgium and Britain will be staged in Ghent. Given the Belgian link with the Paris attacks, David Haggerty, the International Tennis Federation's president, was asked about arrangements for the final.
Acknowledging the need for heightened security, Haggerty said: "We follow a rigorous process that includes regular consultation with our experts to ensure that we take every precaution to safeguard our events, fans and players."

Register for free to continue reading
Registration is a free and easy way to support our truly independent journalism
By registering, you will also enjoy limited access to Premium articles, exclusive newsletters, commenting, and virtual events with our leading journalists
Already have an account? sign in
Join our new commenting forum
Join thought-provoking conversations, follow other Independent readers and see their replies