Australian Open 2014: Rafael Nadal's pain brings an end to Stanislas Wawrinka's long wait for a major crown
It was the Swiss No 1's first ever victory over Nadal
Paul Newman
Sunday 26 January 2014 12:29 Comments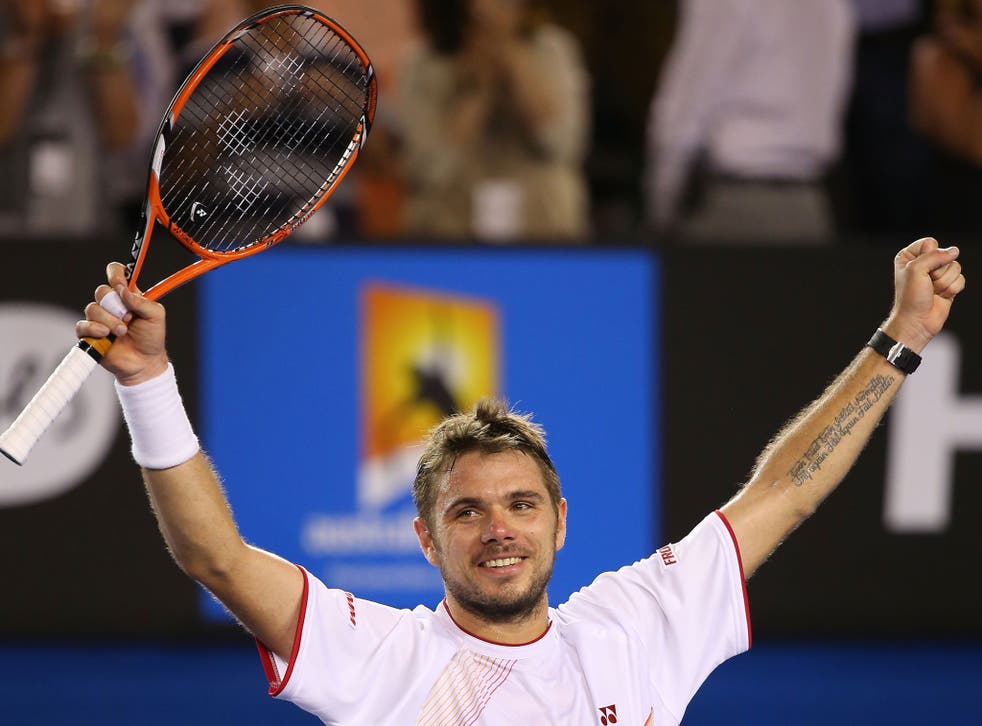 The quote from Samuel Beckett that Stanislas Wawrinka has tattooed on his left arm has never been more appropriate. It says: "Ever tried. Ever failed. No matter. Try again. Fail again. Fail better."
At the age of 28, after many years as a journeymen professional, Wawrinka is a Grand Slam champion, even if his victory last night in the final of the Australian Open might never have happened but for a back injury suffered by his opponent.
In beating Rafael Nadal 6-3, 6-2, 3-6, 6-3, Wawrinka became only the second man outside the game's Big Four to win a Grand Slam title since the 2005 Australian Open. Until last night, Nadal, Roger Federer, Novak Djokovic and Andy Murray had between them won 34 of the last 35 Grand Slam tournaments, with Juan Martin del Potro's 2009 US Open triumph the only exception.
"I never expected to win a Grand Slam," Wawrinka said. "I never dreamed about that because, for me, I was not good enough to beat those guys. It shows me that I've been doing the right thing for many years. If you practise well, if you work hard, you will always have a chance to be in a great position to play your best tennis."
As for the tattoo, Wawrinka said that Beckett's words had been "in my head for a long time". He explained: "It was part of my life, how I see life, and especially how I see tennis life. Before today, I always said that unless you are Roger, Rafa or Novak, you lose every week.
"When you lose it's tough to take a positive from a defeat, from failing at a tournament. In general that's how I see my career. I always go back to the court. I always go back to practise, to try to improve myself and to give myself the best chances to beat the best players in the world."
Australian Open 2014: Young stars on the rise down under

Show all 6
Wawrinka, who said that there was "a big chance I will get drunk tonight", won his first Grand Slam title at the 36th attempt. In the Open era only Goran Ivanisevic, the Wimbledon champion in 2001, has played more tournaments (48) before breaking his Grand Slam duck.
There were other significant milestones too. Wawrinka is the first player to beat both Nadal and Djokovic in the same Grand Slam tournament and the first to beat the top two seeds to win a Grand Slam title since Sergi Bruguera got the better of Pete Sampras and Jim Courier to claim the 1993 French Open.
Wawrinka will climb today to a career-high position at No 3 in the world rankings and will overtake Federer for the first time to become the Swiss No 1. Federer was one of the first to phone Wawrinka to congratulate him. "Roger is a good friend," Wawrinka said. "He always wants the best for me."
In the long term it hardly matters, but we will never know what the outcome would have been had Nadal not suffered a back injury in the warm-up before his 19th – and surely most bizarre – Grand Slam final. The Spaniard could barely run or serve by the time he had lost the first two sets, but his condition improved a little after treatment.
At the same time as Nadal started to move a little more freely, his opponent lost the plot. Wawrinka, who had not won a set in his 12 previous meetings with Nadal, played abysmally in losing the third set before finally getting his head back together in the fourth.
The Swiss had looked in superb form in the early stages, hitting the ball with great power from both flanks. He broke to lead 3-1, only to go 0-40 down when he served for the opening set. Nadal, however, giving the first indication that he was experiencing physical problems, hit a succession of poor returns and Wawrinka won five points in a row to take the set.
By the time Wawrinka had made it 12 winning points in succession in the second game of the second set, it was clear that Nadal was in trouble. At 2-1 down he went off court for treatment, returning, bizarrely, to boos from the crowd, who perhaps thought they were being denied value for money. Nadal appeared on the verge of tears as his serve slowed down almost to a standstill and he barely moved around the court.
In the third set, nevertheless, the world No 1 started to feel the benefits of his treatment. Although he was still serving tentatively and moving with much less freedom than usual, he was striking the ball more effectively.
Wawrinka, apparently unnerved by the situation, quickly lost his focus and began spraying the ball to all corners of the court when he should have been playing percentage tennis and pulling his opponent from side to side. Attempting outlandish winners, Wawrinka shanked several shots and kept missing the target. "I started to be really nervous because I started to realise that I could win a Grand Slam," he admitted afterwards.
Nadal, remarkably, won the third set, and even broke back in the fourth after dropping his serve at 2-3. Nevertheless, Wawrinka finally got his head together and eventually closed out victory after two hours and 21 minutes.
"It's tough when you are working for a moment like this for the whole year and a moment arrives when you are not able to play at your best," Nadal said afterwards.
"I tried hard until the end to finish the match as well as I could for the crowd, for the opponent, for myself, but it was impossible to win this way. My opponent was too good."
Nadal has missed two Australian Opens through injury and seen his chances dashed by injury at three more.
"It's true that I have not been very lucky and this is a tournament that is painful for me," he said. "It's a tournament that I love so much, where the warm conditions are good for me and there is a good crowd. It's a tournament where I have had some troubles physically, which is painful for me, but that's part of life. That's part of sport. It's not the end of the world."
Register for free to continue reading
Registration is a free and easy way to support our truly independent journalism
By registering, you will also enjoy limited access to Premium articles, exclusive newsletters, commenting, and virtual events with our leading journalists
Already have an account? sign in
Join our new commenting forum
Join thought-provoking conversations, follow other Independent readers and see their replies