Caroline Wozniacki delighted to break Grand Slam duck and consign her least favourite question to history
The Dane finally got on the board at the third time of asking with a 7-6, 3-6, 6-4 victory over Simona Halep to win the Australian Open title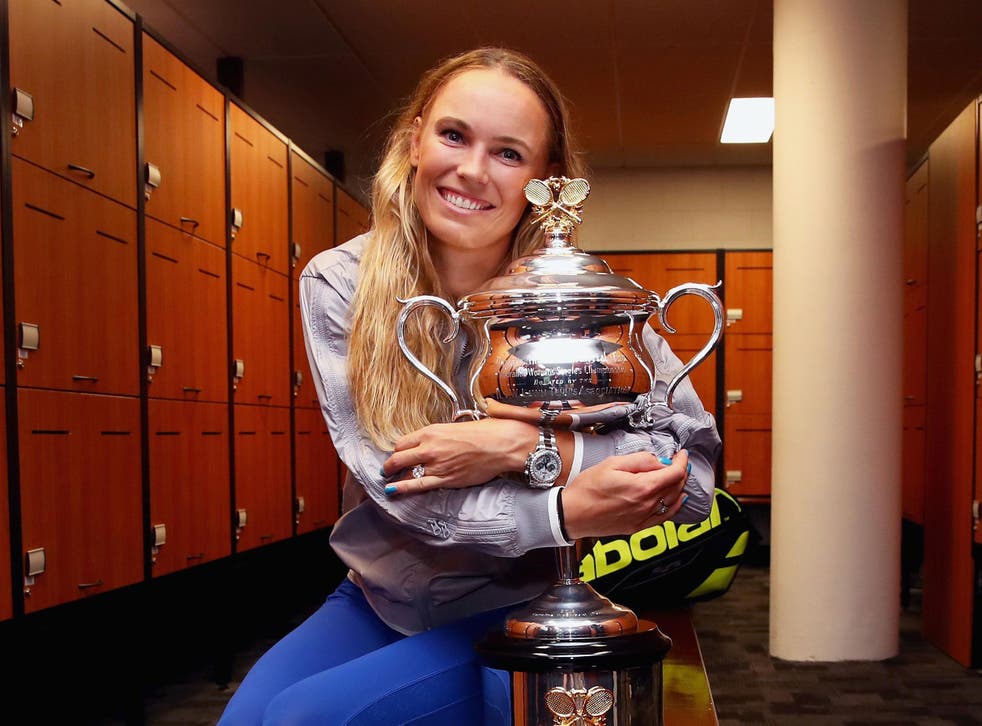 Caroline Wozniacki had just won her first Grand Slam title, returned to the top of the world rankings for the first time in six years and added $Aus4m (about £2.3m) to her bank balance.
However, the Dane insisted that one of the most positive things about her 7-6, 3-6, 6-4 victory over Simona Halep in the final of the Australian Open here on Saturday was the fact that she would not have to answer the same question time after time. During her previous reign as world No 1 Wozniacki was repeatedly asked: "When are you going to win a Grand Slam?"
Having finally broken her Grand Slam duck, Wozniacki smiled. "Honestly, I think that's one of the most positive things about all of this," she said.
Australian Open Women's final - best pictures

Show all 10
"I'm never going to get that question again. I'm just waiting for the question: 'When are you going to win the second one?' Right now I'm just happy I have this one, and I'm going to really enjoy this moment."
Wozniacki said that returning to the top of the world rankings would be "very special". She added with a smile: "Being a new Grand Slam champion and world No 1 sounds pretty good. I'm very excited for that. It's a dream come true."
Asked if she had ever thought that she might never win a Grand Slam title, Wozniacki said: "At certain points, especially when you start having injuries and stuff, you start maybe doubting if you're ever going to be 100 per cent healthy for longer periods of time.
"But I think for the last year and a half, I've proved that I can beat anyone out there on court. I'm not going to lie, I was really nervous before going out there on court, but once I settled in and we had the warm-up, I was just like: 'I have everything to win.'
"At the end of the day, whatever happens happens. I'm going to go out fighting. If it's not enough today, then it is what it is, but I'm going to be proud of my effort."
The Daphne Akhurst Memorial Cup sat on the table beside Wozniacki at her post-match press conference. "Daphne here is going home with me tonight and I'll be cuddling with her," Wozniacki said.
"She's beautiful, isn't she? I think what she stands for is obviously what makes it most special. Being here with the Australian Open trophy is something that is incredibly special to me. I'm just going to really try to soak this moment in, try to enjoy it as long as possible. I'm going to bring her to the airport. It's going to be great.
"It's very special. Very few people can say they've been through all of this. It's all about just enjoying the moment. It doesn't come around very often."
Wozniacki said the final had been "a tough grind" and added: "It was very hot out there. I think both of us were very tired in the end."
Asked how she had battled through the tiredness, Wozniacki said: "I was thinking: 'If I am tired right now, I know one of my strengths is my speed, obviously my fitness. I know she's tired too.'
"Every time I was like: 'Oh, I can't do this any more, I'm exhausted.' We were playing all these crazy long rallies. I was thinking: 'OK, I'm looking over there, she looks a little tired, she must be feeling the exact same way or maybe more tired than me'."
Wozniacki said she had not felt nervous in the final set. "I was probably thinking: 'I had opportunities to go up 3-0 and 4-1 and I didn't take them.' She was playing really well. I was thinking: 'You know, it looks like it may not be my day.'
"But I was never really nervous at that point. I was just going to go out there and give it my all and swing for it. I was playing aggressively. I think I played well. It could have gone either way today."
Looking back to her second-round victory over Jana Fett, when she saved two match points and came back from 5-1 down in the third set, Wozniacki said: "From being almost out of the tournament to sitting here with the Australian Open trophy, it's amazing. It's been quite a turnaround, something I'm very proud of. At the same time, I think it really was a great momentum shift for me going further into the tournament after that."
During the presentation ceremony Wozniacki twice apologised to Halep because she understood the pain she must be feeling.
"I knew going into the match that one of us was going to be extremely excited and very happy, and the other one was going to be very disappointed, very sad," she said.
"I obviously feel very sad for her, but at the same time I'm very happy for myself. I can only imagine. I didn't want to think too much about how it would feel to win before the match because that's like in case I don't, it's going to hurt even more.
"I was trying to think of both scenarios and just really go in calm and just try and focus on this as a normal match as anyone else. I'm sure it must be hard for her right now."
Serena Williams, last year's champion, said on Twitter that she had been too nervous to watch the final but woke up to the news that Wozniacki had won. "So awesome," Williams wrote. "So happy. Are those tears? Yup they are. I'm so proud my friend, so proud. Literally can't even sleep now."
Wozniacki said that Williams' words meant a lot to her. "She's a great friend of mine," she said. "It means a lot she was supporting and following. She's just the best. It's awesome."
Register for free to continue reading
Registration is a free and easy way to support our truly independent journalism
By registering, you will also enjoy limited access to Premium articles, exclusive newsletters, commenting, and virtual events with our leading journalists
Already have an account? sign in
Register for free to continue reading
Registration is a free and easy way to support our truly independent journalism
By registering, you will also enjoy limited access to Premium articles, exclusive newsletters, commenting, and virtual events with our leading journalists
Already have an account? sign in
Join our new commenting forum
Join thought-provoking conversations, follow other Independent readers and see their replies