Australian Open 2018: Johanna Konta blames 'match fitness' for shock second-round exit to world No 123
The British No 1 went down in straight sets 6-4, 7-5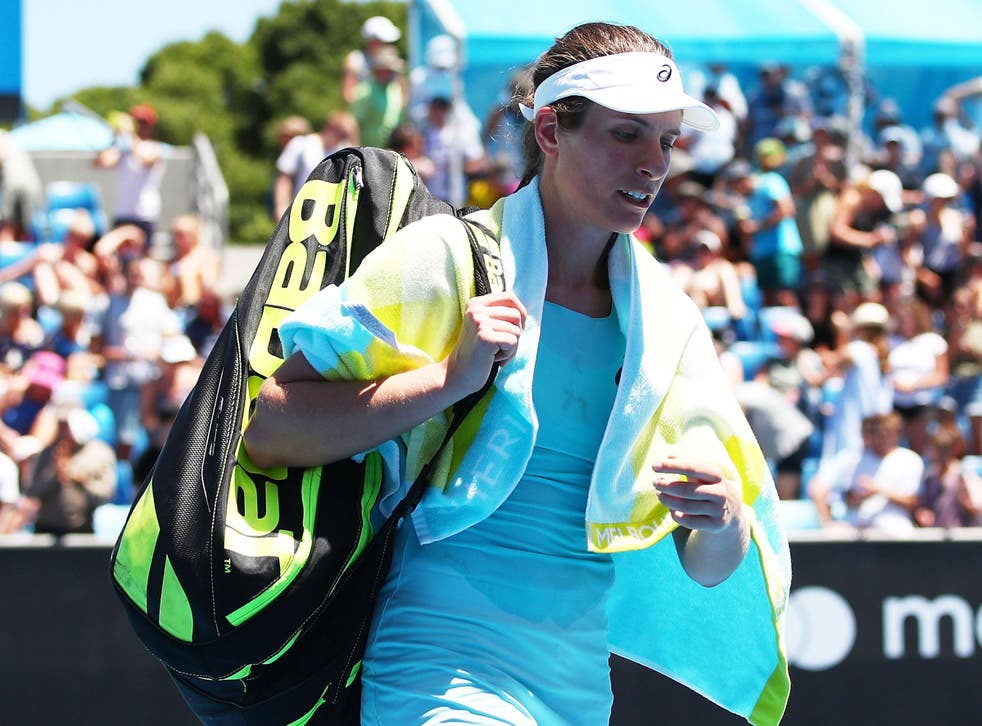 To the names of Su-Wei Hsieh and Aleksandra Krunic we can add that of Bernarda Pera. The 23-year-old Croatian-born American knocked Britain's Johanna Konta out of the Australian Open here on Thursday, her 6-4, 7-5 second-round victory completing an unlikely hat-trick of surprise defeats for the world 10.
Despite her glorious run to the semi-finals at Wimbledon last summer, Konta has now lost to unsung opponents in three of her last four Grand Slam tournaments. Following her first-round defeats to Hsieh (world No 109) and Krunic (world No 78) at last year's French and US Opens respectively, Konta was beaten here by an opponent who had never played a singles match at a Grand Slam tournament before this week.
Pera, the world No 123, was not even in the draw after losing in the final round of qualifying but was given her chance as a "lucky loser" following an injury withdrawal. Striking the ball with impressive power and keeping her nerve at the biggest moments, the left-hander took full advantage of what Konta admitted was a below-par display.
Australian Open - in pictures

Show all 64
The 26-year-old Briton, who had reached the semi-finals and quarter-finals in her last two appearances here, served poorly by her own high standards, failed to strike the ball with her customary aggression and often seemed surprised by the weight and speed of Pera's ground strokes.
Konta, who may drop a place or two in the world rankings after the tournament, paid a price for her lack of competition over recent months. Since August she has won two matches in a row only once, in Brisbane a fortnight ago, when she had to retire from her quarter-final because of a hip injury. She lost her last five matches of 2017 and because of a foot problem had not played for three months when she began her 2018 campaign.
"I think when you have that kind of match fitness, you are able to come through those difficulties that you find in every match, every day that you play," Konta said afterwards.
"I just didn't play great. I think it's a part of tennis. It's a part of everyone's career. There are always going to be days like this."
Konta said there was "no substitute" for the confidence to be derived from winning matches. "You obviously look to keep improving your game and your physicality through training, but being match-fit and having that feel in points and in the way matches flow, and belief in what you do in certain points, that comes with the volume of matches and coming through tough matches."
The Briton's serve is usually one of her biggest strengths but on this occasion it lacked pace and penetration. Pera had 17 break points while Konta had only two.
"My serve definitely let me down a little bit," Konta admitted. "When I'm not serving the way I want to, I don't think I'm putting as much pressure on [my opponent] in their service games."
Pera, in contrast, played with all the freedom you might expect of a player who had nothing to lose. "I didn't put much pressure on myself, so I think that helped," she said afterwards. "I was able to stay calm."
On the hottest day of the tournament so far the temperature was already 33C by the time the players walked on to Court 2 for the 11am start.
Konta, who insisted afterwards that the hot and windy conditions had not been a factor, saved one break point in the opening game, in which she served two double faults, and lost the first set after being broken at 4-4.
She made a better start to the second set, breaking serve at the first attempt thanks to two successive double faults by Pera, but was immediately pegged back. Having gone 0-40 down when she served at 2-0, Konta saved two break points but was punished for a poor drop shot on the third.
At 2-2 Konta saved another break point, but at 3-3 she dropped serve again. Having saved the first four break points of the game with unreturned serves she missed a backhand on the fifth. At 3-5, nevertheless, Konta held serve after saving three match points and then broke when Pera served for the match.
Pera admitted afterwards: "At 5-3 I was like: 'Oh my God, I might actually win this match'. Then I started to get a little more nervous."
It seemed that Pera might be tightening up, but at 5-5 she broke serve for the fourth and last time. Konta made a horrible mess of a smash to go 0-40 down and three points later missed the ball completely when she slipped and fell on her backside in attempting to get to Pera's return of serve.
When Pera served for the match for a second time the American missed a backhand on her fourth match point, but was handed victory on the fifth as Konta once again missed what should have been a routine overhead. It had been that kind of day.
"She played very inspired throughout and I think I didn't do enough at the beginning when I had little windows to put my stamp on the match," Konta said. "I felt I didn't quite get enough into the match to be able to get going a little bit."
She added: "I didn't do enough with my service games or with my returns. I don't think I adapted well enough.
"It's a bit frustrating, but I think I'm still taking good stuff from this. I don't feel, by any means, that it's a massive catastrophe. It's not that I had a bad day. There are things that I did well today."
Konta said she had not under-estimated Pera, who she knew from their days playing at the same Challenger tournaments. "I was prepared for her to be playing loose and playing freely," Konta said.
"She hits very clean and quite big off both sides. I think she uses her leftiness quite well. Credit to her. She also stayed calm and was very methodical in getting her end of the job done."
Konta agreed that some of the results here this week – including her own – confirmed her view that the women's game has great strength in depth at the moment.
"Players rarely play the reputation any more," she said. "It's anyone's game on any day. The rankings reflect a player's consistency and how well they are able to come in week in, week out, and play at that level, but they don't guarantee that level every single day. There are a lot of things at play. Players come out to play inspired, as they should."
Although Konta said she had felt comfortable here she is looking forward to getting more matches under her belt. She will play next in the Fed Cup in Estonia and then in the Qatar Open in Doha.
"I'm actually looking forward to just continuing to play," she said. "I didn't play very much in the last six months of last year, so I think I'm where I'm meant to be right now in my level. I feel it is getting better with each match that I'm playing. I'm figuring things out and enjoying doing it."
Join our new commenting forum
Join thought-provoking conversations, follow other Independent readers and see their replies