Australian Open 2018: Kyle Edmund 'believes' he can win in Melbourne ahead of Grigor Dimitrov quarter-final
Edmund will overtake Andy Murray as British No 1 if he reaches the final next weekend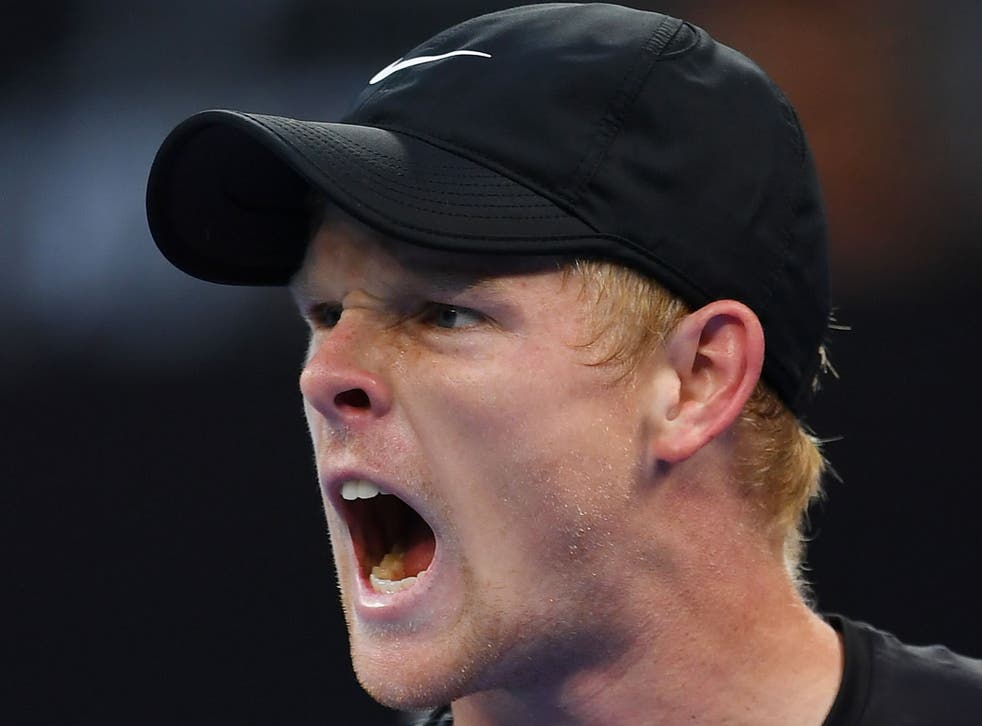 Kyle Edmund was not making any predictions about what might happen here at the Australian Open but after reaching his first Grand Slam quarter-final the 23-year-old Briton said he believed he had it in him to win one of the sport's four great prizes.
"You have to believe it," Edmund said after his 6-7, 7-5, 6-2, 6-3 victory here on Sunday over Andreas Seppi had secured a quarter-final meeting on Tuesday with Grigor Dimitrov.
"That's why I'm in the quarter-finals, because every time I step on the court and I'm playing, I believe I'm going to win. So it's no different now. I have to believe I'm going to win on Tuesday. I believe in my game. That's the way I have approached it, one match at a time, and I continue to do that."
Australian Open - in pictures

Show all 64
He added: "It's not easy to win four matches at a Grand Slam. I'm definitely pleased. It shows I'm improving. My hard work is paying off – just working at everything, my game, on and off the court. It's good when you get results and it comes together.
"It's always good to see when results come, because that's when it really shows it's paying off. You can see you're improving, but nothing really beats winning and results. If you improve but you carry on losing, it doesn't help anything. It's good to really get a good result here. I'm playing well, feeling good, and want to keep pushing on as well as I can."
Dimitrov and Edmund have met twice before. The world No 3, who recorded the biggest victory of his career when he won the title at the year-end ATP Finals in London in November, beat Edmund in three sets in Washington last summer and was again taken the distance when he beat the world No 49 in Brisbane earlier this month.
"Brisbane was obviously a very good match," Edmund said. "I played well. He played well. I enjoyed being out there in Brisbane. Of course we can take things from that. There were a lot of things I did well and maybe a few things I could do better."
Dimitrov did not want to be drawn into any detailed analysis of their forthcoming meeting. "It's just another match that I need to go through," he said after his fourth-round victory over Nick Kyrgios.
"I'm just really focused right now on my side of the court. At the beginning of the tournament I wasn't hitting the ball too well. But today I'm happy that I went up a gear and played better and better. Hopefully I can do even better in the next match."
Dimitrov will be the clear favourite. The 26-year-old Bulgarian had a superb year in 2017 and although it has taken him time to find his form again this month he showed admirable composure to beat Kyrgios.
Edmund, nevertheless, has made good progress this month. Having lost a number of close matches last year, he has won two five-set contests here and proved that he has the mental strength when the going gets tough.
"I've known for a while that my game is a good game, it's dangerous and I can beat a lot of players," he said. "I feel I have a good ability to control matches and the outcome of matches.
"I have known that, but it's always good to get those results. You want black-and-white evidence to say 'I'm playing well and beating these guys' - not just playing well and losing or playing well for a set or two. It's good that you're able to back it up. The belief obviously grows as you get better results and go further in tournaments."
Edmund insisted, nevertheless, that he had not had to change much in order to turn his results around. "I'm the same player, I'm the same person," he said. "I'm just maybe doing things better at certain stages, making better decisions or whatever.
"It's not like I have changed my game or anything from last year. I'm just making better decisions in the moments I need to or playing smarter tennis. It's a very small margin between winning and losing. It's always been like that."
He added: "You have to believe in what you're doing and who you're working with and what you're doing on the court. You've just got to do your own thing and trust it."
Edmund was pleased with the way he had turned around the match against Seppi after losing the first set. "Although it was quite a close first set I didn't feel like I got off to the best start," he said.
"He was hitting the ball very clean and dictating a lot of points, so in the second set I really had to try and shift the momentum. But once I broke him in that last game of the second set I really took control of the momentum of the match."
Edmund's success has not gone unnoticed elsewhere in the game. Rafael Nadal said he was not surprised to see the Briton in the quarter-finals here.
"It was a little bit more surprising for me last year that he lost a lot of close matches," the world No 1 said. "I really believe in his potential. He has a huge serve, huge forehand, and he hits the ball very hard. I really think he's going to have a great year."
Register for free to continue reading
Registration is a free and easy way to support our truly independent journalism
By registering, you will also enjoy limited access to Premium articles, exclusive newsletters, commenting, and virtual events with our leading journalists
Already have an account? sign in
Register for free to continue reading
Registration is a free and easy way to support our truly independent journalism
By registering, you will also enjoy limited access to Premium articles, exclusive newsletters, commenting, and virtual events with our leading journalists
Already have an account? sign in
Join our new commenting forum
Join thought-provoking conversations, follow other Independent readers and see their replies