Australian Open 2018: Rafael Nadal refuses to be drawn into players' union debate after reaching third round
Grigor Dimitrov survived a major scare against 22-year-old Mackenzie McDonald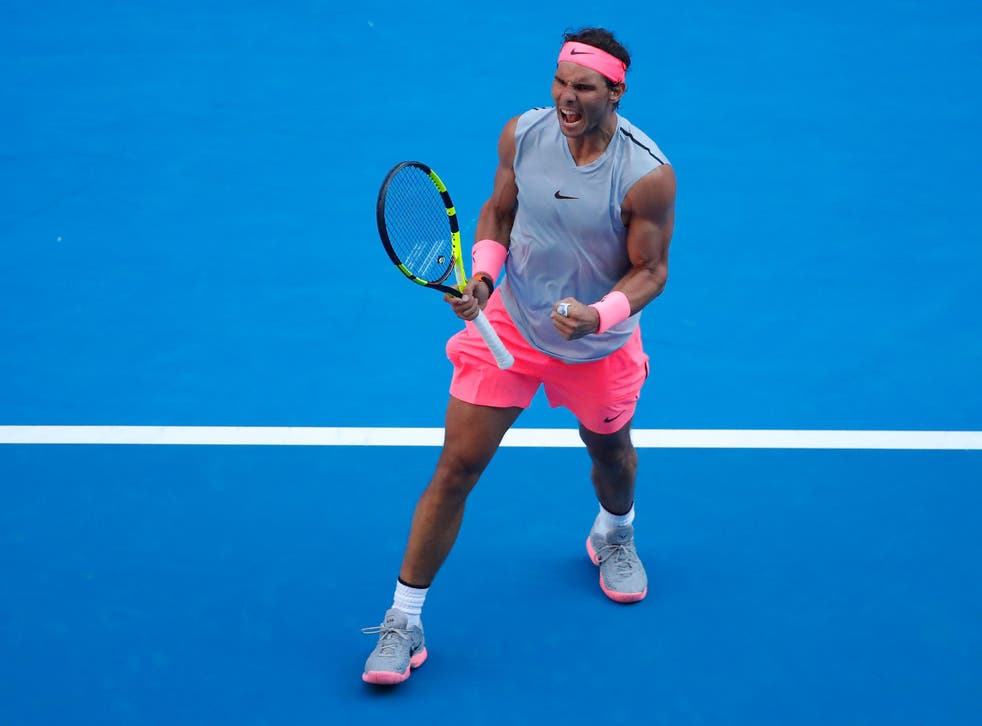 Rafael Nadal does not want to be drawn into the debate over whether players should break away to form their own union but is in favour of pushing for lower-ranked professionals to be paid a greater share of the sport's revenues.
"One sport is bigger when not only the top guys win a lot of money," Nadal said here on Wednesday after booking a place in the third round of the Australian Open with a 6-3, 6-4, 7-6 victory over Argentina's Leonardo Mayer. "It's bigger when a sport creates a lot of jobs. If there are 300 people living from tennis it is better than if there are only 100."
Nadal's comments followed reports that Novak Djokovic, the President of the Association of Tennis Professionals' Player Council, had talked at a players' meeting last week about forming a breakaway union, which would be in a stronger position to push for more prize money from the Grand Slam events in particular.
Australian Open - in pictures

Show all 64
Djokovic, nevertheless, insisted subsequently that much of what had been written was incorrect and denied that he had raised the subject of a possible future boycott of the Australian Open by players.
Nadal said: "I don't know 100 per cent about what's going on or not, but at some point, it's good that the players speak between each other about what we want or what we don't want."
He added: "It's not about union or no union. Forget about this. I believe that tennis has improved a lot for lower-ranked players in the last couple of years. The real thing is, if we can at some point help the players that need more help, that will be fantastic."
Nadal, who will meet Bosnia's Damir Dzumhur in the third round here, rejected comparisons with other sports like football, in which thousands of players around the world make a living.
"The market is the market," Nadal said. "Probably our sport is more global than football, but at the same time football is much bigger than tennis in terms of money, in terms of millions of fans."
Grigor Dimitrov, the world No 3, survived a major scare in Rod Laver Arena when he was taken to five sets by Mackenzie McDonald, a 22-year-old American who had never won a tour-level match until his first-round victory here on Monday. Dimitrov, who reached the semi-finals last year, was well below his best but won 4-6, 6-2, 6-4, 0-6, 8-6 after a match lasting nearly three and a half hours.
McDonald, the world No 186, came through the qualifying tournament for the first time at a Grand Slam event and then beat Elias Ymer in the first round. He faltered only in the very last match of the final set against Dimitrov. Serving at 6-7 and deuce, the American double-faulted and then put a forehand in the net.
"He was playing absolutely unbelievably," Dimitrov said afterwards. "I just had to fight and I think my experience really helped me in the end."
Nick Kyrgios is also through to the third round thanks to a 7-5, 6-4, 7-6 victory over Serbia's Viktor Troicki, but faces a big challenge next against Jo-Wilfried Tsonga, a former runner-up here.
Tsonga survived a remarkable encounter with Denis Shapovalov, who was attempting to repeat his US Open victory over the Frenchman. The 18-year-old Canadian led 5-2 in the fifth set before Tsonga launched a stunning comeback to win 3-6, 6-3, 1-6, 7-6, 7-5 after more than three and a half hours.
"The most important thing for me was to fight, give my best on court until the last point," Tsonga said afterwards. "That's what I did today. I think he deserved to win also, but I was also courageous and I did my job at the end."
Ivo Karlovic, who will be 39 next month, became the oldest man to reach the third round at this tournament for 40 years when he beat Japan's Yuichi Sugita 7-6 6-7 7-5 4-6 12-10 after more than four and a half hours in the longest match of the week so far.
The 6ft 11in Croatian, who hit 53 aces, will be the oldest player to feature in the third round since 44-year-old Ken Rosewall in 1978, when the draw featured only 64 players rather than today's 128. Karlovic next takes on Andreas Seppi.
At the other end of the age spectrum, Marta Kostyuk become the youngest singles player to reach the third round of a Grand Slam tournament for 21 years when she beat Olivia Rogowska, an Australian wild card, 6-3, 7-5.
Mirjana Lucic-Baroni, who is still competing and is through to the second round here, was the previous youngest player to reach the third round of a Grand Slam event, having done so at the age of 15 at the US Open in 1997.
In winning her first-round match here on her Grand Slam debut, Kostyuk had become the youngest winner at this tournament since 15-year-old Martina Hingis in 1996.
Despite her success, the Ukrainian still has to do what her mother tells her. Following her victory over Rogowska, Kostyuk had her phone taken away from her before she could read her messages.
"I had to eat at the same time," Kostyuk explained. "My mum told me to leave the phone and eat properly. Because I didn't have a normal breakfast, that's why I felt quite bad today on court."
Kostyuk, who now faces her compatriot, Elina Svitolina, the No 4 seed, was unhappy about being given a code violation for coaching by her mother.
"I was so mad, because I didn't see what mum was showing me," Kostyuk said. "Then when the referee said code violation, I was like: 'What? I didn't even see what she was showing me'."
Caroline Wozniacki, the world No 2 and one of the favourites for the title, produced a battling comeback against Croatia's Jana Fett, the world No 119. Wozniacki trailed 5-1 in the final set and had to save two match points but then won six games in a row to triumph 3-6, 6-2, 7-5.
"At 5-1, 40-15, I felt like I was one foot out of the tournament," Wozniacki said afterwards. "She served a great serve down the T. It was just slightly out. I was kind of lucky. Then I felt her tighten up just slightly. I thought to myself: 'Make her win it. Don't give it to her.'
"When I managed to get it to 5-2, I said: 'OK, I'm still alive. She still has four more balls to win. She's about to beat the No 2 player in the world. Obviously she's about 100 in the world. That's a big moment for her.'
"I know how it feels whenever you're close to reaching something really big. I'm very proud of the way I came back."
Switzerland's Belinda Bencic and China's Zhang Shuai, who knocked out Venus Williams and Sloane Stephens in the first round, had the tables turned on them when they were beaten by qualifiers. Bencic went down 6-1, 6-3 to Thailand's Luksika Kumkhum, while the Czech Republic's Denisa Allertova beat Zhang 6-4, 7-6.
Britain's Jamie Murray and Brazil's Bruno Soares reached the second round of the doubles but had to come from a set down against the Americans Frances Tiafoe and Donald Young. Murray and Soares won 5-7, 6-4, 6-4.
Register for free to continue reading
Registration is a free and easy way to support our truly independent journalism
By registering, you will also enjoy limited access to Premium articles, exclusive newsletters, commenting, and virtual events with our leading journalists
Already have an account? sign in
Register for free to continue reading
Registration is a free and easy way to support our truly independent journalism
By registering, you will also enjoy limited access to Premium articles, exclusive newsletters, commenting, and virtual events with our leading journalists
Already have an account? sign in
Join our new commenting forum
Join thought-provoking conversations, follow other Independent readers and see their replies