Australian Open: Andy Murray hatches battle plan to beat final hoodoo
The Scot hopes to become the first man in the Open era to win the Australian Open after losing four finals.
Paul Newman
Tennis Correspondent
Saturday 30 January 2016 23:56 Comments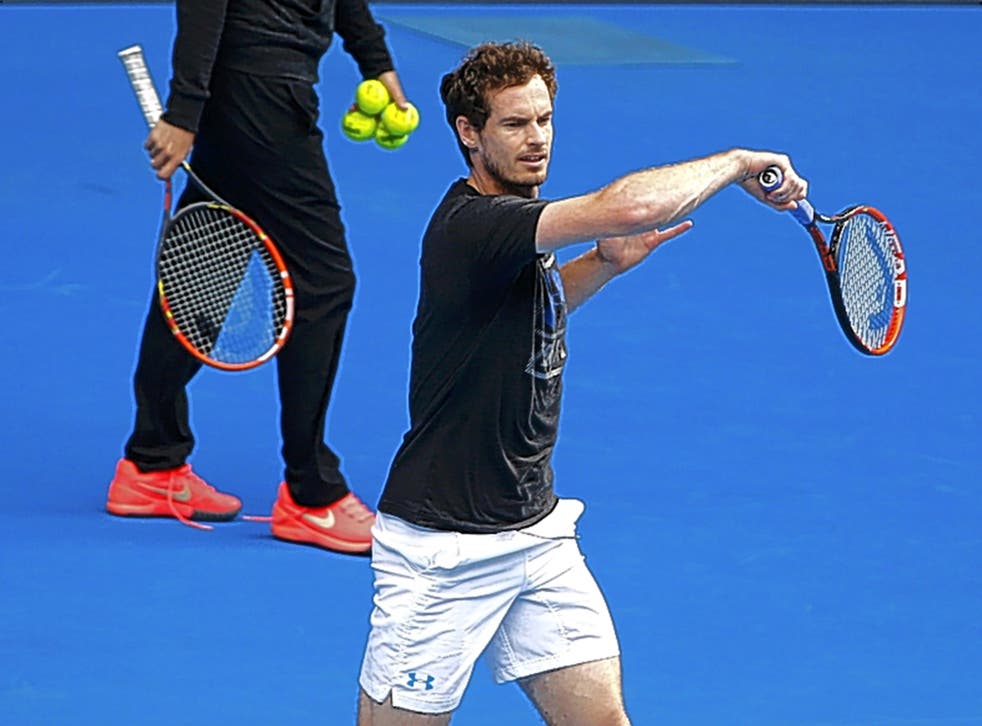 As Andy Murray prepares for the next great challenge but one in his life he is doing some essential reading. The Scot has the small matter of an Australian Open final here today against Novak Djokovic before he can concentrate fully on the impending demands of fatherhood, but in the meantime he has been dipping into Commando Dad, a guide for new parents written by a former army commando.
"It's quite small so you can fit it in your pocket, but there is a lot of stuff in it," Murray said here yesterday. "It's about being prepared for stuff and not going into it with no preparation – making sure you have everything ready in the house so that when the baby comes home you are not having to go out and buy loads of stuff."
Murray, whose wife, Kim, is expecting their first child within a matter of days, is used to making meticulous preparations and has been taking a similar approach here as he attempts to become the first man in the Open era to win the Australian Open after losing four finals. If he triumphs at the 11th attempt he will set a record for the most number of appearances at the tournament before winning the title.
The world No 2 and his coach, Amélie Mauresmo, worked in the close season on specific strategies to combat Djokovic, who was won 10 of his past 11 encounters with Murray and has beaten him in all four of their meetings here, including the finals in 2011, 2013 and 2015.
That record might not appear to offer much encouragement for Murray, but Mauresmo believes that the world No 2's sole victory over Djokovic since the 2013 Wimbledon final, in Montreal last summer, reinforced the belief that he has it in him to beat the Serb. It was one of the matches that Murray and Mauresmo were planning to review last night as they drew up a battle plan in the hope of denying Djokovic his sixth title here in the past nine years.
"The match here [the 2015 Australian Open final] was a good one to look at too," Murray said. "A lot of the matches we played last year were pretty close. The two matches we played in the Slams were close.
"It's also good to watch matches you have won as well to see if there is something different you did in that match. I will have a little look at them tonight."
Murray expects a typically gruelling match, which could be to Djokovic's advantage given that the world No 1 has had an extra day of rest and won his semi-final against Roger Federer in almost half the four hours that Murray needed to overcome Milos Raonic on Friday night.
"If you want to win the match against Novak it's obviously going to be physical," Murray said. "He returns very well and he's solid off both sides. He moves great so you don't get lots of free points. You need to be prepared to fight physically.
"Pretty much all of the matches I have played against him in Slams have been very tough matches physically." Jonas Bjorkman, who coached Murray last year, believes that the Scot can learn lessons from his experiences against Djokovic last year.
"After Montreal, Andy played Novak twice and got off to bad starts in both of them and never really got into his rhythm," Bjorkman said. "But in Montreal he got off to a good start, started to hit the ball nicely and was very aggressive on his returns."
Bjorkman predicted a win for Murray in five sets. His fellow Swede Mats Wilander, three times a champion here, sees Djokovic as the favourite but can see ways in which the Scot can trouble him.
"Andy can use his sliced backhand to keep Novak at bay," Wilander said. "I think he can challenge Novak all day with his backhand cross-court. I think Novak's backhand is solid, but Andy Murray's is more dangerous.
"He has to stay away from just hitting cross-courts and down the line for 25 or 30 shots for more than two rallies in a row, because in the end Novak is lighter on his feet and will be able to keep that up for longer."
Register for free to continue reading
Registration is a free and easy way to support our truly independent journalism
By registering, you will also enjoy limited access to Premium articles, exclusive newsletters, commenting, and virtual events with our leading journalists
Already have an account? sign in
Join our new commenting forum
Join thought-provoking conversations, follow other Independent readers and see their replies