Australian Open 2019: Denis Shapovalov relishing 'sick' showdown with Novak Djokovic
Djokovic beat Jo-Wilfried Tsonga to set up a third-round meeting with the youngster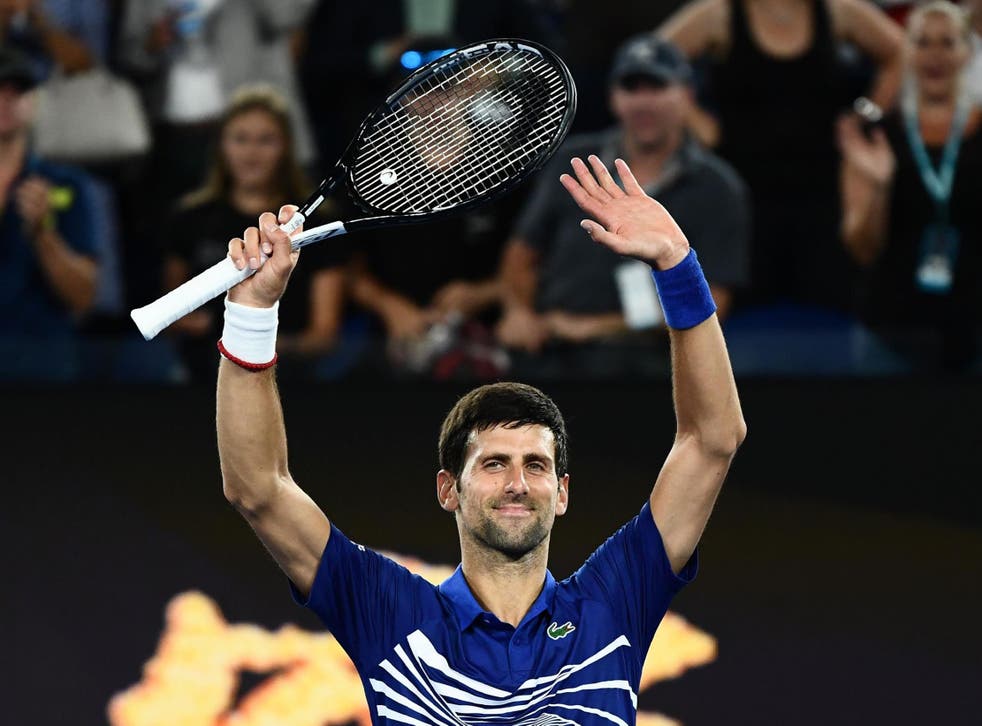 Novak Djokovic won a rematch of the 2008 Australian Open final against Jo-Wilfried Tsonga to set up a third-round clash with 19-year-old Denis Shapovalov.
Djokovic won in four sets 11 years ago and needed one fewer this time, winning 6-3 7-5 6-4 as the clock ticked towards 1am.
Tsonga has slipped outside the top 100 in the rankings after missing most of last season because of knee surgery, but showed enough here to indicate he will soon be heading in the right direction.
Djokovic said afterwards he felt more nervous than usual because of his long history against Tsonga, calling him "one of the greatest rivals that I had throughout my life".
The generational divide was emphasised by Shapovalov describing the possibility of a night match against Djokovic on Saturday as "sick".
Australian Open 2019 in pictures

Show all 67
The 25th seed insisted he will not be overawed, though, saying of playing the big stars: "Probably two years ago, I was just happy to be on the court with them, get a couple of games. Now I'm thinking how am I going to give a fight to this guy, how am I going to win sets and potentially even the match."
Shapovalov burst on to the scene two years ago and was immediately hailed as a future star. He is the world's highest-ranked teenager but admitted the expectation has been hard to deal with.
"I felt like I've been doing a lot of soul-searching," he said. "Everything kind of came so quick to me. All of a sudden I was in the spotlight. Now, every week if I lose, 'Denis is disappointing'. It was so much noise.
"Obviously I was blocking most of it out. But still it does get to you. I was just thinking to myself, discussing to my team, 'Is this really what I want? What do I want in life?'
"I came to the realisation, yes, that's what I grew up wanting to do. I want to be a star. I want to be one of the Rogers or Rafas."
PA
Register for free to continue reading
Registration is a free and easy way to support our truly independent journalism
By registering, you will also enjoy limited access to Premium articles, exclusive newsletters, commenting, and virtual events with our leading journalists
Already have an account? sign in
Register for free to continue reading
Registration is a free and easy way to support our truly independent journalism
By registering, you will also enjoy limited access to Premium articles, exclusive newsletters, commenting, and virtual events with our leading journalists
Already have an account? sign in
Join our new commenting forum
Join thought-provoking conversations, follow other Independent readers and see their replies