Nick Kyrgios finds form to down Jo-Wilfried Tsonga and reach Australian Open fourth round
The 22-year-old Australian, who beat Tsonga 7-6, 4-6, 7-6, 7-6, will now face Grigor Dimitrov in a Sunday showdown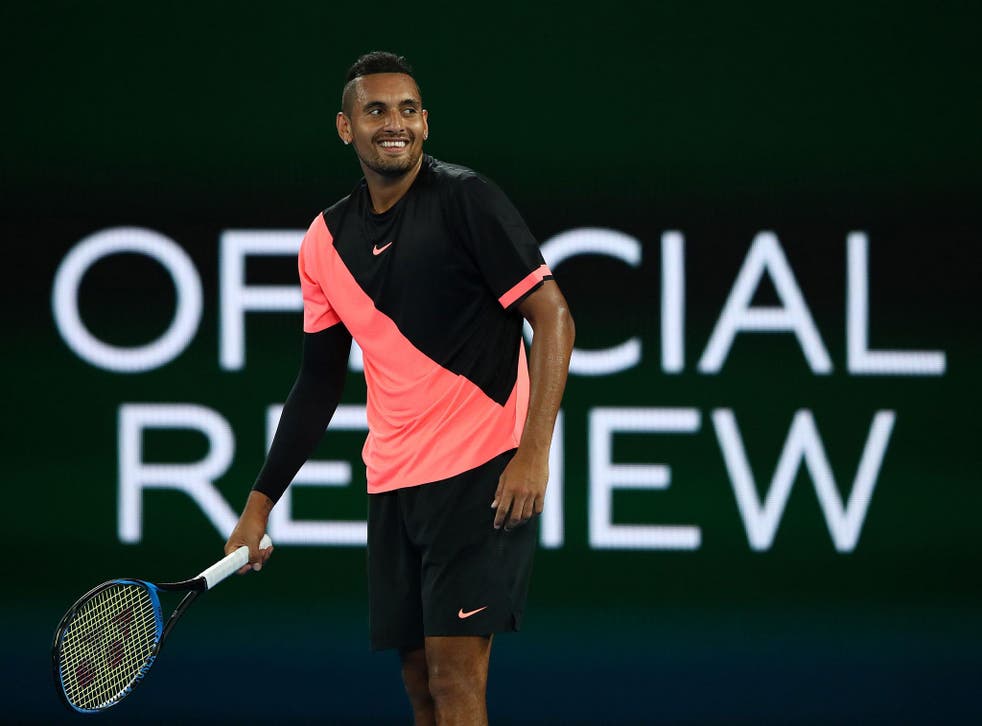 The temperature had dropped sharply since the middle of the day, but the atmosphere in a packed Rod Laver Arena was red-hot as Nick Kyrgios reached the fourth round of the Australian Open for the second time in his career. The 22-year-old Australian's 7-6, 4-6, 7-6, 7-6 victory over Jo-Wilfried Tsonga, the 2008 runner-up, secured a Sunday showdown with Grigor Dimitrov, the world No 3 and one of the favourites for the title.
Kyrgios, who has been a controversial figure for most of his career, divides opinion among the public Down Under, but what Australians love more than anything else is a winner. There have been signs recently that the world No 17 has added maturity to his unquestioned talent and he was a model of composure in this victory over one of his boyhood idols.
Tsonga, who lost to Novak Djokovic in the 2008 final, has an excellent record at Melbourne Park and was attempting to reach the fourth round here for the ninth time in his career. There were times when the 32-year-old Frenchman appeared to be getting the upper hand, but Kyrgios kept bouncing back and played all three tie-breaks superbly. He trailed 5-2 in the final tie-break but went on to win it 7-5.
"He's a tough opponent," Kyrgios said of Tsonga. "He's beaten pretty much all the top guys in the world. I knew it was going to be an incredibly tough match. I was very nervous going out there today. At 5-2 down in the fourth set breaker I was getting ready for a fifth set mentally. I somehow just hung in and got a couple of looks. It was surreal out there today."
Kyrgios had played his first two matches on Hisense Arena, which is his favourite court at Melbourne Park, but this was too big a contest to be staged anywhere other than on the main show court as the first match of the evening session.
"I'd never won a match on this court," Kyrgios said afterwards. "Playing Jo, I was obviously very nervous. He was a guy I looked up to as a kid – and still do. He's a champion of the game. I was getting prepared for a fifth set. I just stayed composed, tried to make returns and fired it through."
Kyrgios said he had felt particularly tense because the Hollywood star Will Smith was watching from the sidelines. "That was amazing," Kyrgios said. "No joke, he's my favourite actor. I get asked if one person were acting your life, I'd always pick him.
"It was surreal seeing him tonight. I was talking to him in the third set. I kept looking at him. I was like: 'I've got to break the ice, I've got to say something.' He was really nice. I met him after the match. He was really genuine.
"Every time he got shown on the screen, they cheered louder for him than any of the shots we were making. I was like: 'Man, you may as well just stay out here, they probably enjoy that more than the tennis.' I said: 'I watched a load of your movies a bunch of times.' It was pretty cringe, but it broke the ice."
Australia has not had a home winner in the men's singles here for 42 years and while it might be too early to start talking about Kyrgios as a potential champion nobody will relish taking him on when he is playing like this.
Australian Open - in pictures

Show all 64
Kyrgios beat Dimitrov, his fourth-round opponent, in the semi-finals in Brisbane earlier this month. The winner of their last 16 encounter here will face either Kyle Edmund or Andreas Seppi in the quarter-finals.
Dimitrov, who ended last year by winning the ATP Finals at the O2 Arena in London, has been in patchy form in the opening weeks of the new season and was again below his best as he beat Russia's Andrey Rublev 6-3, 4-6, 6-4, 6-4.
The world No 3 made 61 unforced errors in the match but usually found his way out of a crisis. "When you don't feel well during the match, you need to find other courses to take," he said afterwards. "The mental game, especially on days like today, comes more in play than the game itself."
He added: "I was not finding the angles that I wanted to, but when that fails you kind of go on to the next one. My serve, for example, failed me too. What are the other options? The one thing I'm very happy with is that I feel I have a big arsenal of tools to deal with any circumstances."
Having been taken to five sets by Mackenzie McDonald, an American qualifier, in the previous round, Dimitrov must have been hoping to find some more consistent form against Rublev, but the 20-year-old Russian got his game together when he was a set and a break down. Rublev took the second set and went 4-2 up in the third, but Dimitrov broke back in the following game and thereafter took charge.
Rafael Nadal, the top seed, needed only an hour and 50 minutes to beat Bosnia's Damir Dzumhur 6-1, 6-3, 6-1. The only blip in the Spaniard's performance came when he dropped serve early in the second set but he was soon back on track.
Nadal, who is through to the fourth round for the 11th time in his career, will now take on Argentina's Diego Schwartzman.
"He's a great player," Nadal said. "He's a player that last year had an amazing year and this year he's again started playing very well. He's already won three matches here, so he's playing again at a very high level. He's a very complete player.
"If I don't play my best I probably won't win. He has all the shots, has big control from the baseline and doesn't miss much. He's able to change directions easily."
Register for free to continue reading
Registration is a free and easy way to support our truly independent journalism
By registering, you will also enjoy limited access to Premium articles, exclusive newsletters, commenting, and virtual events with our leading journalists
Already have an account? sign in
Register for free to continue reading
Registration is a free and easy way to support our truly independent journalism
By registering, you will also enjoy limited access to Premium articles, exclusive newsletters, commenting, and virtual events with our leading journalists
Already have an account? sign in
Join our new commenting forum
Join thought-provoking conversations, follow other Independent readers and see their replies