Australian Open 2014: Ross Hutchins full of thanks for Andy Murray's help after winning on Grand Slam return from cancer
Londoner and Scotsman beat Australia's Marinko Matosevic and Poland's Michal Przysiezny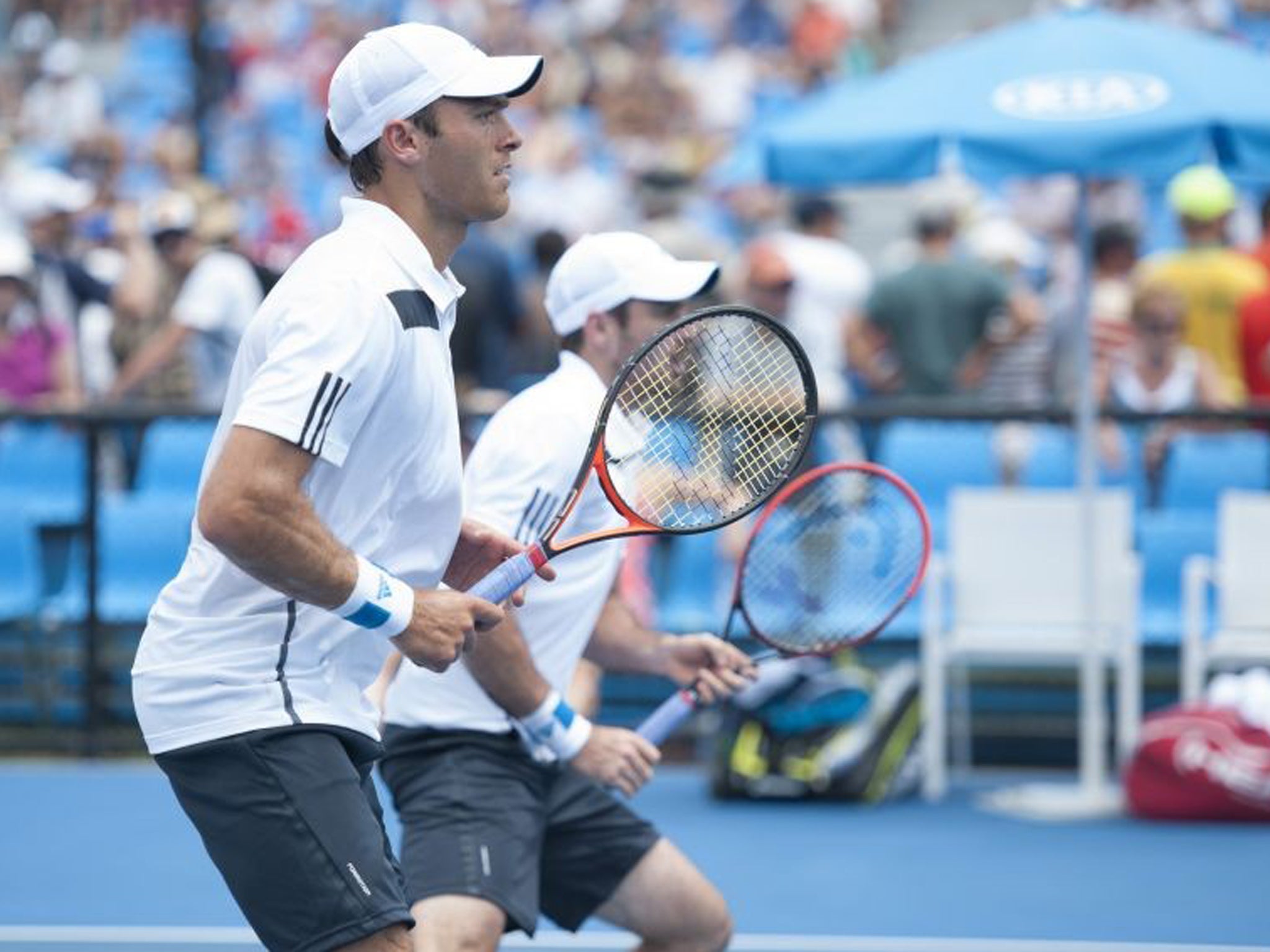 Ross Hutchins paid tribute to his partner, Colin Fleming, and his best friend, Andy Murray, after making a winning return to Grand Slam competition here on Wednesday. Thirteen months after being diagnosed with cancer, Hutchins joined forces with Fleming to beat Australia's Marinko Matosevic and Poland's Michal Przysiezny 4-6, 6-4, 6-0 in the first round of the Australian Open.
Fleming and Murray supported Hutchins throughout his battle with Hodgkin's lymphoma. The 28-year-old from Wimbledon said that returning to training with the two men had been a key part of his recovery. He joined them to practise with Britain's Davis Cup team in Croatia last September and spent last month at training camps with Murray in Miami and with Fleming in Spain.
"Physically I struggled to keep up with these guys on the clay in Croatia," Hutchins recalled. "I remember lying down on the bed at 5pm and falling asleep within a second. We were meeting and within five minutes I couldn't keep my eyes open. That happened five days in a row.
"With Andy in Florida, you don't want to be struggling. We've done it for four or five years and I've always done the same training that he has done and I've always done the hours that he has done," he added. "I think it would be quite weak if you went there and said: 'Mate, I am going to take today off.' It's not really the point of doing it.
"It was the same in Spain. We went to La Manga and did all the training together. I spent a lot of time on the court and in the gym. That's what I wanted. I wanted to be able to keep up with these guys no matter what had happened in the past."
After losing in the first round in their first two comeback tournaments, Hutchins and Fleming admitted they had been nervous, especially when they lost the first set. However, once Hutchins had served his way out of trouble from 15-40 down at 4-4 in the second set, they never looked back.
"I think my level is not as high as before, but I think there is no reason why we can't be better," Hutchins said. "I think we'll be a better team and I think we'll achieve more in the game. I don't know if we will have better results, but I really am confident and optimistic that we can do. I think we can have a really good career together."
Hutchins, who was watched by his sister and brother, recalled following last year's Australian Open from Eurosport's television studios in London shortly after starting his chemotherapy.
"I was on such a mission not to give in that I had booked myself to be in the studio the day after having it," he said. "I must have looked awful. I said: 'I'm not bowing to this thing. I'm going to get in the studio and do a six-hour stint and go for it.' I was a bit ropey but I wanted to get one up on it."
Thursday it will be Murray's turn to be in the spotlight as the Scot takes on the unheralded Vincent Millot, who as world No 267 is the French No 25. They feature in the second evening match in Rod Laver Arena, which will start around 8.30pm local time (9.30am BST).
Australian Open 2014: The best images from Melbourne
Show all 75
With the heatwave forecast to continue until Friday, Murray will be grateful for the evening start as he continues his recovery from back surgery. "In these conditions you want to win fast," he said. "I'm well aware if I go further in the tournament, if I win my next match, the matches are going to get longer and tougher.
"I'm still kind of waiting to see every day how I'm going to wake up. I'm confident that I'm going to be OK, but these tournaments over best-of-five-set matches on hard courts, over two weeks, are tough on the body."
The temperature topped 41C here on Wednesday but there was only one retirement, following nine in the first round. Ivan Dodig said after quitting in the fourth set against Damir Dzumhur because of body cramps that he still could not walk half an hour after leaving the court.
"I was thinking I could maybe even die here," Dodig said. "With my body I did not know what was going on. All my muscles were cramped. It's really tough and not only for me, but for many players yesterday. The problem is that we are not used to these conditions."
Nevertheless, all the top players who were in action came through unscathed, including Novak Djokovic, David Ferrer, Tomas Berdych, Serena Williams and Li Na.
Join our commenting forum
Join thought-provoking conversations, follow other Independent readers and see their replies