Baker keeps fabulous story rolling
American whose promising career looked over as he endured six years of surgery reaches last 16
Veronica Lee
Sunday 01 July 2012 01:06 Comments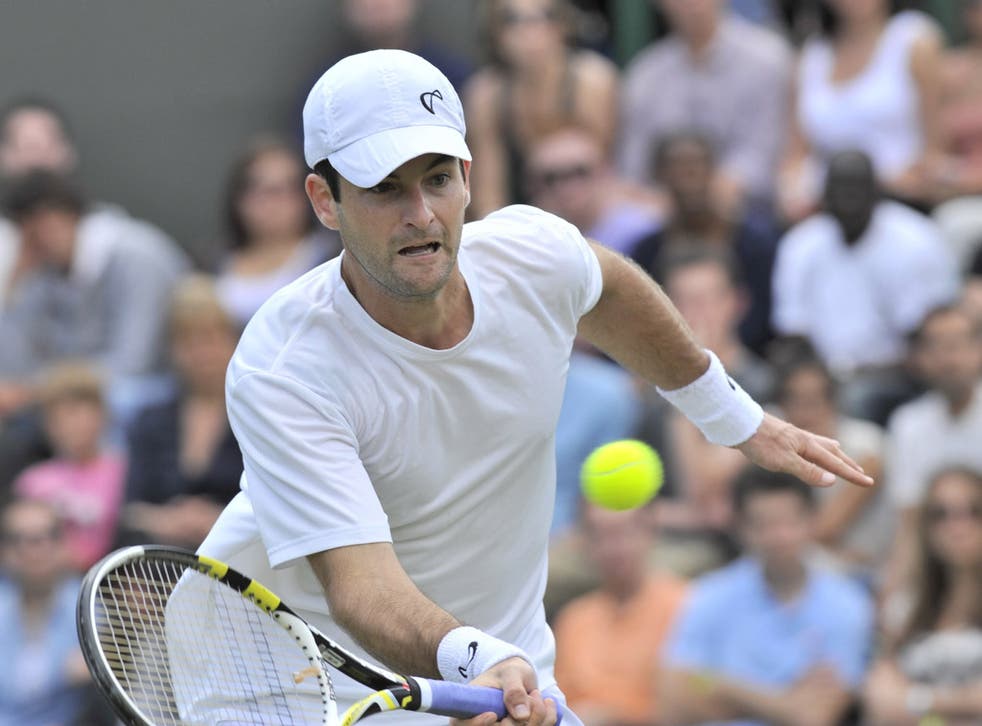 When the definitive book on sports comebacks is written, it will surely include a chapter on Brian Baker. By rights the 27-year-old from Nashville, Tennessee, shouldn't be able to raise a racket, let alone play professional tennis at the highest level, but yesterday the qualifier who went through five rounds of surgery in as many years swept into the last 16 of Wimbledon after beating the Frenchman Benoît Paire 6-4 4-6 6-1 6-3.
In a championships still reeling from the exit of Rafael Nadal in the second round, Baker's story can match that upset for drama. A few years ago he seemed to have a glittering career ahead of him. In 2002 he won the Orange Bowl and he was No 2 junior in the world in 2003, winning six tour titles and reaching the French Open boys' final, where he was beaten by Stanislas Wawrinka, having toppled Marcos Baghdatis and Jo-Wilfried Tsonga along the way. The same year he reached the quarter-finals of Wimbledon and the US Open boys' singles.
In 2005, having turned pro, he retired from his Wimbledon qualifying match against Novak Djokovic with a knee injury. It was the start of a long and painful series of problems, and between November 2005 and July 2011 Baker went under the knife fives times; first for left-hip surgery, then a hernia, left hip again and then right hip, and lastly his right elbow. The final procedure in 2008 took three years of physio to recover from fully.
During his rehab, he went back to college to study business and finance at Belmont University in Nashville, where he also worked as the college tennis coach. Then last summer, while watching a tennis match on television, he decided he would have another attempt at a pro career, knowing, he said after yesterday's win, that he could play at the highest level. "I've always been confident in my game," he said. "I always knew I was a good player, it was just whether my body would co-operate and whether I could get more than six, eight, 12 months being healthy and able to play."
He worked his way relentlessly through each level of the game. Starting at the very lowest – in the qualifiers for a Futures event, in Pittsburgh – he moved up to Challenger events before being offered a wild card for the French Open this year and then playing in the Wimbledon qualifying tournament. Baker started 2012 ranked No 458 in world and came into the Wimbledon main draw at 126. He will be in the top 100 when new rankings are announced after the Championships, six months ahead of the target he set himself on his comeback.
If the fabulous Baker boy's story was not enough melodrama for fans on Court Three yesterday, the lanky Frenchman Paire provided his own. In the first two sets the players were equally matched but it all went pear-shaped for Paire, 23 and ranked No 55 in the world, after what he thought was a dodgy line call early in the third set.
His game fell apart. He smacked his racket on the grass, his chair and the net and bizarrely started making Hawk-Eye challenges on balls that were clearly out. His language was almost as colourful as the pants he was wearing underneath his shorts, and it was as if Kevin the teenager had entered the court.
It was a shame, because when the Frenchman was playing properly, he and Baker provided some exquisite soft-touch tennis and several thrilling rallies, with the American the more willing of the two to come to the net. Paire served 17 aces but Baker was more consistent on the second serve and both players mixed up their shots to create some wonderful tennis.
Baker won the third set 6-1 in only 23 minutes, with Paire hardly bothering to sit down or towel himself at breaks. Baker, however, used the time to gather himself, saying after the match: "Even though I haven't had the experience over the last six years, just being a little older, a little more mature means I can handle adversity. Actually I found the conditions more difficult – it was blustery out there."
Baker served for the match at 5-3, nervously wasting one match point with a forehand that went flying out, but taking the second with a stinging volley.
The American admitted to having a touch of nerves as he closed out the match, saying drily: "I missed a few shots at the end that I probably wouldn't miss if it was the quarters of a Challenger and not trying to get into the round of 16 at Wimbledon."
In the last 16 Baker meets Germany's Philipp Kohlschreiber, who overcame Nadal's conqueror, Lukas Rosol, 6-2 6-3 7-6. Some fairytales come to an end, but it looks as if Baker's could have some mileage in it yet. His parents and girlfriend have had to change their travel plans twice already this Wimbledon, but they have now booked themselves to stay for the rest of the week. Who knows, another chapter of Baker's remarkable story may yet have to be written.
Register for free to continue reading
Registration is a free and easy way to support our truly independent journalism
By registering, you will also enjoy limited access to Premium articles, exclusive newsletters, commenting, and virtual events with our leading journalists
Already have an account? sign in
Join our new commenting forum
Join thought-provoking conversations, follow other Independent readers and see their replies