Britain has no place in Olympic Games for Jonathan Marray the history man
Journeyman earns a ticket to grander destinations, but not the Olympics
Steve Tongue
Monday 09 July 2012 11:39 Comments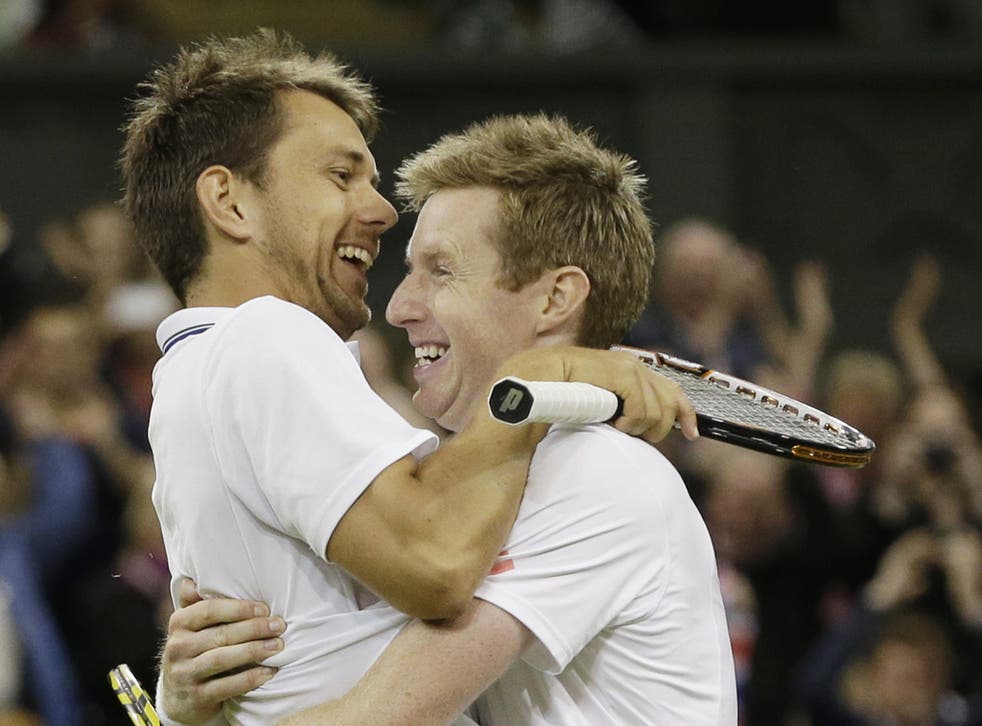 They are two British tennis players just a letter apart but a world away in terms of reputation, finance and – let us be honest – ability. After beating Andy Murray to a Wimbledon men's title, however, Sheffield's Jonathan Marray will be able to enjoy at least a taste of the higher life following a dozen years as journeyman performer eking out a living in the less glamorous corners of the circuit.
Victory with Denmark's Freddie Nielsen in the men's doubles on Saturday evening was worth – well, he did not seem quite sure. "How much is it? £130,000! A massive sum of money, isn't it?" So what would he do with it? "I don't know, really; I've not thought about that."
The winnings for defeating the highly fancied Swedish-Romanian pair Robert Lindstedt and Horia Tecau, although amounting to almost nine times Marray's previous earnings this year, seem unlikely to turn such a level head. An upgrade to business-class seats, for instance? "No, I will probably stick with economy. For a six-hour flight, it's not really worth it."
A six-hour flight is what he can expect to make to the US Open in September, the sort of bonus that will now accrue from this victory shooting him into the top 20 doubles ranking today. Automatic entry into a much higher class of tournament will follow, another of which could be the ATP World Tour event at the O2 in London in November.
No Olympics, however. The Great Britain team was named last month, with doubles entries for Andy and Jamie Murray, plus Colin Fleming and Ross Hutchins, the pair who also stand in the way of Marray's Davis Cup ambitions. He made the Davis Cup squad once, back in 2004, but did not get a match. "Obviously, I'd like to be part of the team, but they've got kind of an established team with Ross and Colin at the moment," he said. "They've been doing great. It would be hard to kind of shift them out of the team."
Who will partner Marray in forthcoming events is another matter. It had been his intention to team up at Wimbledon with the Canadian-Kenyan Adil Shamasdin, but their joint ranking was not high enough to qualify. On deadline day, he therefore asked the amiable Nielsen and they were granted a wild-card entry.
Nielsen, grandson of the last previous Danish finalist, Kurt (1953 and 1955), who at 28 is three years younger than Marray, still has ambitions as a singles player – ambitions Marray gave up after a series of injuries some years ago to concentrate on doubles.
"I got injured in 2007 and was actually having a good run in the singles at that stage but struggled to find form after shoulder surgery and struggled with confidence," Marray said. "Then I made third round here one year and my doubles ranking was a lot higher than in singles, so there was an opportunity to play better tournaments in doubles than singles. I had seen how other doubles players were making a decent living out of it and playing good tournaments. And my game was always suited to it, I was always a serve-and-volley player."
Another of the reasons for not giving up altogether while at his lowest ebb was a lack of any alternative. "I love tennis, so maybe some kind of coaching role would have been the best option if I was to quit. I did think about it but never really took any steps to do it. I suppose all sportsmen have ups and downs. When you are down, you always question yourself, but I always thought I could achieve something."
Life on the road at the level of Challenger tournaments can, nevertheless, be far from easy, he says. "It's an expensive pastime. You have to pay for all your flights. The accommodation is covered by tournaments most of the time but I am not getting all the equipment for free so it is an expensive business; when you're not winning, you're not earning money. But the LTA actually had a doubles bonus structure in the last few years, which has really helped us guys who are making the transition from Challengers to the tour because there is a big gulf in the money. If you are playing Nottingham, say, and are runner-up, or even if you win it, you're making less than £500 or whatever. And you're not always winning. So that bonus structure has been really good and helped us keep going and push on."
Talking of bonuses, another could be having more people recognise his name. "When Andy first came on to the scene, I was playing in the US and people were coming up, saying, 'Are you that new kid, the next big thing?' And I was saying, 'No'. But every time I say Marray, they say, Murray, Murray." From now on, "That guy that won at Wimbledon" would do quite nicely.
Andy Murray v Jonathan Marray: how they match up
Dunblane Born Liverpool
25 Age 31
0 Grand Slam titles 1
22 Singles titles 0
2 Doubles titles 1
2 Top singles ranking 215
51 Top doubles ranking 74
$21.4m Career prize-money $430,697
Murray has a £15m clothing contract with Adidas. Has partnered his brother, Jamie, in 24 ATP events, winning two events.
Marray reused the same shirt throughout the championships. Has played just four events with partner Frederik Nielsen.
Register for free to continue reading
Registration is a free and easy way to support our truly independent journalism
By registering, you will also enjoy limited access to Premium articles, exclusive newsletters, commenting, and virtual events with our leading journalists
Already have an account? sign in
Join our new commenting forum
Join thought-provoking conversations, follow other Independent readers and see their replies