Dan Evans aims to lose his wild-card reputation
Britain's cheeky chappie targets qualifying for Wimbledon on merit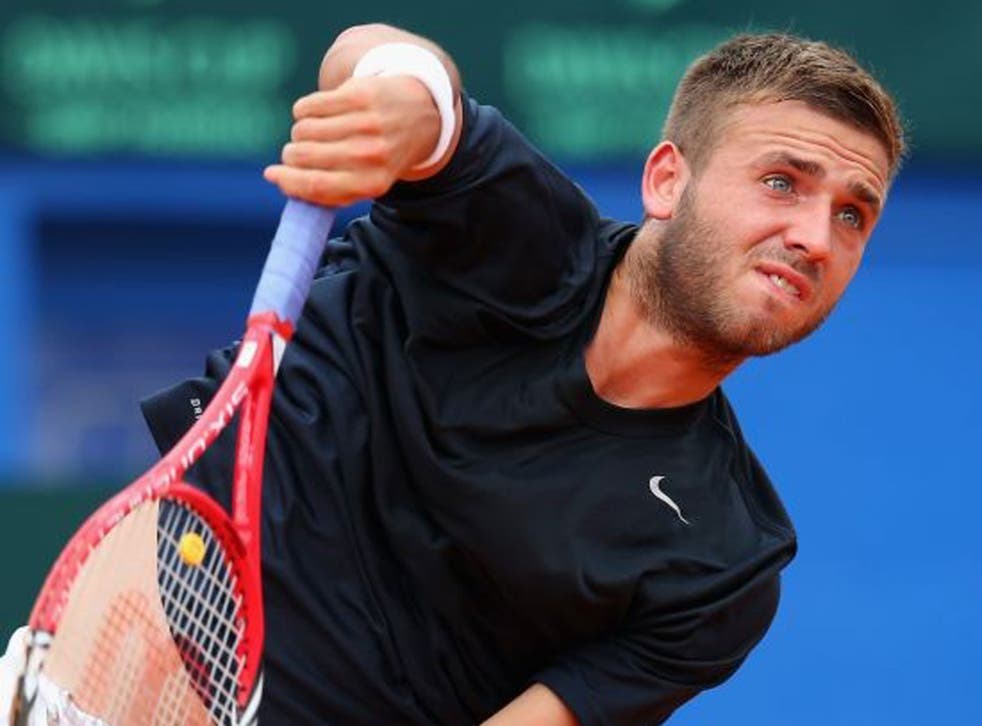 Dan Evans spent most of 2013 on the road, but a brief spell at home before Christmas confirmed how much the public's view of the British No 2 had changed. After a year in which he had completed a thrilling comeback victory for his country over Russia in the Davis Cup and beaten two of the game's outstanding young talents en route to the third round of the US Open, the 23-year-old from Birmingham was in demand.
Evans had an invitation to the BBC's Sports Personality of the Year extravaganza, several requests to attend functions as guest of honour or to present prizes, plus the chance to appear on A Question of Sport. All but the last one had to be turned down, but Evans enjoyed being quizzed by Sue Barker, even if there was one potentially red-faced moment.
"I got a question wrong about women's tennis," he recalled. "I was asked who lost to Marion Bartoli in the final at Wimbledon. It was [Sabine] Lisicki, but I don't watch much women's tennis and said I didn't know."
Had that been embarrassing? "Not really," he replied, tongue in cheek. "I don't think it's that embarrassing not to know a women's question. Actually it's a bit more embarrassing to know the answer to a women's question."
Evans, who will be playing in the qualifying tournament at the Australian Open this week, is the cheeky chappie of British tennis, his sense of humour rarely far from the surface. Until last year his capacity for fun seemed all too often to outweigh his appetite for hard graft – even during the Davis Cup tie against Russia in April he admitted that he did not train or work hard enough – but last summer's North American hard-court season brought signs that his attitude might at last be changing for the better.
Having reached the finals of successive Challenger tournaments, in Vancouver and California, Evans won three matches in qualifying at a Grand Slam tournament for the first time at the US Open – his only previous main-draw appearances had been courtesy of wild cards at Wimbledon – and went on to beat Kei Nishikori (world No 12) and Bernard Tomic (No 52) at Flushing Meadows before losing in four sets to Tommy Robredo.
When Evans played four more tournaments, all Challenger Tour events, in the closing two months of 2013 and won only two matches it might have seemed that he had reverted to type, but there were extenuating circumstances.
"After the US Open I had Davis Cup and then I went to America for three weeks and then to Seoul," he said. "It was a tough end to the year. I got the schedule wrong.
"I was too tired to go to America, but I went. I should not have gone. I should have practised and then gone to Seoul, but I went to both and then came home early from Seoul. I got a little injured and I was tired."
Had it also been tough to go back to low-profile events after all the hullabaloo of playing at the US Open? "It was. There's a decent chance at Challengers to win the tournaments and get yourself up the rankings, but I'd obviously much prefer to be playing in the main draw at ATP events."
Currently ranked No 150 in the world, one place beneath his career-high position, Evans has set himself the target this year of breaking into the top 100 before Wimbledon. "It would be nice not to need a wild card to play at Wimbledon," he said. "But if I'm not top 100 by then, I'm not. I'll take it one week at a time."
Although Evans has never been short of self-belief, he admitted: "It's all right thinking you're good, but you need to get some results to prove that.
"I'm pretty confident going into the new season that I'll do well. It may not happen in Australia, but at some time I'm sure I'll play well and get into the top 100."
As a player who often performs best against better opponents on the bigger stages, Evans has decided to focus on attempting to qualify for tournaments on the main tour (his ranking is not yet high enough to get into most events automatically) rather than playing for smaller stakes on the Challenger circuit.
His season started well enough here at the Qatar ExxonMobil Open, where he won three matches in qualifying before losing in three sets to Ernests Gulbis, the world No 24, in the main draw. Now he will have to win three matches in qualifying at Melbourne if he is to be part of the main event at the year's opening Grand Slam tournament.
Hearteningly, Evans regards his achievement in qualifying for the US Open as his highlight of 2013 – more significant even than his victories over Nishikori and Tomic in the main draw in New York. Better late than never, he has come to appreciate the satisfaction that comes with reaching your goals through hard sweat and dedication.
Nadal cruises to 61st title
In the first week of the new season Rafael Nadal is already passing more milestones.
The world No 1 beat France's Gaël Monfils 6-1 6-7 6-2 to win the Qatar ExxonMobil Open here yesterday and claim his 61st title, which takes him one ahead of Andre Agassi and into eighth place on the Open era list.
It was the first time Nadal has won a title in the opening week of the season, and took the number of countries in which he has won tournaments to 17.
While Nadal did not have to beat any top-20 players to claim the top prize, he had the satisfaction of overcoming an opponent who had won both their previous meetings here. Monfils, who was playing in his third Doha final, had not dropped a set all week, but paid the price for a slow start.
Nadal won the first five games and took the opening set in just 23 minutes as Monfils struggled to find his range. The world No 31 finally came alive at the start of the second set, at the end of which he won a closely fought tie-break 7-5, but Nadal took control of the decider by breaking serve in the fourth game.
Paul Newman
Register for free to continue reading
Registration is a free and easy way to support our truly independent journalism
By registering, you will also enjoy limited access to Premium articles, exclusive newsletters, commenting, and virtual events with our leading journalists
Already have an account? sign in
Register for free to continue reading
Registration is a free and easy way to support our truly independent journalism
By registering, you will also enjoy limited access to Premium articles, exclusive newsletters, commenting, and virtual events with our leading journalists
Already have an account? sign in
Join our new commenting forum
Join thought-provoking conversations, follow other Independent readers and see their replies