After turning his career around, Dan Evans' colourful past has finally caught up with him
The Briton announced on Friday that he tested positive for cocaine in a recent drugs test. After years spent improving his reputation, it's unclear if he'll ever recover from this setback
Samuel Lovett
Friday 23 June 2017 20:04 Comments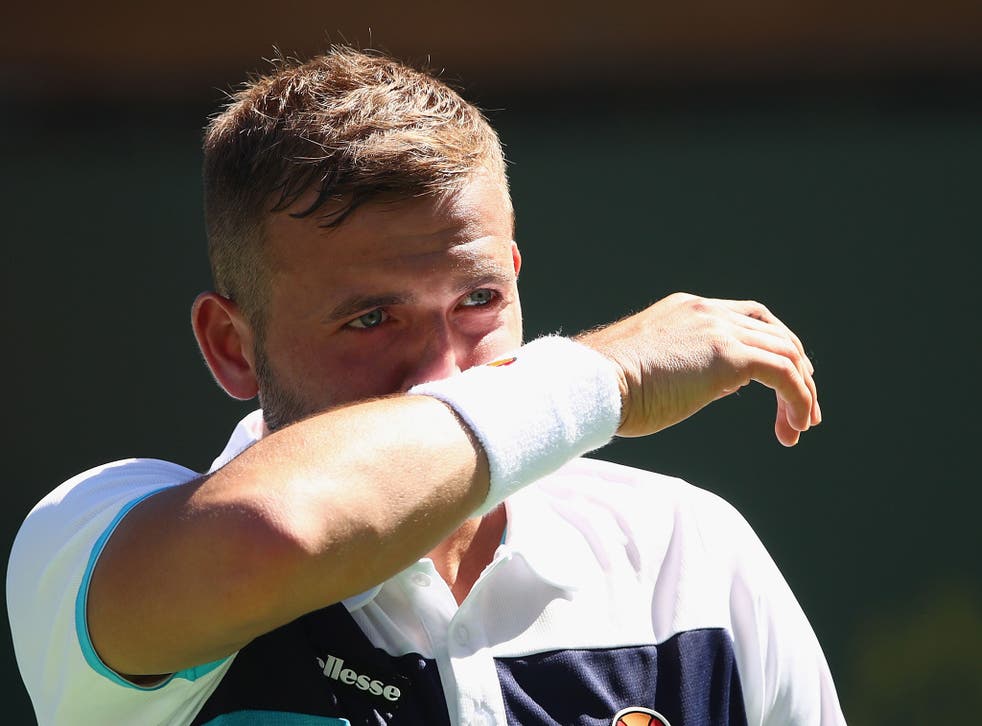 Calling a last-minute press conference at a hotel close to Queen's Club, with less than two weeks to go until tennis' premier Grand Slam, Dan Evans got straight to the point: "I wanted to come here in person to you guys face to face. I was notified a few days ago that I failed a drugs test in April where I tested positive for cocaine."
Even for a player once dubbed the 'bad boy of British tennis', the announcement was entirely unexpected. Under the tutelage of coach Mark Hilton, Evans has worked hard to reform his reputation and in 2016 enjoyed the finest season of his career, notably holding a match point in his US Open third-round match against Stan Wawrinka.
But it appears his past has finally caught up with him. In his younger days Evans twice had his funding stopped by the Lawn Tennis Association because of his off-court behaviour and lack of commitment – on the first occasion he was spotted partying at 3am on the day of a junior doubles match at Wimbledon – and would later admit he was "pretty bad at my job" because he did not train hard enough.
It was this sort of attitude, and the apathy that came with it, which hampered Evans' career as he failed to capitalise on the full potential of his promising talent. Just two years ago he was ranked No 763, with a long-term knee injury threatening to further derail his career. Times became so tough for the Briton that he was forced out of competing abroad due to the costs of travelling.
And yet, with his back firmly against the wall, Evans began to turn his career around. He broke into the world's top 100 for the first time in April of 2016, reached the fourth-round of the Australian Open earlier this year – his best Grand Slam result to date – and was handed a career-high ranking of No 41 in March.
"Coming back wasn't easy," he said ahead of the Melbourne Grand Slam, looking back on his remarkable transformation over the past two years. "A lot of people said that I didn't like to do the hard work. I decided that I wanted to change that."
One of the most naturally gifted young players in British tennis, Evans had appeared to overcome his rebellious tendencies – but such qualities never fully dissipated. His inner 'bad boy' was suppressed but, as Friday's news attests to, Evans has proved incapable of truly banishing this side to his personality.
In an ironic twist of prescience, the 27-year-old even admitted in January that there is "a lot of temptation" to fall back into former ways when back among old friends. The details behind Evans' transgression will surely surface in the coming days – with the 'whys' and 'hows' of the incident laid bare under the public spotlight – but the outcome very much remains the same.
As Evans admits, he has "let a lot of people down" and "must face up" to his actions. A lengthy ban is now expected. Although he's likely to avoid a four-year suspension given he failed the test out of competition, he still faces the prospect of 12 months or more out of the game.
Whatever the sentence, such a setback is likely to prove fatal for his career. Talented, yes, but at 27, and with just the solitary fourth-round Grand Slam appearance to his name, the Briton has never looked like breaking into the sports' elite.
Now set for months, if not years, in the sporting wilderness, there are questions over whether Evans will be able to bounce back. In contrast to past offenders – Maria Sharapova notably springs to mind – the Briton lacks the world-class ability, and the sense of privileged self-entitlement that comes with this, to waltz his way back into the game. Take into account his struggles with mentally motivating himself and the future looks bleak.
Having been handed chance after chance throughout his career, Evans has downed his drink, paid his bill and foolishly stumbled out of the saloon with little consideration given to the consequences. After turning his career around, it seems that the Briton's colourful past has finally caught up with him.
Register for free to continue reading
Registration is a free and easy way to support our truly independent journalism
By registering, you will also enjoy limited access to Premium articles, exclusive newsletters, commenting, and virtual events with our leading journalists
Already have an account? sign in
Join our new commenting forum
Join thought-provoking conversations, follow other Independent readers and see their replies