Davis Cup 2015: Andy Murray beats John Isner in straight sets to take GB to quarter-finals
Scot won the contest in Glasgow 7-6, 6-3, 7-6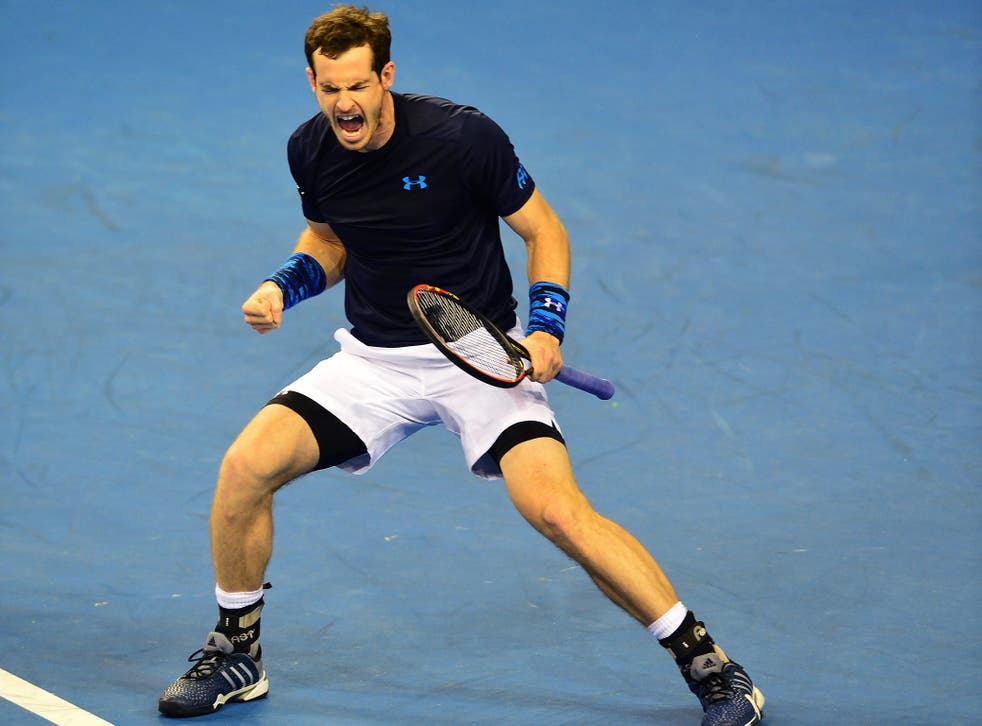 For the whole week Andy Murray had been the inspiration for his team so it was entirely fitting that the Scot delivered the killer blow here s Britain secured their first Davis Cup World Group victory on home soil for 29 years. A capacity crowd of 7,700 in the city of Murray's birth greeted his 7-6, 6-3, 7-6 victory over John Isner with a roar that all but blew the roof off the Emirates Arena.
Britain needed to win only one of the final day's reverse singles to clinch their first home win over the United States since 1935 and Murray achieved it with an assured and professional performance against a rejuvenated Isner. The American, whose defeat by James Ward on Friday had tilted the tie in Britain's favour, came out with all guns blazing and had three set points in the opening set, but Murray kept his nerve to see his team through to a quarter-final at home to France in July.
"There is a real synergy within the British team," Murray said afterwards. "It gives you that extra incentive to perform and go out there to fight for every point. I was very emotional all weekend.
"I know the team and the staff very well. I was proud of them as team-mates and as friends, and also my brother, the way they performed and fought in this arena under so much pressure. I thought they all did incredibly well and I was proud to be part of their team."
Nevertheless the tie remained in the balance for more than an hour on the final day. Isner, knowing he had no chance of outrallying Murray from the baseline, threw caution to the wind on his ground strokes, particularly on his forehand service returns.
Some of his winners were hit with stunning power and accuracy, giving Murray no chance of reaching the ball. The world No 20, who has arguably the biggest serve in men's tennis, hit 28 aces – including six in one game – and did not face a break point for the first hour and a half.
Isner himself forced seven break points in the first set, but Murray successfully defended every one of them, including three set points when the Scot served at 4-5.
When it came to the tie-break, only one point went against serve, Isner double-faulting on the very first point. It was his only double fault of the whole match.
In the sixth game of the second set, Murray had his first break point of the afternoon. When he converted it with an audacious backhand lob over his 6ft 10in opponent it was impossible not to feel sympathy for the American.
After Murray had served out for the second set, Isner went 0-40 down on his serve at the start of the third. They were the only other break points he faced and he saved them all. Indeed Isner went within two points of taking the third set when Murray served at 5-5 and 30-30, only for the Scot to hold firm once again.
In the second tie-break Murray never trailed after levelling at 1-1. Isner saved two match points from 2-6 down, but on the third Murray hit his 16th ace.
A downcast Isner felt that the outcome could have been different if he had won the first set and regretted not being "decisive enough". He also took responsibility for losing the tie with his defeat by Ward. "This one's on me," he said. "My loss on Friday put us in a big hole. This is going to stick with me for a while."
Murray, who is set to return to No 4 in the world rankings on Monday, and Ward both return to London in readiness for flights on Monday to California, where they will be playing this week in the Indian Wells Masters. Ward, who retired from the dead fifth rubber against Donald Young when leading 7-5, 0-1, is due to play his first match in qualifying on Tuesday.
Britain will have home advantage again when they face France in the quarter-finals in July just five days after the Wimbledon final. The venue has yet to be decided, but competition rules state that it must have a minimum capacity of 6,000.
The All England Club has been ruled out because it is too soon after Wimbledon. Eastbourne, Edgbaston and Nottingham all have capacities of under 6,000, though it might be possible to install additional temporary seating. Another option could be to return here to Emirates Arena.
France have strength in depth, but, as Courier said, with Murray in their side Britain can even be contenders to win the whole competition for the first time since 1936.
The winners of the tie against France will meet Kazakhstan or Italy in September's semi-finals. With Serbia favourites to go through from the bottom half of the draw, what price Murray to meet Novak Djokovic in the decisive match of the final in November?
Register for free to continue reading
Registration is a free and easy way to support our truly independent journalism
By registering, you will also enjoy limited access to Premium articles, exclusive newsletters, commenting, and virtual events with our leading journalists
Already have an account? sign in
Register for free to continue reading
Registration is a free and easy way to support our truly independent journalism
By registering, you will also enjoy limited access to Premium articles, exclusive newsletters, commenting, and virtual events with our leading journalists
Already have an account? sign in
Join our new commenting forum
Join thought-provoking conversations, follow other Independent readers and see their replies