Great Britain salvage some pride in the Davis Cup as Dan Evans takes on three French players at once
Julien Benneteau struggled to cope with Dan Evans in the Davis Cup dead rubber on Sunday, so Nicolas Mahut and captain Yannick Noah decided to join him on court to lend a hand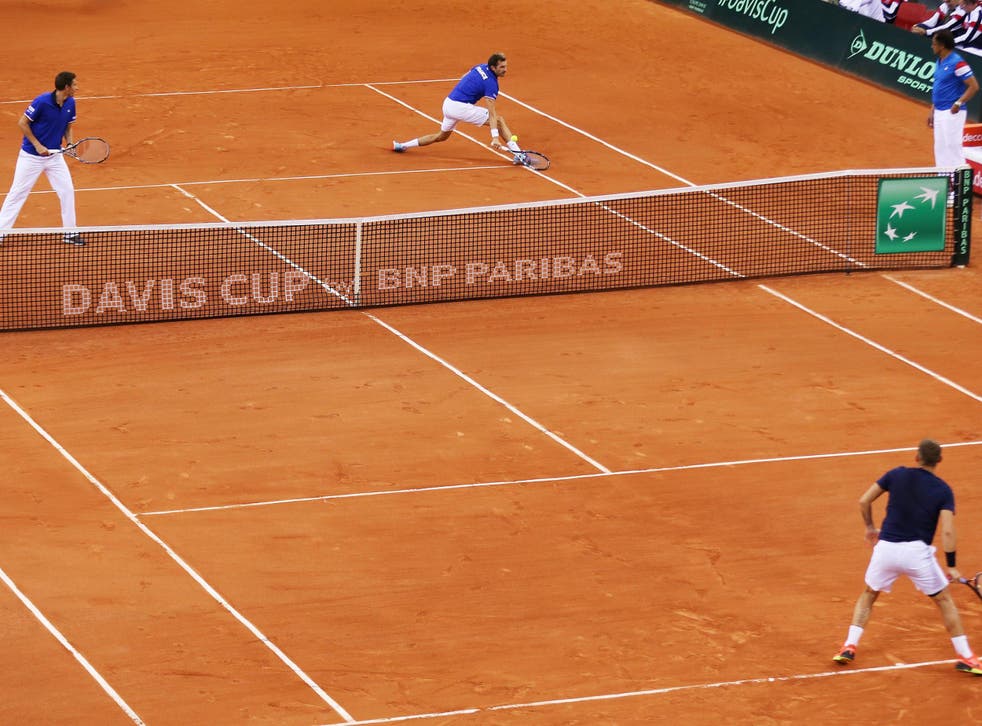 The dead rubber between Great Britain's Dan Evans and France's Julien Benneteau in the Davis Cup descended into farce on Sunday afternoon, as Nicolas Mahut and captain Yannick Noah joined their compatriot on court to go three on one against Evans in the second set.
France advanced to the Davis Cup semi-finals with two rubbers still to play when veteran pair Benneteau and Mahut won a tight doubles match against Dominic Inglot and Jamie Murray on Saturday evening, taking an unassailable 3-0 lead in the tie.
With France safely though, Noah decided to rest 17th-ranked Lucas Pouille and instead play 35-year-old Benneteau, and the rubber quickly took on the feel of an exhibition match.
Evans took just 21-minutes to win the first set 6-1, before Benneteau enlisted the help of his team-mates in a similarly rapid second set.
With the Brit 3-0 up, the veteran called on Mahut to join him, who appeared from the crowd, grabbed a racquet and ran onto the court — despite wearing a pair of smart trousers. His help didn't count for much however: Evans immediately thumped a cross-court return past Benneteau to win the point.
Cue the appearance on court of 56-year-old Noah, to make the contest three against one. Not even Evans could survive the onslaught, with the trio celebrating raucously when Mahut made it 30-15.
Evans then asked the bewildered chair umpire if a member of the crowd could join him on court to level the odds, only for his request to be denied.
Despite the clear breach of protocol, Evans still managed to win the match 6-1, 6-2 as Britain reduced France's lead to 3-1 in the quarter-final.
The rather bizarre rubber completed a memorable weekend for Benneteau, who has been restricted to the role of team substitute in recent years.
The veteran performed admirably in France's hard-fought doubles victory, a result he described as "incredible".
"It's really incredible, it gives you goosebumps," Benneteau said after the 7-6 (7), 5-7, 7-5, 7-5 win. "Whether you've won 15 Grand Slams or none, playing in front of your country like this is incredible. It's magical, fabulous.
"One year ago I was 700th in the world and lost in the first round of a challenger. At that moment the Davis Cup, playing in front of 5,000 fans alongside my best mate, and in front of my whole family, was a long way away."
Register for free to continue reading
Registration is a free and easy way to support our truly independent journalism
By registering, you will also enjoy limited access to Premium articles, exclusive newsletters, commenting, and virtual events with our leading journalists
Already have an account? sign in
Register for free to continue reading
Registration is a free and easy way to support our truly independent journalism
By registering, you will also enjoy limited access to Premium articles, exclusive newsletters, commenting, and virtual events with our leading journalists
Already have an account? sign in
Join our new commenting forum
Join thought-provoking conversations, follow other Independent readers and see their replies