French Open 2016: Garbine Muguruza warns rivals they'll be stepping into 'my territory' at Roland Garros
Muguruza feels most at home on clay and, she tells Paul Newman, is confident of winning a first Grand Slam at the French Open next month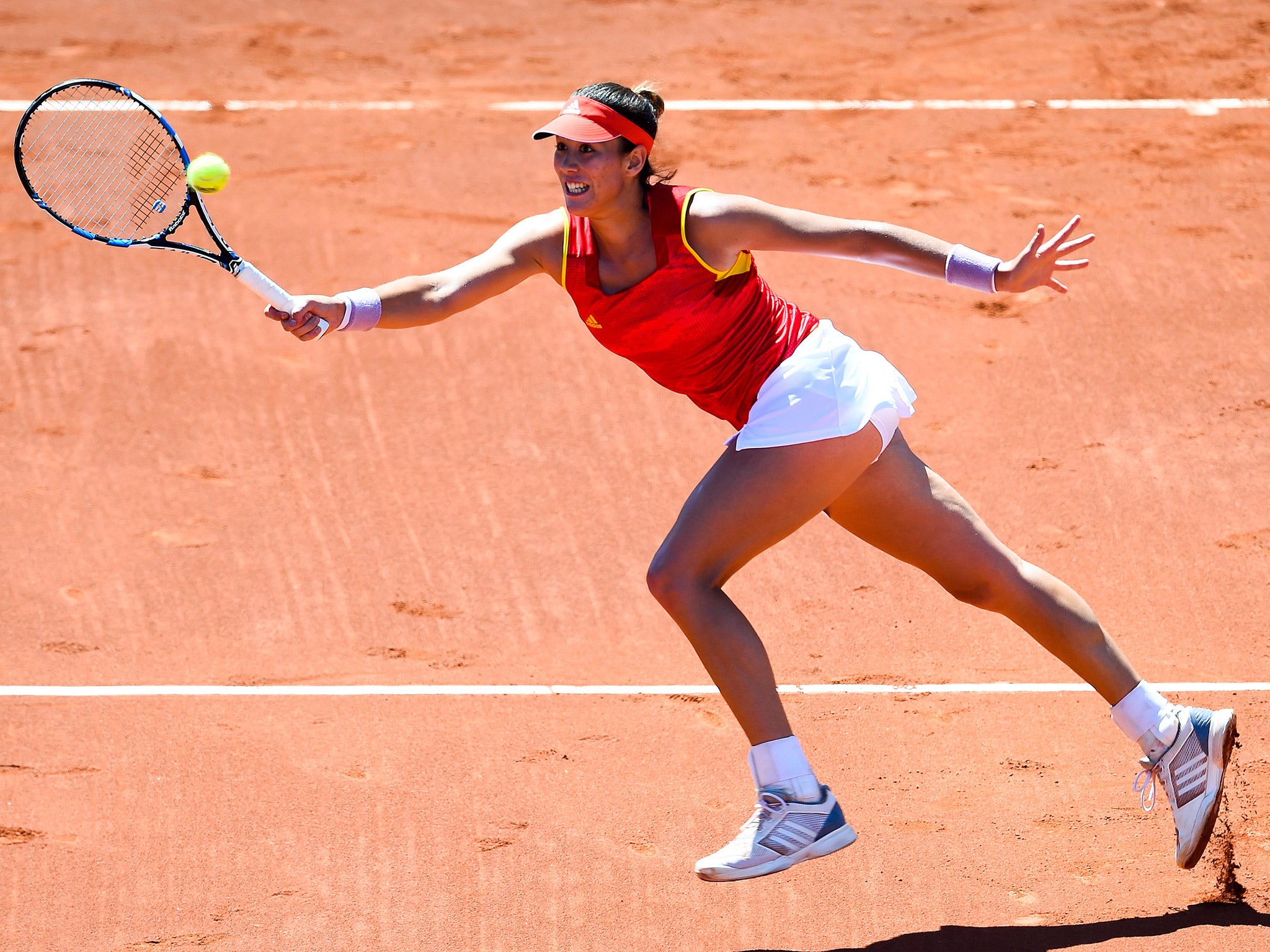 Garbine Muguruza enjoyed her best run at a Grand Slam tournament on grass, says hard courts are her favourite surface, but feels that clay is "my territory". As the 22-year-old Spaniard admitted here at this week's Porsche Tennis Grand Prix, where she will play her first tournament of the European clay-court season: "I like all surfaces actually. I don't feel uncomfortable on any surface."
Muguruza's big-hitting game may be best suited to quicker courts, as she demonstrated with her run to the final of Wimbledon last summer, but she feels most at home on clay.
"I spent a lot of hours playing on clay when I was younger," she said here. "I was brought up on clay, so every time I go back to it I feel: 'This is my territory.' I know some people think that my game style is not ideal for clay, but I think I play well on it."
Muguruza proved that point with her performances on clay last weekend in the Fed Cup. The world No 4 won both her singles rubbers, against Francesca Schiavone and Roberta Vinci, without dropping a set as Spain crushed Italy 4-0 in Lleida.
This week, nevertheless, will present a different challenge on indoor clay. "This clay is way faster and the bounces are cleaner, because it's like a carpet," she said. "It's so perfect. For someone who grew up in Spain it's so weird to play on indoor clay, but I think it's great. It's different. I'll just have to adapt a little more quickly to the court."
The climax of the clay-court season comes in less than five weeks' time at the French Open. Muguruza reached the quarter-finals at Roland Garros in both 2014 and 2015, beating Serena Williams, Angelique Kerber and Flavia Pennetta along the way.
Does she think she can win the title in Paris? "I always think that I can win a tournament," Muguruza said. "I've never felt a situation where I don't see myself as a possible champion. Some people question that, but you have to believe that you can do it. I felt great in the last two years in Paris. I beat players who play well on clay."
Kerber's victory at this year's Australian Open, combined with Williams' failure to win a tournament since August and the absence of Maria Sharapova following the Russian's admission that she failed a drugs test, is helping to raise the expectations of many of the other top women. Victoria Azarenka is the form player of the moment following her victories in Indian Wells and Miami, Agnieszka Radwanska has climbed to No 2 in the world rankings, Kerber is hungry for more success and Muguruza is aiming to build on her successes of last year.
"What Angelique did in Melbourne makes you think that if she can do it then I can do it too," Muguruza said. "I was very happy for her when she won the Australian Open. It made me and a lot of other players realise: 'Hey, there are more people other than Serena who can go for the tournaments'."
She added: "There was a time when mostly Serena was dominating but this has to change one day. Now is maybe the time."
The added incentive for players here this week is the prize of a brand-new Porsche 718 Boxter S sports car, which sits in the corner of the Porsche Arena.
Muguruza said: "My father puts pressure on me: 'You're going to get that car - for me.' It's a good motivation, obviously. All the top players come here and we're all excited about the car."
Asked what sort of driver she was, Muguruza admitted: "A risky driver. My mum says: 'Garbine, you're going to have an accident, I'm telling you.' I'm like: 'Relax. It's not true.' I haven't got a speeding ticket – yet. I know where all the [speed cameras] are. I love cars. I also have two brothers who are very into cars."
Join our commenting forum
Join thought-provoking conversations, follow other Independent readers and see their replies