French Open 2016: Jamie Delgado 'more than willing' to be Andy Murray's permanent coach if offered the job
Murray is on the lookout for a new coach after splitting with Amelie Mauresmo before the French Open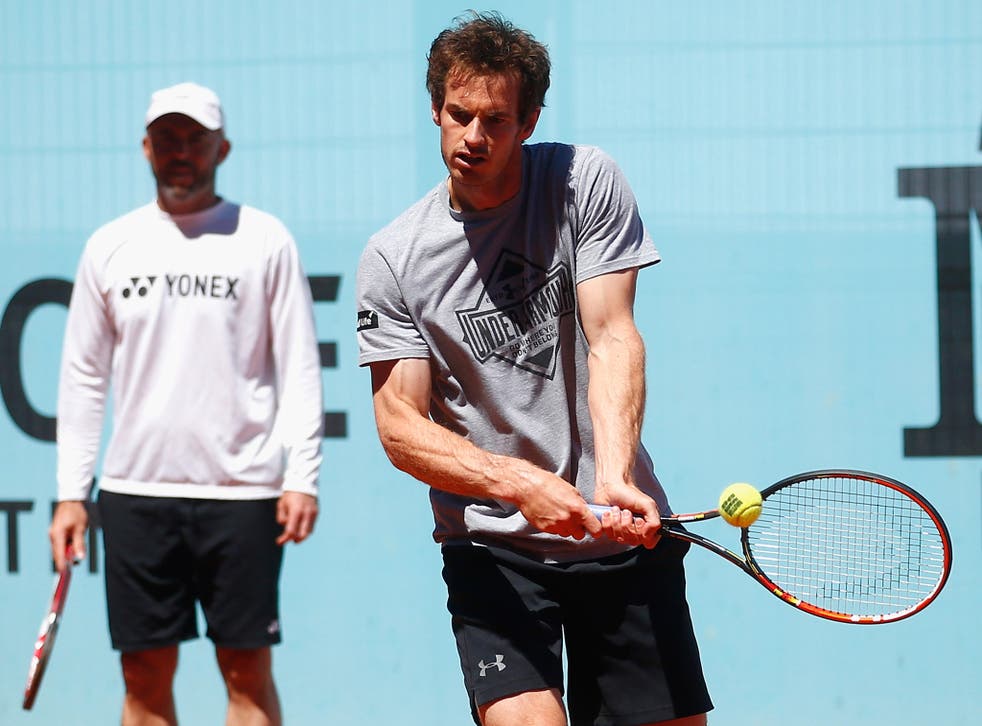 Jamie Delgado, who is the only coach in Andy Murray's entourage following the Scot's split with Amelie Mauresmo, says he would be "more than willing" to replace the Frenchwoman on a permanent basis if asked to do so.
Delgado, a former player who has been a close friend of Murray's for many years, joined the world No 2's coaching team as Mauresmo's assistant after the Australian Open. He has taken charge of Murray's coaching since he parted company with Mauresmo less than four weeks ago.
Following the split, Murray has reached the final of the Madrid Masters, won the Rome Masters and made the second week here at the French Open. Murray, who plays John Isner on Sunday in the fourth round, expects to give more thought to his coaching arrangements in the three-week gap between Roland Garros and Wimbledon.
"If he asked me to do it, I would be more than willing," Delgado said when asked if he would like to be Murray's senior coach on a permanent basis. "It's not something I've talked that much to him about. It's his decision at the end of the day. But yes, if he was to say: 'Jamie do you want to do it full on?' yes of course I would."
Delgado, who agreed a deal with Murray which will see him travel with the Scot throughout the year, also said he would be happy to work under anyone else. Murray may well still choose to appoint a senior figure as his senior coach, even if it is someone who – like Mauresmo and her predecessor, Ivan Lendl – is not willing to travel to so many tournaments. There have even been suggestions that Murray might even try to rehire Lendl.
"If he believes that there is someone who can help him then I will support him, if he thinks he really needs it," Delgado said. "If someone came in I would work with that person. Even if someone came in I would probably be doing most of the job anyway."
Delgado, who had considerable success coaching the Luxembourg player Gilles Muller last year, said that his role with Murray had not changed much since Mauresmo's departure. He said he had got on "really well" with Mauresmo but pointed out that the only time she had worked with Murray after the Australian Open had been for one week at the Miami Masters.
"I've just been getting on with my job and helping him prepare for these matches as best as I can," Delgado said. "I haven't really thought about stuff on the outside to be honest. I have a good relationship with him, in terms of being able to talk about things in practice that might be better. I have known him a long time."
Delgado, whose highest singles ranking was at No 121 in the world, played Murray once in competition. The Scot, who was just 16 at the time, beat him in three sets in a Futures tournament in Edinburgh. "He's always going on about that," Delgado smiled. "I told him it was the worst result of my playing career.
What does Delgado think he can bring to Murray as a coach? "I think communication in any coach-player thing is important," he said. "For him to open up about good things and bad things that are happening in his matches, and how he feels before or afterwards.
"I think tactically it's been good in terms of his game-style, just looking at things. And I think I'm pretty thorough in looking at opponents he has to play and how he's going to prepare for certain matches. I think I understand the game pretty well."
Asked to describe his coaching style, Delgado said: "I don't think I'm a guy who's shouting and bawling and throwing teacups around, but I do think I understand the game well and players' strengths and weaknesses, how to practise and make people better and have a relaxed, confident attitude.
"I don't think I complicate things and don't over-stress things when they're going badly. I'd like to think I can keep things calm for him, which is important in big events like these as the event goes on. In big matches that's important."
Delgado said he thought there were improvements Murray could make to his game. "We are trying to work on those, but I don't see him as a player who has got everything and there's nothing to do," Delgado said.
"There are things in his game that could be better and he's trying to be the best as well. Trying to beat Djokovic more often is obviously one thing."
Delgado thought Murray's slow start here had been down to his lack of time to prepare last week as a result of both the bad weather and his own success in Rome. However, after being taken to five sets by both Radek Stepanek and Mathias Bourgue in his first two matches, Murray needed less than two hours to beat the big-serving Ivo Karlovic in the third round.
Like Karlovic, Isner, his next opponent, relies heavily on a big serve, but Murray said the American would provide a different sort of challenge. "John plays a bit more from the baseline and is a bit more consistent from the back of the court," he said. "He doesn't volley as well. They're obviously both two big guys with great serves, but they are quite different in the way that they play and the way they hit the ball.
"Ivo obviously uses predominantly slice off his backhand. John doesn't use the slice as much. He's maybe a bit more patient from the back of the court. When Ivo gets a forehand he tries to finish the point immediately."
Murray has won all five of his previous meetings with Isner, but they have usually been close contests. Two were at Grand Slam tournaments – the 2010 Australian Open and the 2011 US Open – and one was in the Davis Cup last year. Seven of the 16 sets they have played have gone to tie-breaks, Isner winning two of them.
"Our previous matches have been really close," Isner said. "Just with how I play, I can keep matches close. I think in my matches versus him he's played the big points better than me, which is one of the reasons why he's No 2 in the world.
"So I'm going to have to step up when I get opportunities - if I get them. Against a guy like Andy I have to play big in the big moments. I'll go out there and try to do that."
Isner said that Murray and Djokovic were the two best returners in the game. "Andy generally doesn't play that deep on his returns," the American said. "He takes the ball early. Against me, he stands in the court and blocks it back. He has such great hands he's able to do that."
He added: "It's going to be a fun match, for sure. I really don't have anything to lose, but there's going to be pressure on both of us. I'm looking forward to it."
Murray's brother, Jamie, and his partner, Bruno Soares, reached the third round of the men's doubles. They beat France's David Guez and Vincent Millot 6-2, 7-6 to maintain their record of never having lost a Grand Slam match together.
Register for free to continue reading
Registration is a free and easy way to support our truly independent journalism
By registering, you will also enjoy limited access to Premium articles, exclusive newsletters, commenting, and virtual events with our leading journalists
Already have an account? sign in
Register for free to continue reading
Registration is a free and easy way to support our truly independent journalism
By registering, you will also enjoy limited access to Premium articles, exclusive newsletters, commenting, and virtual events with our leading journalists
Already have an account? sign in
Join our new commenting forum
Join thought-provoking conversations, follow other Independent readers and see their replies