French Open 2018: Mohamed Safwat restores some Egyptian sporting pride after Mohamed Salah injury
Safwat became the first Egyptian to play in the main draw at Roland Garros for 22 years when he replaced the injured Viktor Troicki, who had been due to play against Dimitrov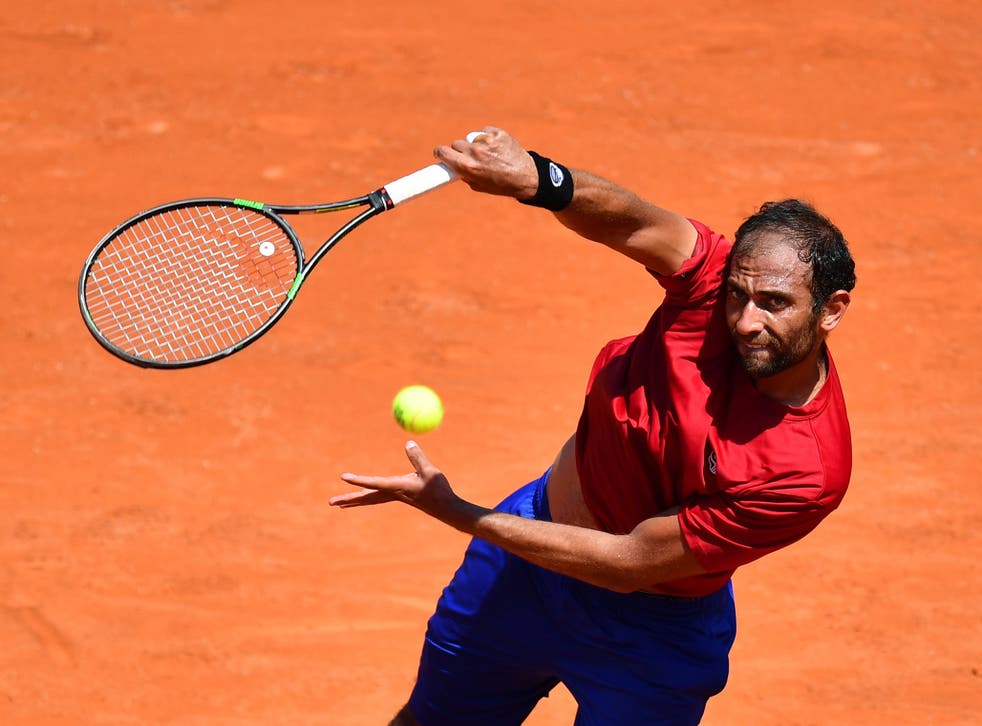 The first time that Mohamed Safwat saw inside Court Philippe Chatrier with his own eyes was when he walked out on to the main show court here on Sunday to play the opening match at the French Open.
If this was a sporting weekend to forget for one Egyptian sportsman following Mohamed Salah's tears at the European Cup final, it was a memorable one for the country's best male tennis player. Safwat became the first Egyptian to play in the main draw at Roland Garros for 22 years when he replaced the injured Viktor Troicki, who had been due to open proceedings on Court Philippe Chatrier against Grigor Dimitrov.
Although Dimitrov won 6-1 6-4 7-6, Safwat grew in confidence as the match progressed and was far from disgraced, especially as he had had so little time to prepare.
Safwat, who had never previously played in the main draw at a Grand Slam tournament, lost in qualifying last week for the eighth time in a row at a major but was given his chance as a "lucky loser" after Troicki withdrew because of a back injury."I didn't understand what was going on," Safwat said after being told an hour before the start that he would be playing. "I didn't even think for a second that I would have to go on court in the first match. I was thinking about what I would do for the rest of the day."
Dimitrov learned that he would be playing a different opponent even later. "After my warm-up today, I just walked into the locker room and Viktor was like: 'Hey, good luck today'," Dimitrov said. "I just found out about 30, 35 minutes before I had to go out.
"It's not easy when those kind of things happen. You just need to be ready. You have played many matches in the past. You kind of prepare yourself every day for different obstacles, whether it's weather, strings, balls, opponents. You just have to be ready.
"I just needed five or 10 minutes to disconnect from what I had in mind to play and what I wanted to do and look at a few videos of the way he was playing."
Safwat said: "At the beginning, I was trying to figure it out. Is the court fast or slow? It felt different to the outside courts. I didn't know my right string tension, so I was trying to switch rackets, trying to figure out what to do."
Within 40 minutes Safwat was a set and 4-1 down, but after taking a medical time-out for treatment to blisters on his right hand the world No 182 found some form.
"I started to play and feel comfortable in the middle of the second set," Safwat said. "I picked up the momentum and it was actually fun at the end to play. That's when I figured out what was happening and what I needed. And it was really enjoyable."
Safwat, aged 27, is a regular on the Challenger tour. He reached his career-high position at No 174 in the world rankings earlier this month, but this was the highlight of his career so far.
"It was always my dream to play on centre court with such a crowd," Safwat said. "A lot of things have happened to me in the last few months, and this is one of the biggest. I never ever thought I would lose in the final round of qualifying and then have a chance to compete in a tournament, in the main draw, in a Grand Slam against a good player in the centre court in Philippe Chatrier. I always saw it on TV, but I had never seen it [with my own eyes], so it was really, really enjoyable for me."
Nick Kyrgios also withdrew from the tournament, having failed to recover from an elbow injury. Kyrgios, who had been due to play his fellow Australian Bernard Tomic in the first round on Monday, said: "Having consulted with my team and medical experts it is deemed too risky for me to step out and potentially play five sets on clay, especially as I have not played a singles match in nearly two months. I've worked hard to be ready and desperately wanted to play Roland Garros, which is very special to me, but I literally ran out of time."
Kyrgios was the eighth singles player to withdraw after the draw and before their first-round match. Like the others, he will be replaced by "lucky losers" who lost in the final round of qualifying. International Tennis Federation researchers were trying to work out on Sunday night whether this was a record for a Grand Slam event.
The Grand Slam tournaments have introduced new rules this year which have been designed to stop injured players taking part just in order to take home the big prize money awarded even to first-round losers. Here the prize money for first-round losers amounts to 40,000 euros (about £35,000).
Those who go ahead and play but under-perform because of their injuries can lose all their prize-money in a fine, but if they withdraw with an injury they will still receive half of it.
Alexander Zverev, the world No 3, needed only 69 minutes to beat Ricardas Berankis 6-1, 6-1, 6-2, but Kei Nishikori made heavy weather of his first-round match against the French wild card, Maxime Janvier. Nishikori, who is attempting to rediscover his best form after injury, was taken to a tie-break in the first set but won it 7-0 and went on to take the match 7-6, 6-4, 6-3.
Gael Monfils had his customary physical issues – this time stomach and breathing problems - before beating another French wild card, Elliot Benchetrit, 3-6, 6-1, 6-2, 6-1. Lucas Pouille, who is probably France's best hope in the men's singles, beat Russia's Daniil Medvedev 6-2, 6-3, 6-4. He will now meet either Britain's Cameron Norrie or Germany's Peter Gojowczyk, who play on Monday.
Register for free to continue reading
Registration is a free and easy way to support our truly independent journalism
By registering, you will also enjoy limited access to Premium articles, exclusive newsletters, commenting, and virtual events with our leading journalists
Already have an account? sign in
Register for free to continue reading
Registration is a free and easy way to support our truly independent journalism
By registering, you will also enjoy limited access to Premium articles, exclusive newsletters, commenting, and virtual events with our leading journalists
Already have an account? sign in
Join our new commenting forum
Join thought-provoking conversations, follow other Independent readers and see their replies