Petra Kvitova's inner steel has brought the former Wimbledon champion back into the fray after horror knife attack
Exclusive interview: After fears she would never be able to play tennis again following a knife attack in 2016, Kvitova is now returning to the peak of her game
Paul Newman
Paris
Thursday 24 May 2018 07:29 Comments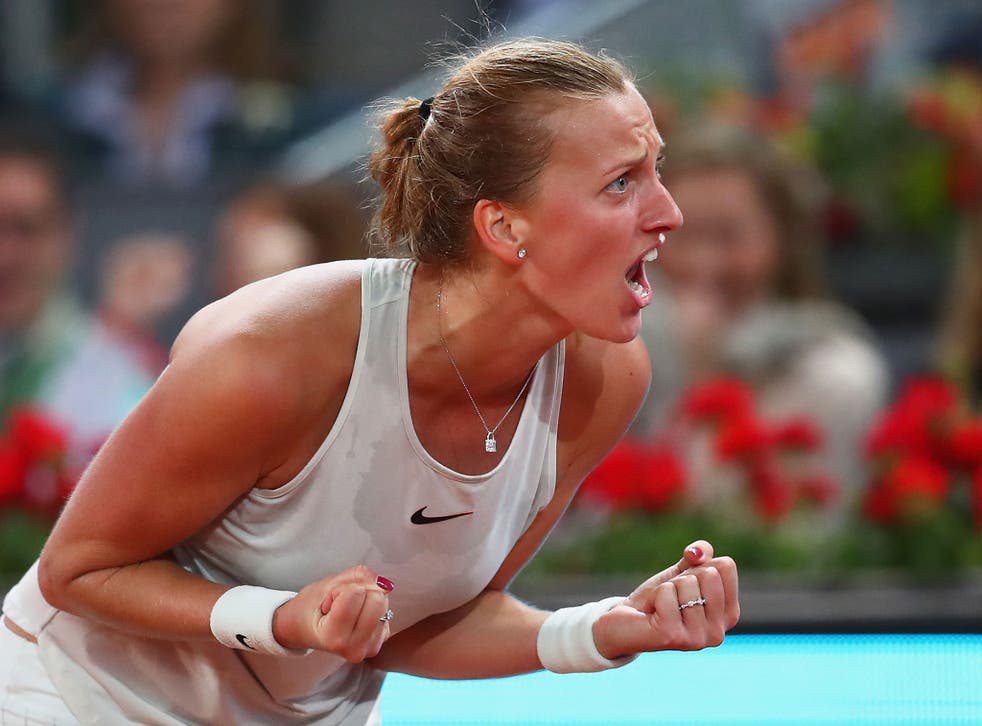 When she arrived here at the French Open last year Petra Kvitova was still uncertain what her tennis future might hold. After suffering terrible hand injuries during an attack by a knife-wielding intruder in her apartment in the Czech Republic five months earlier, the two-times Wimbledon champion had been unable to pick up a racket for 12 weeks and had barely started practising again.
Twelve months later, the 28-year-old is back at Roland Garros as one of the in-form players on the women's tour. She has won four titles already this year, is back in the world's top 10 and has already been installed as the second favourite behind Serena Williams to win Wimbledon.
"A year ago I had totally different things on my mind," Kvitova told The Independent when asked if she could ever have envisaged at this stage last season that she would play so well again.
"I could not have imagined this amazing success which I've had, though when I made my comeback I always said that I wanted to do more than just play tennis again. I wanted to compete with the best players again. That's what has happened – and to make it even better I've also beaten some of those players."
For several weeks after the horrific attack in December 2016 Kvitova did not know whether she would be able to play again. She suffered deep cuts to her left hand after fighting off her assailant, who had held a knife to her throat. The intruder, who has never been caught, had entered her flat saying that he had come to read a meter.
The surgeon who operated on Kvitova's hand said at first that the chances of her playing tennis again were "very low", but five months later she was playing – and winning – her first match here at the French Open. She lost in the next round but in her second comeback tournament won the title at Edgbaston.
However, the current world No 8 says that the tournament that told her it might be possible to compete successfully at the very highest level again was last summer's US Open. Kvitova played two particularly stunning matches in New York, beating Garbine Muguruza, the Wimbledon champion, before losing a deciding tie-break against Venus Williams in the quarter-finals.
Her form has been excellent this year and she recently won 11 matches in 13 days to win the titles in Prague and Madrid. "Playing some good tennis has given me some good confidence," she said. "On the other hand it's given me some pressure as well.
"It's just pressure that I've been putting on myself. At the end of the day sometimes that's not great. It's better not to go into a tournament as a favourite, to go and play freely, which I've been doing in those tournaments until now."
She added: "Sometimes I put too much pressure on myself and I can't really handle it. Then I think to myself that I've been doing this for so many years already that I should know how to handle it. But sometimes it's just impossible."
Having started her 2017 campaign halfway through the year, Kvitova said it had helped to begin the 2018 season at the same time as everyone else. "Last year when I started I wasn't in great form for sure," she said. "I missed tennis so much while I was recovering. I couldn't practise and the physical part of my game wasn't really there."
Kvitova had appointed a new coach, Jiri Vanek, shortly before the attack. "He stuck with me, even though nobody knew whether I was even going to be able to pick up a tennis racket again," she said.
"Now I think he's very happy with everything that we've done. He's trying to keep me very positive. That's the main thing that he's doing with me right now. It's just the mental side – not being too stressed about anything, being positive, looking forward to the next point and just believing in myself.
"He's changed my serve a little bit, which is working well. I also see things a bit different tactically. I'm trying to use more volleys as well. I think there's more variety in my game."
Has her experience given her a better sense of perspective and taught her that it was not the end of the world if she missed a forehand or even lost a match?
"It's not the end of the world, but on the other hand I put so much into coming back and trying to play well and obviously when you reach a target you want something more," she said. "I get angry when I lose a match or when I miss an easy shot.
"When I lose a bad match or something I need to stop and look back, for sure. I forget to do that sometimes. I think I should do that more often, to be more relaxed.
"Sometimes when I sit down and I'm stressed about tennis, because I couldn't win a match or whatever, I feel that I should be happier when I'm playing. But I think that's just part of an athlete's life, the mentality which we have."
Kvitova said her hand felt much better than it had a year ago, though there is still room for improvement. She sees her surgeon only occasionally and does not have to do any exercises on her hand to help her recovery. "The doctor says that just playing tennis is enough," she said.
Even more impressive than her physical health is the way that Kvitova has handled everything mentally, particularly given the fact that she was a player who had sometimes struggled with her emotions even before the attack.
Beginning with her remarkable first press conference here last year, when she barely faltered when answering questions in public for the first time about how she had coped since the incident, Kvitova has talked openly and calmly about the challenges she has faced.
She still has occasional flashbacks about the attack and admits that she does sometimes feel nervous when she is around people she does not know, but for the most part she has coped remarkably well.
Kvitova thinks the big reason for that is because she is so happy to be back playing again. "There was a time when I wasn't really happy with my hand and my doctor was also worried," she said. "That was a time when I really didn't want to talk about anything, but it's different now."
Register for free to continue reading
Registration is a free and easy way to support our truly independent journalism
By registering, you will also enjoy limited access to Premium articles, exclusive newsletters, commenting, and virtual events with our leading journalists
Already have an account? sign in
Join our new commenting forum
Join thought-provoking conversations, follow other Independent readers and see their replies