French Open 2018: Simona Halep wins first Grand Slam title with victory over Sloane Stephens
The world No 1 won 3-6 6-4 6-1
Saturday 09 June 2018 17:19 Comments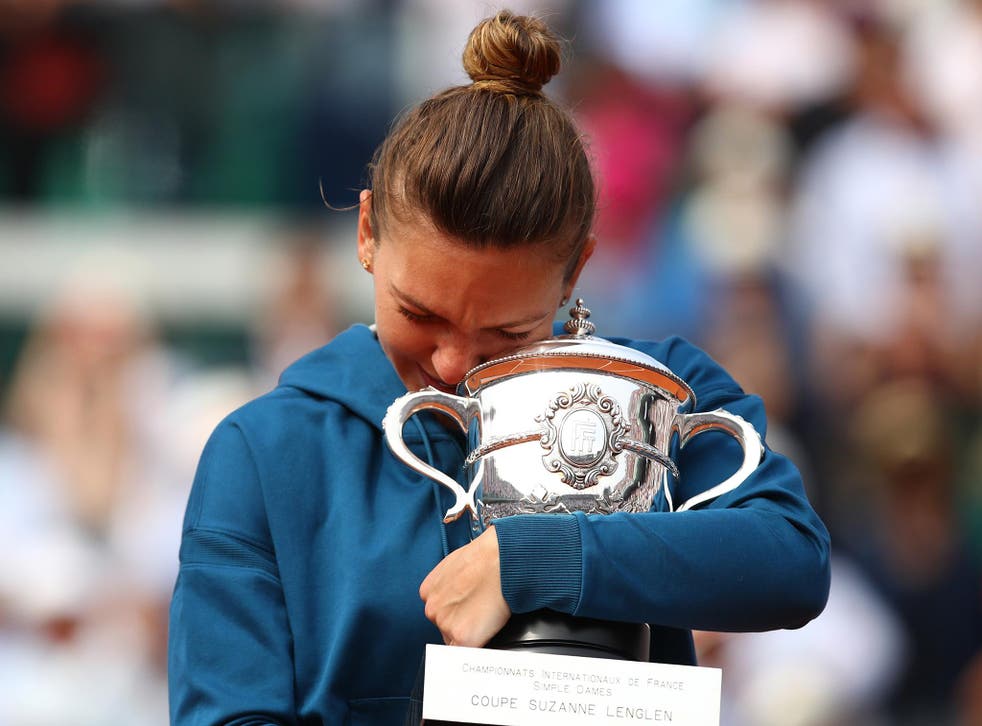 Like so many of the other major prizes in women's tennis the French Open has been dominated in recent times by the big hitters, but Simona Halep proved here on Saturday that there is still room in the modern game for a player whose greatest strength is her athleticism. Putting aside the disappointment of defeat in all three of her previous appearances in Grand Slam finals, including two on this court, the 26-year-old Romanian beat Sloane Stephens 3-6, 6-4, 6-1.
Twelve months after losing in the final to Jelena Ostapenko after leading by a set and 3-0, Halep turned the tables by coming back from a set and 2-0 down to claim the prize.
"Last year it was tough to talk because I lost this match, but now it's really emotional to talk as the winner," Halep said at the presentation ceremony. "I've been dreaming of this moment since I was 14. Thank you guys for supporting me. It was an amazing atmosphere. I wanted this trophy to be here in France."
Like Caroline Wozniacki, who beat her in the Australian Open final in January, Halep will no longer have to answer questions about whether she deserves to be world No 1 when her portfolio does not include a Grand Slam title. Halep, who would have stayed at the top of the rankings even if she had lost the final, has had to play 32 Grand Slam tournaments to break her duck. Only seven women, including Wozniacki, have needed more attempts to make their breakthrough.
Halep, who is the second Romanian woman to win the title here following Virginia Ruzici's triumph in 1978, had to work desperately hard for her win. Stephens, who won her first Grand Slam title at last year's US Open, made most of the early running before Halep turned around a match that was full of gruelling rallies.
The world No 1's triumph runs counter to recent patterns here. The recent champions at Roland Garros - Serena Williams, Maria Sharapova, Garbine Muguruza and even Ostapenko – have tended to be players who blast their opponents off the court with their raw power.
This final was always going to be different in that neither Halep nor Stephens have the weight of shot of many of their contemporaries, but both are excellent athletes who cover the ground superbly. Halep, who stands just 5ft 6in tall, is a bundle of energy who scurries around the court and throws herself into her shots, sometimes giving the impression that she is playing eyeballs-out in almost every rally.
Stephens, who is just an inch taller, is as quick as Halep but moves across the court with apparently effortless ease. Like most Americans she has had to learn the art of sliding on red clay comparatively late in her life, but it now seems like second nature. Her languid ball-striking can also be deceptive in that her shots carry more weight than you might expect.
From the moment the players walked out it was evident that the majority of the crowd in Court Philippe Chatrier were on Halep's side. There were regular and increasingly loud chants of "Simona! Simona!" from the stands, where there were also plenty of Romanian flags in evidence.
Halep's defeats here in the finals of 2014 and 2017, when she lost to Sharapova and Ostapenko respectively, combined with her warm smile and engaging sense of humour, have endeared here to the Parisian public. The fact that this was a European taking on an American probably also counted in her favour.
The temperature was 27C on another hot and humid day in the French capital as the two women set about their task. It was soon clear that it would be an energy-sapping afternoon for both. Halep in particular seemed to have to dig deep into her energy reserves for almost every point.
Stephens made the first break of serve in the fourth game, Halep netting a forehand at the end of a lengthy exchange. There were no other breaks of serve in the first set, with Halep netting a backhand on her only break point when Stephens served at 5-3.
The pressure on Halep intensified at the start of the second set as Stephens broke serve in a lengthy opening game, but from 2-0 down the Romanian rallied in admirable fashion as her relentless pressure started to force cracks in the American's defence. Halep broke to love to bring the score back to 2-2 and another break took her to 4-2.
Although Stephens disrupted the pattern by breaking to love in the seventh game, it was only a temporary shift in the momentum. When Stephens served at 4-5 Halep went to set point when the American missed a backhand under intense pressure before another backhand error gave her the set.
By now Halep's sheer consistency was forcing Stephens into more mistakes. Halep raced into a 5-0 lead and eventually went to match point with a smash. She converted it at the first attempt when Stephens netted a return.
In her moment of victory Halep dropped her racket to the floor, raised her arms in triumph and turned towards her team, including Darren Cahill, the coach who has done so much to turn her into a champion.
"In the last game I felt that I could not grip [the racket] anymore, so I just tried not to repeat the last year," Halep said in her on-court interview at the end. "I did everything I could. It's amazing what is happening now. Honestly I can't believe it. I have been dreaming of this moment since I started to play tennis. I'm really happy that it's happened in Roland Garros in Paris, my special city.
Asked how she had come back to beat Stephens from a set and a break down, Halep said: "She's a great player and it's always tough to play against her. She's always very strong on the court. When I was down a break in the second set I said: 'OK, everything is gone. I just have to start to relax and enjoy the match'."
Register for free to continue reading
Registration is a free and easy way to support our truly independent journalism
By registering, you will also enjoy limited access to Premium articles, exclusive newsletters, commenting, and virtual events with our leading journalists
Already have an account? sign in
Join our new commenting forum
Join thought-provoking conversations, follow other Independent readers and see their replies