French Open: Andy Murray 'embarrassed' by the way he shouts at his coaches
Murray recently parted with coach Amelie Mauresmo
Paul Newman
Tennis Correspondent Comments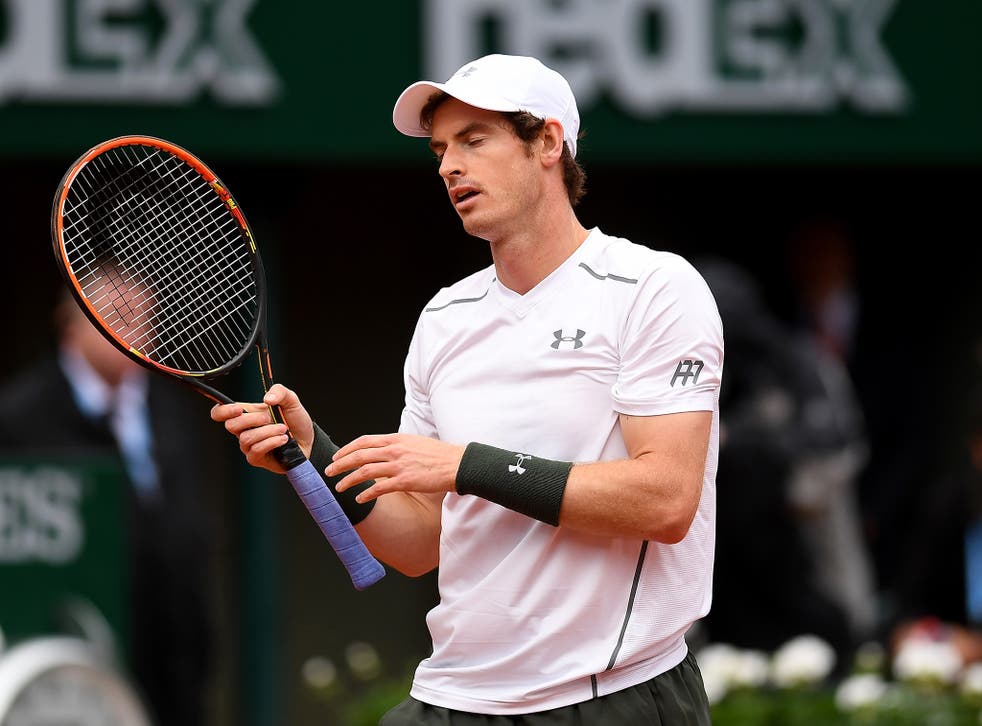 Andy Murray admits there have been times when he has been embarrassed by the way he has shouted at his coaches on court but believes that it is the job of his entourage to support him through it.
"Obviously you never want to upset anyone when you're on the court, but this happens in all sports," Murray said in an interview published in L'Equipe, the French sports daily newspaper. "It's tough. It's not always easy and perfect all of the time. It's up to me to improve that side of things but also for my team to support me through it as well."
Amelie Mauresmo, who was Murray's coach until they parted company earlier this month, hinted at the weekend that his on-court behaviour had been a factor in their split. She said he was a complex character and that the difference between his behaviour on court and off it could be "disconcerting".
Murray, who began his opening match at the French Open today against Radek Stepanek, said that when he shouted in the general direction of his entourage it was not always directed at his coaches. "I also say stuff about myself as well," he said. "I don't speak well of myself when I'm on the court either."
He admitted that he had sometimes felt embarrassed after matches when he had seen television pictures of himself screaming in the direction of his entourage, but added: "A lot of the things that happen when you're on the court are not always really a true reflection of how you feel."
The world No 2 said that when his coaches sat away from their usual positions during matches it was not always his idea. "Sometimes coaches felt like they were being a distraction," he said.
Mauresmo had sat apart from the rest of his entourage during his match against Grigor Dimitrov at the Miami Masters earlier this year. At the Barclays ATP World Tour Finals in November his team sat high up in the O2 Arena, rather than next to the court, during his match against Stan Wawrinka.
The idea had been that if Murray was unhappy with the game plan that had been drawn up, he would be unable to complain to the coaches about it because they were not courtside. However, Murray said the fact that he had lost both matches proved that it changed nothing.
"I think it's easy to use that as maybe an excuse," he said. "But it's only an excuse when things are going badly. I don't hear that normally when things go well. People don't go: 'Oh, he was getting frustrated with his box, that's why he won the match.' So it's when you lose people always look for reasons why that may be and I've always been open to try different things. If my coach sits there or doesn't sit there, I don't think it makes much difference."
Murray said that he had started being more emotional on court when he went to train at the Sanchez-Casal academy in Barcelona as a teenager. "To be honest, always from when I was a kid, I was extremely competitive," he said. "I would get very frustrated when I was losing and then when I was winning I was showing a lot of emotion as well.
"So either way, that started when I was a kid. I don't know exactly why that is. There could be many, many reasons for it. Sometimes it could just be me; sometimes situations you were in as a kid maybe influenced your behaviour as well. But it's probably been there since I was young, since I was 11 or 12 years old."
Murray said that he had been working hard in recent weeks to improve his on-court behaviour, without wanting to cut out all emotion from his game. He said that in the past he had played badly in matches where he remained silent and did not express his emotions.
"A lot of people have commented on that," he said. "I've come off having not said anything and they've said: 'Oh, you seemed flat today.' So it's getting the balance right. I don't always get the balance right, but I have been the last few weeks and my job is to try to do that here as well."
He added: "Sometimes obviously I'm quite emotional on the court. Some people see that as being a negative. Some people see it as a positive, that when I'm not showing my emotions that I don't play as well. It's kind of difficult to know. I think the most important thing is that when you're playing the points, if I'm being very emotional and it's distracting me then it's bad."
Murray said he did not think that staying silent in matches was a positive thing for him. "I think I need to express myself on the court," he said. "But it's important to express yourself in a positive way too.
"Sometimes if you're just being negative the whole match and you're not saying to yourself 'well done' and fist-pumping when you play a good point, then that's not really a good balance, so I have to show positive emotion as well and hopefully I'll do that here."
Register for free to continue reading
Registration is a free and easy way to support our truly independent journalism
By registering, you will also enjoy limited access to Premium articles, exclusive newsletters, commenting, and virtual events with our leading journalists
Already have an account? sign in
Join our new commenting forum
Join thought-provoking conversations, follow other Independent readers and see their replies