Andy Murray reaches French Open semi-finals after gritty victory against Kei Nishikori
Murray beat his Japanese opponent 2-6, 6-1, 7-6, 6-1 to book his place in the last four where he'll face Stan Wawrinka
Paul Newman
Paris
Wednesday 07 June 2017 18:21 Comments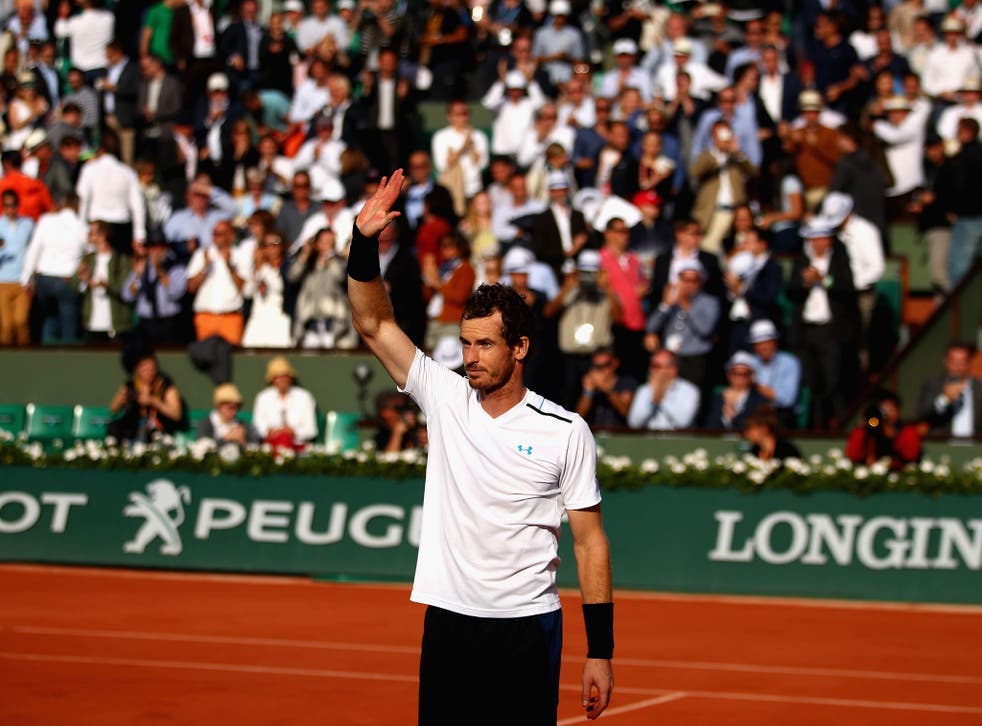 Players can turn matches around through a slice of luck, a moment of brilliance or an opponent's unexpected mistake, but there cannot have been too many occasions when being penalised by an umpire has proved to be a positive turning point.
Andy Murray, nevertheless, might look back on his 2-6, 6-1, 7-6, 6-1 victory here over Kei Nishikori in the quarter-finals of the French Open and be grateful for the moment when Carlos Ramos gave him a second time violation.
Having lost the first set, Murray was looking out of sorts early in the second when Ramos deducted him a serve for taking too long between points. The world No 1 was far from happy at the time, but he kept his focus, broke serve immediately and took charge of the match to secure his place in the semi-finals here for the fourth year in a row.
On Friday Murray will face Stan Wawrinka, who crushed Marin Cilic 6-3, 6-3, 6-1, while Rafael Nadal will take on Dominic Thiem after the 23-year-old Austrian beat Novak Djokovic, the defending champion, 7-6, 6-3, 6-0.
Murray is the only semi-finalist who has not won all his matches so far in straight sets. "They are all obviously playing extremely well," Murray said. "Rafa's had a great clay-court season, as has Thiem. Stan has played great this tournament and won in Geneva, so he's obviously confident.
He added with a smile: "I came in playing garbage. I'm the odd one out in the semis."
Ramos' first intervention came in the third game of the opening set, when he gave Murray a time violation for exceeding the 20 seconds allowed between serves. Murray dropped serve after double-faulting twice, went down a second break four games later and lost the first set in just 33 minutes as Nishikori, taking advantage of his opponent's tentative hitting, dominated the rallies.
By the third game of the second set Murray was trying to fire himself up with frequent cries of "Come on!" However, it was after another intervention by the umpire that the Scot turned the match on its head.
At 1-1 and deuce, Murray aborted his first serve because the sun was in his eyes. Ramos called another time violation, for which the world No 1 was deducted his first serve. Murray complained that he could never recall having been called for a time violation in such circumstances, to which Ramos replied that the Scot was "already on 26 seconds" when he had thrown the ball up and had been exceeding the time limit on every point.
Murray responded, nevertheless, in the best possible fashion by going on the attack. Having held serve by winning the next two points, he then broke twice in succession to level the match, even if the world No 9 did not help himself. After double-faulting on break point at 1-2, Nishikori made a bad error of judgement on another break point at 1-4 when he chose to leave a Murray shot which landed on the baseline.
It was that sort of match. Neither man played particularly well and while Murray steadied himself after a shaky opening Nishikori started to rush his shots and made more and more errors. The temperature was pleasant enough on a sunlit late afternoon on Court Philippe Chatrier, but a stiff breeze made conditions difficult.
Murray twice went a break up in the third set only for Nishikori to break back immediately each time. The Scot was grateful that his opponent played a dreadful tie-break. Murray won it 7-0, upon which Nishikori hurled his racket to the floor in disgust.
The pattern continued in the fourth set, but this time it was Murray's turn to break back instantly after dropping serve in the opening game. He broke twice more and eventually served out for victory after two hours and 39 minutes.
Murray said that he was not sure how much of an impact Ramos' interventions had had, but he admitted: "For a couple of points after that I was fired up because I was frustrated at that moment. It felt to me like it was a strange decision. I have never seen anyone get a warning after they have missed the ball toss."
The Scot thinks Ramos is a good umpire but said it was difficult for players to be aware of how long they were taking between serves, particularly as they are allowed 25 seconds away from the Grand Slam tournaments.
"It's possible that I'm playing too slow," he admitted. "We don't have the clock on the court so it's impossible for us to tell, but I didn't feel like today I was playing slower than I was in the other matches."
The Scot admitted his quarter-final win "wasn't the best match" but added: "If someone had offered me a semi-final spot before the tournament, I would have signed up for that because I was not playing well at all."
Murray beat Wawrinka in the semi-finals here 12 months ago. "It was a similar situation coming in," the world No 1 recalled. "I think Stan had played really well coming into the match. I had struggled in some of my matches during the event last year, but I played one of my best clay-court matches that day to get the win. I need to do the same again."
Djokovic's defence of his title ended in remarkable fashion. Thiem had taken only one game off him when they met in Rome last month, but the world No 7 took control here after winning a tight opening set. The last time Djokovic lost a set to love in a Grand Slam tournament was against Gael Monfils at the 2005 US Open.
The Serb's defeat means that he will drop out of the world's top two next week for the first time for six years. Nadal, currently world No 4, will overtake him and Wawrinka would do the same by reaching the final.
"It's a fact that I'm not playing close to my best," Djokovic said afterwards. "More or less all the parts of my game are going up and down. I'm feeling like I'm missing consistency. I play a great match or two in a row, and then I play a completely opposite match."
Asked about his plans for the grass-court season and when he might next work with Andre Agassi, Djokovic said: "We're going to try to get together at Wimbledon but that's all for now. I was planning to play only Wimbledon. I might play a lead-up event, but I might not. I'm not really sure right now."
Nadal reached his 25th Grand Slam semi-final after his opponent, Pablo Carreno Busta, retired with an abdominal injury when trailing 6-0, 6-2. Nadal, who is seeking his 10th Roland Garros title, has dropped just 22 games so far, beating his previous lowest record of 25, which he set here in 2008.
Register for free to continue reading
Registration is a free and easy way to support our truly independent journalism
By registering, you will also enjoy limited access to Premium articles, exclusive newsletters, commenting, and virtual events with our leading journalists
Already have an account? sign in
Join our new commenting forum
Join thought-provoking conversations, follow other Independent readers and see their replies