Patience proving to be a virtue for Madison Keys as American progresses at French Open
Keys secured a quarter-final meeting with Kazakhstan's Yulia Putintseva by beating Mihaela Buzarnescu 6-1, 6-4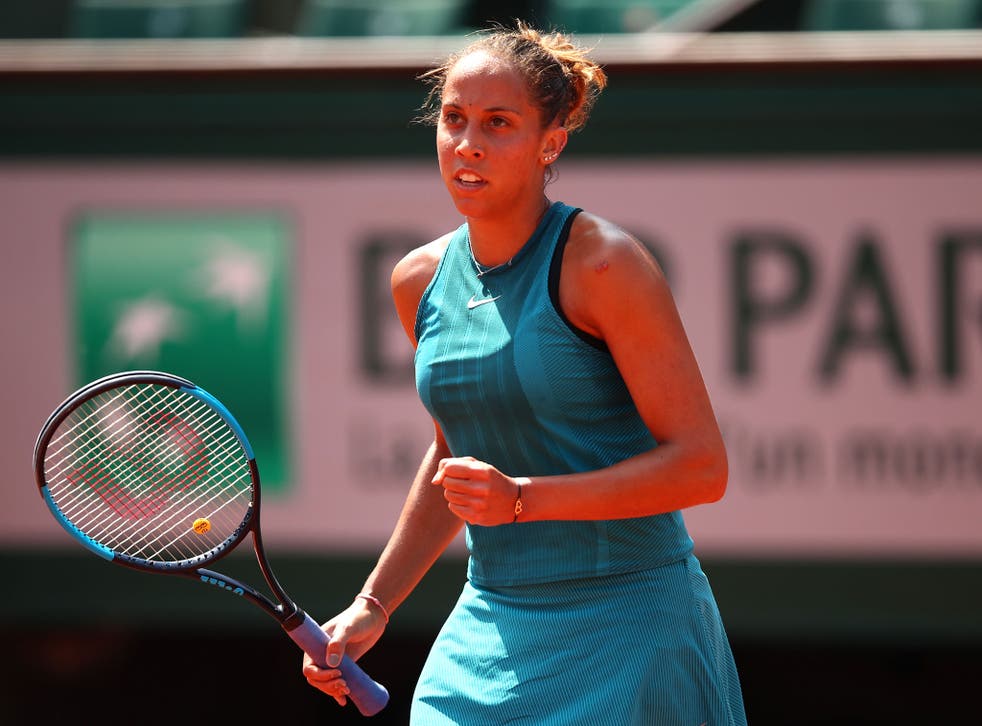 As Madison Keys has learned, patience is a virtue. The 23-year-old American's progress has been hampered in the last two years by a serious wrist injury, but after reaching her first Grand Slam final at last summer's US Open and then making the quarter-finals at this year's Australian Open, she is now through to the last eight here at the French Open. Considering that clay has never suited the big-hitting world No 13's game, it is some achievement.
"It's awesome – I can't really think of another word," Keys said when it was pointed out that she would now have a full set of Grand Slam quarter-final appearances. "This was always the one where it was the most difficult for me. It was always the toughest one to feel like I could play well here, so to be able to get to the quarter-finals really means a lot."
Keys, who has not dropped a set in her first four matches, secured a quarter-final meeting with Kazakhstan's Yulia Putintseva by beating Mihaela Buzarnescu 6-1, 6-4 in Sunday's first match on Court Philippe Chatrier. She struck the ball well from the start and was troubled only briefly in the second set when the Romanian recovered from 1-5 down to 4-5.
"Even though it's still not my favourite surface, I definitely feel more comfortable on clay," Keys said afterwards. "I feel like this year especially I have been finding the balance between being a little bit more patient but also playing my game, whereas before I felt like I would go too far one way. That's the biggest thing: just remembering how I like to play tennis but just maybe adding a couple more shots to each rally."
Keys said that patience was "something I have had to get better at in all aspects of my life, especially on the tennis court". She added: "I think it's become more consistently better for me and something that I'm always going to have to work on, but it's definitely something that's helped me become more consistent."
Comparing her run here with her experience at last year's US Open, Keys said: "I think the US Open, for me, was a lot higher energy just because it was late at night and all of that. So to be here and just consistently getting through and just being happy with low-drama matches has been really nice."
Keys is grateful for the coaching support and help she continues to receive from Lindsay Davenport. "Lindsay has been amazing for me in a lot of ways but I think we have always really managed Slams well," Keys said. "Before I started working with her they were always a tough one for me, especially managing my emotions.
"Not only that, because she's really helped me enjoy the game and she helped me through a really tough time when I was dealing with my wrists and all of that. Having her in my corner, whether formally my coach or not, she's someone that I have always relied on and I probably always will."
Putintseva, who beat Johanna Konta in the first round, is through to the quarter-finals for the second time in three years thanks to a 6-4, 6-3 victory over the Czech Republic's Barbora Strycova. The world No 98, who had lost both her previous matches with Strycova, has won at least one match on all five of her appearances in the main draw here.
Sloane Stephens, who won her first Grand Slam title when she beat Keys in the final at Flushing Meadows last summer, booked her place in the Paris quarter-finals for the first time by beating Estonia's Anett Kontaveit 6-2, 6-0 in just 52 minutes. The American had lost in the fourth round on four previous occasions.
Join our new commenting forum
Join thought-provoking conversations, follow other Independent readers and see their replies