Andre Agassi can turn Novak Djokovic into a winner again, says Nick Bollettieri
Interview: Bollettieri tells The Independent that Agassi, a former world No 1, holds all the qualities needed to take Djokovic back to the top of his game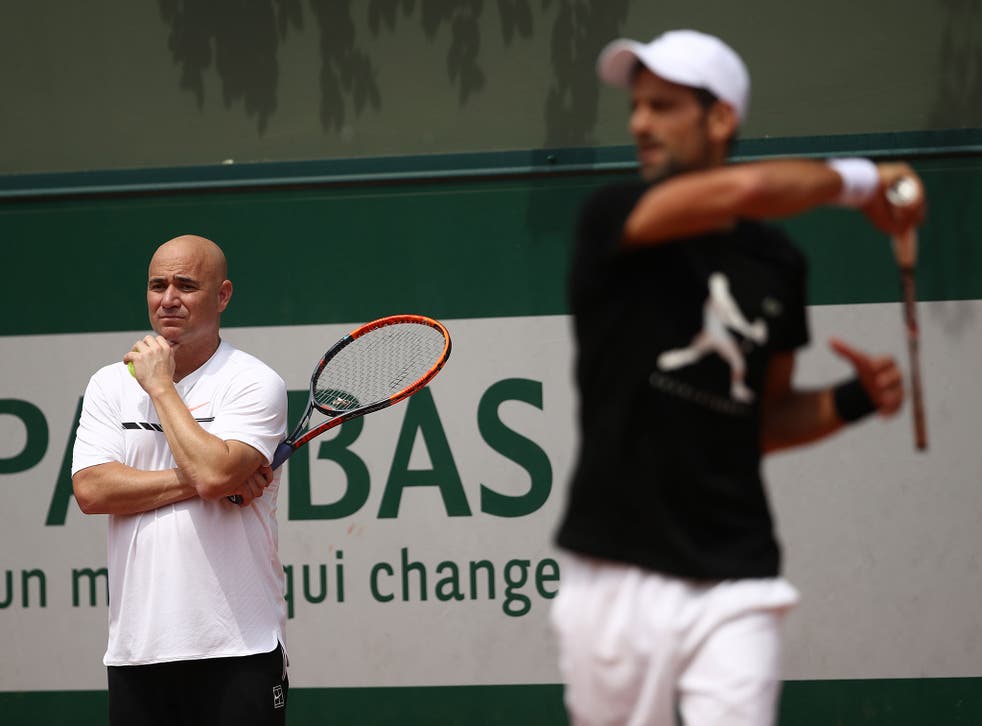 Nick Bollettieri, who guided Andre Agassi to Grand Slam glory, believes that his former charge is the perfect choice to put Novak Djokovic's career back on track.
Djokovic plays his first match since asking Agassi to be his coach when he takes on Marcel Granollers here at the French Open on Monday. Since winning the title at Roland Garros 12 months ago the Serb has lost his world No 1 ranking and suffered some shocking defeats, including losses to Sam Querrey in the third round at Wimbledon and to Denis Istomin in the second round of the Australian Open.
However, Djokovic's troubles hardly compare with Agassi's travails at the height of his career. The American, with Bollettieri as his coach, won his first Grand Slam title at Wimbledon in 1992, became world No 1 in 1995, tumbled out of the top 100 in 1997 and fought back to reclaim the No 1 position in 1999.
Bollettieri believes Agassi can relate to what Djokovic has been going through. "I think they're a perfect fit," he said. "Andre knows what it's like to be the best and then struggle. At one stage he dropped to No 141 in the world and even had to play in qualifying to get into his home town tournament. But then he found a way to come back.
"I think the life that Andre had means that he can teach Novak a lot. Andre was a huge celebrity. He was world No 1 and the biggest name in tennis.
"Novak's problem has nothing to do with his strokes. For him it's all about how to become a winner again. When he was at his best I thought he was the most perfect player in history if you took into account every aspect of his game – all his shots, his movement, his tactics, everything.
"I don't think anyone would change the fundamentals of Novak's game because he does everything so well. I compare his situation with Tiger Woods' a few years back. Woods changed his techniques and that screwed him up. What's been going wrong with Novak has nothing whatsoever to do with his techniques."
He added: "I'm not sure whether Andre would be the right man to work with less talented players, but I don't see him as a coach in the technical sense, more as a guy who can help Novak become a winner again."
Bollettieri believes that the similarity of Djokovic's game to Agassi's will help. "Not many players have ever seen the ball so well, taken it so early or moved so quickly as Andre, but Novak is one of them," Bollettieri said. "They both have great returns of serve.
"Andre always used to go on the attack by taking the ball early. He'll tell Novak that he has to do the same. He has to be the one forcing the issue."
Bollettieri was in Rome a week ago when Djokovic lost to Alexander Zverev in the final. "There were times when Novak was drifting six or eight feet behind the baseline," Bollettieri said. "He never used to do that. He always used to take the ball very early, with very little backswing. He always forced the issue.
"It meant that Zverev was able to take advantage of the fact that the ball travelled so far when Djokovic hit his shots. Zverev had the time to attack the ball - and had the big shots to trouble him."
Bollettieri thinks Djokovic's problems all stem from a loss of confidence. "After he lost one or two matches he probably started to think that he would give himself a little bit more time by playing further back, but it was counter-productive for him.
"When he I saw him in Rome I told him: 'Novak, you've got it all, man. You were the best and you still are the best. Don't change anything. Know you're a winner – and go out and prove it again. Just go out there and show them. Just play the game'."
Bollettieri thinks the nature of modern men's tennis is such that playing further up the court is the only way to win at the highest level.
"Players like Michael Chang and Lleyton Hewitt could not succeed today by playing as far back as they did," he said. "Look at Andy Murray too. He became a Grand Slam champion and world No 1 by attacking more. Even Roger Federer has come further forward later in his career."
As for Murray, Bollettieri said he feared that the world No 1 was paying a price for the health issues he has had to deal with this year.
"I think the shingles may have taken a heavy toll on him," Bollettieri said. "It can drain your energy. I watched him practising in Rome and he seemed to get tired very quickly. After long points he is usually the one who is ready to go longer, but I got the impression that he is struggling physically."
Bollettieri said he had been very impressed by Rafael Nadal's form of late and had been surprised when he lost to Dominic Thiem in Rome following his title triumphs in Monte Carlo, Barcelona and Madrid.
"I watched Nadal practise and boy was he hitting the ball hard," Bollettieri said. "I saw him hitting the ball much flatter, which can make it much more difficult for opponents. I saw him coming forward and going for big forehands.
"The only question mark I would have over Nadal would be how he might cope with playing seven matches over the best of five sets. He's not a young guy any more. He should certainly be a favourite to win the French, but can he play two five-setters in a row?
"Some of these younger guys are very dangerous. Not so long ago the top seeds often had two or three pretty easy matches in the opening rounds at Grand Slams. Now they have to play their best from the very first day or they'll be knocked out. These young guys have nothing to lose."
Register for free to continue reading
Registration is a free and easy way to support our truly independent journalism
By registering, you will also enjoy limited access to Premium articles, exclusive newsletters, commenting, and virtual events with our leading journalists
Already have an account? sign in
Register for free to continue reading
Registration is a free and easy way to support our truly independent journalism
By registering, you will also enjoy limited access to Premium articles, exclusive newsletters, commenting, and virtual events with our leading journalists
Already have an account? sign in
Join our new commenting forum
Join thought-provoking conversations, follow other Independent readers and see their replies