Gilles Simon has another swipe at women... after losing
Frenchman beaten easily but says 'all 128 men in draw' back his stance on equal pay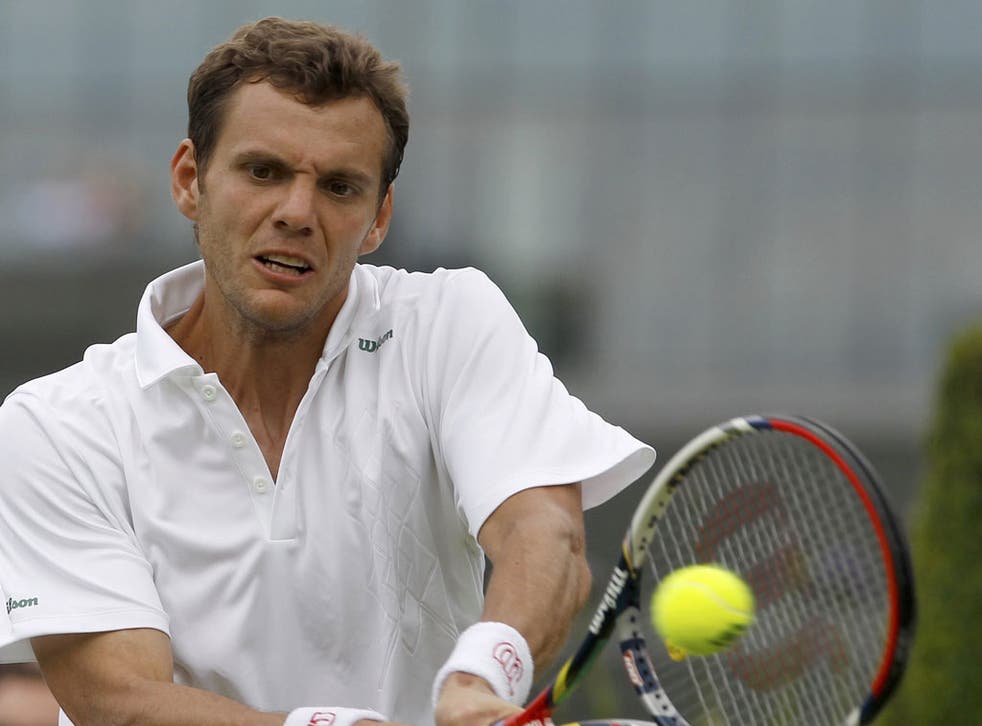 It would be an exaggeration to suggest there was a cheer in the women's locker room when the result of the opening match on Court Three came through, but there will have been a few smiles among Wimbledon's female players when they heard Gilles Simon had been beaten in straight sets.
The Frenchman, known as "little chicken" for his spindly legs, caused a stir in the henhouse when he suggested that women did not deserve the equal prize money they receive at Wimbledon. The fact the 27-year-old had just been elected to the players' council of the ATP (which runs the men's tour) made his comments doubly provocative.
"The male players spent twice as long on court at Roland Garros [during the recent French Open] as the women," Simon said at the weekend. "The equality in salaries isn't something that works in sport. Men's tennis remains more attractive than women's tennis at the moment."
Such comments, coming when men are still paid an average 15 per cent more than women in the workplace 42 years after the Equal Pay Act, inevitably provoked an angry response. "Tennis is aligned with our modern, progressive society when it comes to the principle of equality. I can't believe in this day and age that anyone can still think otherwise," said Stacey Allaster, chairman and chief executive of the WTA, which runs the women's tour.
Yesterday Simon clarified his comments, explaining that his complaint was not that men play five sets to the women's three, and thus spent more time on court, but that the women's game was simply less entertaining.
The 13th seed said: "I am for equal pay in life, but not in entertainment. It's not about how hard you work. It's about the show. I believe men's tennis is more interesting than women's tennis. You have to be paid on that basis."
Simon noted that women, in complaining that they received less income on the circuit outside of the big events, confirmed that sponsors and spectators were more interested in the men.
"We have equal prize money because women's tennis at the time was as interesting as the men. Unfortunately most of those women stopped. We have Roger [Federer], Rafa [Nadal], Novak [Djokovic] and there is a huge difference."
Maria Sharapova's acidic response was that "more people watch my matches than his". Simon did not contest that. "Maria is more famous than me. She deserves more money than me. That is not the problem. It's not about me. Just check the price of the tickets for the finals here [men £120, women £105]."
Simon's views, he said, were shared "by all 128 men [in the draw]". When asked why the likes of Federer were not prepared to say so publicly he responded: "Maybe they can't say it, maybe they will lose $2m in [sponsors'] contracts. But we've had the conversation in the locker room and, trust me, they agree."
Simon said the reason he spoke out was because "there are top-100 players, someone like at 80, who can't pay their coach because he doesn't earn enough money". Presumably Simon, who is ranked 13, believes if the women got less, the men would get more.
Independent columnist and veteran coach Nick Bollettieri disagreed. "There's enough money going around to share it. It's not like the old days when guys were getting $25 a game."
There are very few other sports where men and women compete in the same arena but not against each other. The Diamond League athletics meets are one. Every event, male and female, carries the same $10,000 prize money, though appearance fees vary enormously.
Register for free to continue reading
Registration is a free and easy way to support our truly independent journalism
By registering, you will also enjoy limited access to Premium articles, exclusive newsletters, commenting, and virtual events with our leading journalists
Already have an account? sign in
Register for free to continue reading
Registration is a free and easy way to support our truly independent journalism
By registering, you will also enjoy limited access to Premium articles, exclusive newsletters, commenting, and virtual events with our leading journalists
Already have an account? sign in
Join our new commenting forum
Join thought-provoking conversations, follow other Independent readers and see their replies