Goodall leads rookie team into deep end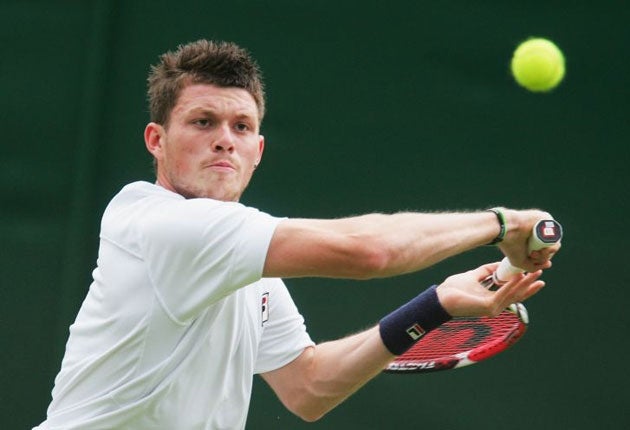 When Britain last played a Davis Cup tie Josh Goodall did not even earn a place in the squad. Tomorrow, however, the 23-year-old from Basingstoke will be central to the country's hopes as John Lloyd's men take on Ukraine in Glasgow.
Following Andy Murray's withdrawal with a virus, Goodall finds himself in the unlikely role as Britain's No 1 singles player in the tie, despite the fact that this will be his first appearance for his country. Improved results saw him climb this week to a career-high No 192 in the world rankings and replace Alex Bogdanovic as the British No 2.
When Goodall qualified for both Wimbledon and the US Open in 2006 a bright future beckoned, but for two years his career stalled. Some questioned his hunger for hard work, while others doubted his mental strength.
"Tennis hasn't been my problem," Goodall admitted yesterday during a break from training at the Braehead Arena. "On court I put in a lot of practice and I don't think that's an issue. It's been the mental side of my game. It's only just recently that I've started to work on that and I feel that's now the key to my game and why I'm playing a lot better."
Since December Goodall has been working with Roberto Forzoni, a sports psychologist who helped Murray during the Scot's comeback from a wrist injury in 2007. "Roberto's been brilliant," Goodall said. "I was putting too much pressure on myself, but now I'm happy and positive with the way I'm going."
If Britain are to win the tie Goodall will surely need to win at least one singles rubber, while he might also be asked to renew his partnership with Ross Hutchins, the team's doubles specialist. "We're all rookies, but I think we're all ready to show what we've got and this is a great opportunity for us to do that," Goodall said. "I always respond better when I'm chucked in at the deep end."
Lloyd will delay naming his line-up until the last possible moment before today's draw. Goodall and Chris Eaton look certain to fill the two singles slots, while Colin Fleming is likely to win the vote over James Ward for the vacancy created by Murray's withdrawal.
"It's almost a pity that we didn't start the match a couple of days ago," Lloyd said. "Practice has been first class. The attitude of the players has been as good as any team I've been involved with either as a coach or a captain. I know Ross is the only one with any Davis Cup experience, but the squad don't feel like rookies to me. Their maturity has been exceptional."
Join our commenting forum
Join thought-provoking conversations, follow other Independent readers and see their replies