Harriet Dart hoping to make up for her 2016 Wimbledon heartbreak by reaching this year's main draw
A year ago, the talented youngster was defeated 13-11 in the final qualifying round: the most painful result of her career. This year, she's hoping to put things right
Tim Wigmore
Sunday 25 June 2017 16:56 Comments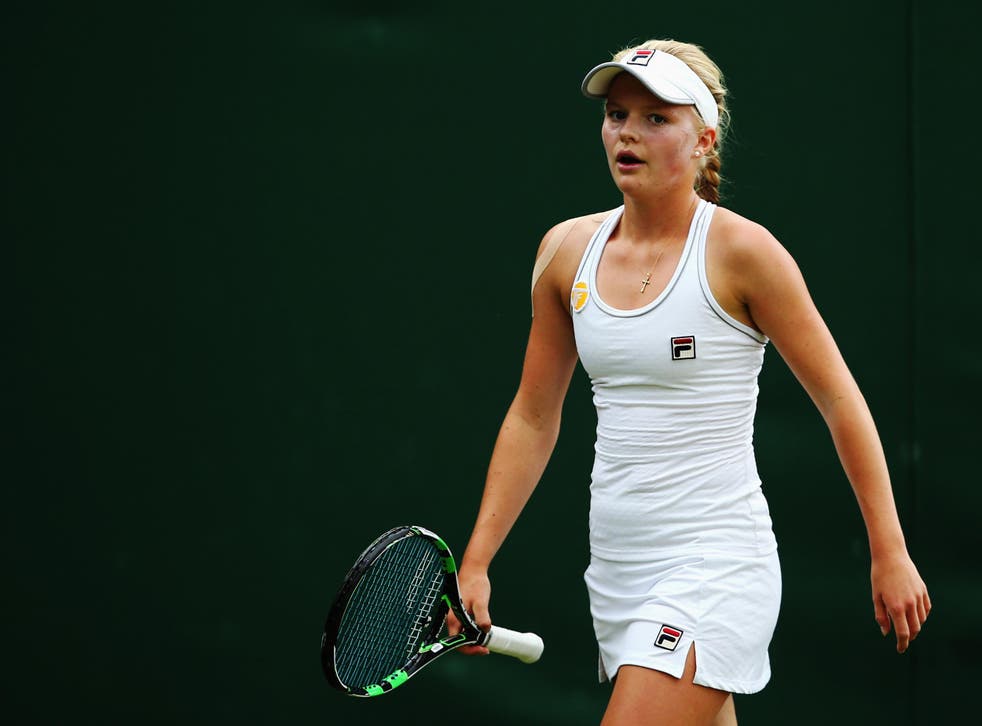 It is a baking Wednesday evening at Cumberland Lawn Tennis Club, nestled between salubrious streets in Finchley Road. For Harriet Dart, it is the end of another long day's training before her biggest week of the year: the Wimbledon women's qualifiers.
Reaching the main draw at Wimbledon can be a life-changing experience. Even a first round loser receives £35,000, along with international exposure and the chance of further sponsorship.
No one knows this better than Dart. A year ago, she was defeated 13-11 defeat in the final qualifying round: the most painful defeat of her career.
Such excruciating margins are a window into the life of those who frequent the outer edges of the tennis circuit, where hopes and dreams are played out in obscure challenger tournaments. Yet by almost any metric, Dart is an absolutely exceptional athlete.
At 20, she is ranked 279th in the women's game, and seventh among British women. A female footballer in the world's top 300, let alone a male player, would be assured of a very comfortable existence, but it is her fate to be playing an individual sport.
It is hard to spot the glamour in Dart's life. In her two years since turning professional, she has earned $77,200, which sounds impressive enough until you realise that this excludes all the costs of travelling the world playing tennis.
So far in her career, Dart has made an overall financial loss; she still lives at home.
"You're trying to make more money than you spend in a week," she reflects. "Especially at challenger level, it's very difficult to earn money."
All the while, Dart lives with the discipline of an ascetic monk. When training in England, her routine is to be in bed by 9:30 and up at 6:30. She trains, six days a week, from 8-530. She abstains from alcohol almost entirely: Dart has allowed herself only a solitary glass of wine in 2017, celebrating a friend's birthday.
The off-season, in November and December, allows a break from tennis - but only to do strength and conditioning work instead. Dart has only a week off a year.
Mostly, she is on the road. Although she only returned from injury in March, she's already spent six weeks in Australia and another two weeks in Japan this year. It is life flying economy class to "the cheapest hotel" - or, when she is luckier, as on several occasions in Australia, arranging a homestay set-up by the clubs hosting her events.
A player like Dart must double as her own PA: deciding which tournaments she should play in, determined by a combination of her prospects of doing well and the financial costs, working out how to get there and how long to stay, knowing that she could be knocked out on the first day of a tournament.
"I'd rather do it myself than anyone else because at least I know where everything is, what's been done, what's been paid for, what hasn't," she reflects.
"You have to try and find cheap tickets and ways that you can make them flexible in case you lose and get out straight away. It's difficult."
Hers is a lonely existence. "You have long travel days on your own, you're on your own a lot of the time, you have to like your own company a lot.
"You go all that way, you maybe lose in the first round, then you've got to motivate yourself to go practise and train for a whole week."
Forward planning is another luxury denied to players of Dart's level. She is normally only told of whether she's been accepted to play a tournament two weeks before, once higher-ranked players have decided whether or not to enter.
"A lot is last minute - plans can change, you can get injured, suddenly get into a higher tournament so then you go there. You have to be prepared for anything."
Financial realities dictate that Dart can seldom afford to take a coach or any support staff with her. "You pay for your hotel, you pay for your flights, your food, and then if you get your coach to come you pay for all of his expenses plus his fee. It's why I've travelled a lot on my own."
The absence of a full-time coach is, Dart believes, a significant professional handicap. "A coach spots things that you might not spot for a week."
Dart uses the widely respected Alan Jones as coach, but he is part of Junior Tennis Coaching, based at Riverside Northwood; she pays a monthly fee to be able to train there and use the coaches' expertise.
When she is playing overseas, Jones will sometimes be able to watch games if they are live-streamed; otherwise, it is left to Dart to talk through the matches with him. "You've just got to get on with it."
Dart hardly needed another obstacle. But she got one: a raft of injuries. A foot injury in October 2015 ruled her out for six months. Last September, she suffered a serious hip injury; in January, she contracted pneumonia. She did not return until March, after six months out.
Not that Dart is the complaining sort. She knows that she was deeply fortunate in her upbringing; she attended the elite Royal School in Hampstead. Perhaps there was a little serendipity to her career, too: her parents met at Cumberland Lawn Tennis Club, where we speak.
"If I didn't enjoy doing it and love competing I wouldn't be in this sport. I love everything that comes with it even though there's a lot of bad things - travelling isn't always fun for 24 hours on your own sitting in economy. But I love competing. I want to see how far I can get and just be the best I can be."
She has no envy for the boozy late nights her friends are enjoying at university. "I'm not really sure how they go out all the time," she laughs. "It looks quite tiring.
"I've dreamt of being world number one and winning a grand slam since I was very little and saw [Maria] Sharapova on the television. Pretty much all my life has been around tennis. It's always something I wanted to do."
Dart admits that "family support is essential as I wouldn't be able to play otherwise… I'm not making money but I'm not heavily in debt either."
An uncomfortable corollary is that tennis closes itself off to many late developers who simply cannot afford to keep playing professionally. "That's a lot of the reason why people retire early: not because they're not good enough, but because they can't support themselves financially."
There is, though, no indication of a radical rebalancing of tennis's pay scales. As a result, Dart reckons she will need to get into the world top hundred until she is earning more than she is spending on her tennis career.
And so to Tuesday, and a week that could put Dart's career on a new course. "I'm super excited and grateful to have the opportunity again," she says. Dart learned of her wildcards, for both the singles and doubles qualifying, when the LTA head of women's tennis phoned her the evening before out meeting.
She knows what's at stake in the coming days. If she reached the main singles draw, "I'd invest in having a coach for more weeks of the year, and take my physio or fitness trainer on the road." With a bit more success, she'd "be a lot more stable, be able to move out, do other nice things".
This is her hope, and what Dart is playing for in the coming days and months, longing to be injury-free at last. Yet, for all this optimism and her fierce motivation, she knows that tennis careers are short and volatile.
"I'm also not stupid. You don't want to be hovering around a ranking for a few years and not making any money... I'm just taking each year as it comes."
Register for free to continue reading
Registration is a free and easy way to support our truly independent journalism
By registering, you will also enjoy limited access to Premium articles, exclusive newsletters, commenting, and virtual events with our leading journalists
Already have an account? sign in
Join our new commenting forum
Join thought-provoking conversations, follow other Independent readers and see their replies