Heather Watson arrives at Flushing Meadows with the form to blow away her US Open blues
Watson has played every year since she won the girls' title in 2009, but has never gone beyond the first round of the senior event thanks to a combination of some tough draws and some below-par performances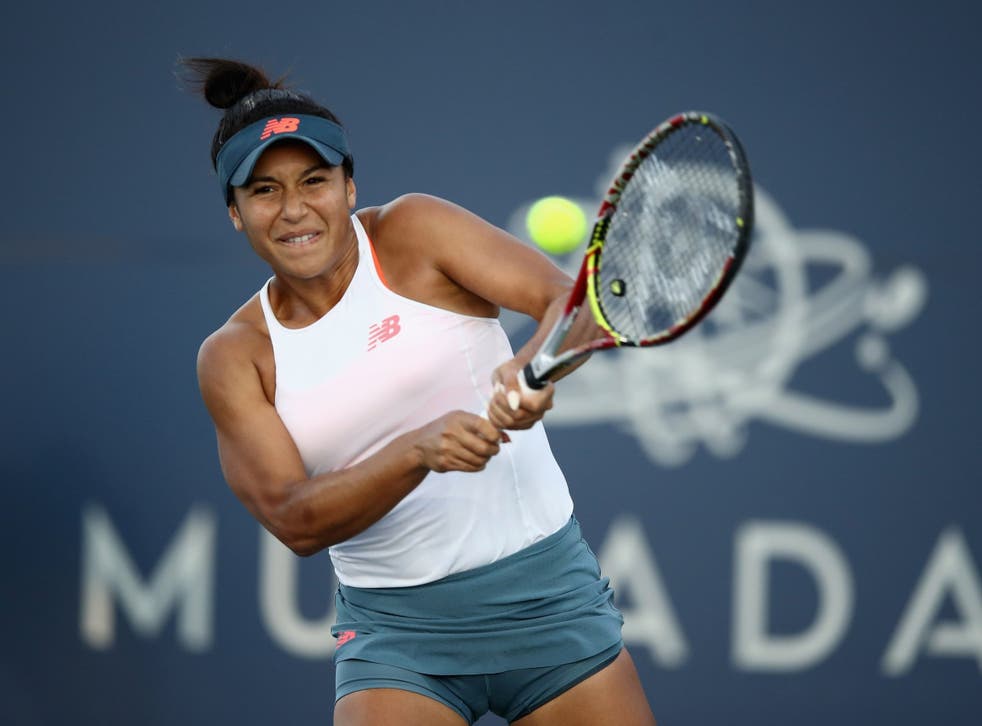 Heather Watson arrived here this week having never won a senior match at the US Open, but the 26-year-old Briton has earned a place in the main draw for next week's tournament thanks to three impressive victories in qualifying. Watson beat her fellow Briton, Katie Swan, 6-2, 6-4 in the final round on Friday to continue what has been an impressive month's work by the world No 116.
Watson has played here every year since she won the girls' title in 2009, but has never gone beyond the first round of the senior event thanks to a combination of some tough draws and some below-par performances. Her latest attempt to turn that record around will come on Monday when she faces Russia's Ekaterina Makarova, the world No 49.
This week's results have underlined a welcome turnaround in Watson's fortunes after a poor first six months of the year. Having started 2018 as the world No 75, Watson fell to No 133 after Wimbledon, where her first-round defeat to Kirsten Flipkens was her 14th loss in 17 matches.
The fall in her world rankings meant that Watson had to enter tournaments on the lower-tier International Tennis Federation circuit, but her run to the final in Vancouver earlier this month appears to have restored her confidence. Her emphatic victory over Swan was her seventh in her last eight matches.
Swan, aged 19, had done well to reach the final round of qualifying in her first appearance here, but was on the back foot from the start as Watson took command to win in just 74 minutes in the first meeting between the two Britons. Swan, who at 19 is one of the country's brightest prospects, is mentored by Andy Murray and received help here from Jamie Delgado, the Scot's coach.
"Katie's a good friend of mine," Watson said afterwards. "I get on really well with her. But I've approached every single match I've played the last few weeks exactly the same. I'm not playing the person, I'm playing the ball I receive and I've been quite relaxed before all my matches, which is important for me."
Watson said her form this week had been an extension of the good work she has been doing since starting her summer hard-court campaign. "I was talking about it with my coach and we've just put in the work consistently, day in and day out," she said. "I don't think I've had one bad practice or match in the last month and a half and I'm really pleased with that.
"I'm in this situation now because that's where my ranking's at and I think it's good for me to play those ITFs the last couple of weeks, get more matches in. It's given me a good base for this week."
She added: "I'm definitely happy to get some wins here, even if it is in qualifying. I haven't played qualifying in a long time here. I'm just very pleased with the way I've played these matches."
Watson, who joins her fellow Briton Johanna Konta in the main draw, next faces an opponent who has a good record at Grand Slam level, having recorded several notable victories over leading players. However 30-year-old Makarova lost to Watson in their only previous meeting in Monterrey last year.
Register for free to continue reading
Registration is a free and easy way to support our truly independent journalism
By registering, you will also enjoy limited access to Premium articles, exclusive newsletters, commenting, and virtual events with our leading journalists
Already have an account? sign in
Register for free to continue reading
Registration is a free and easy way to support our truly independent journalism
By registering, you will also enjoy limited access to Premium articles, exclusive newsletters, commenting, and virtual events with our leading journalists
Already have an account? sign in
Join our new commenting forum
Join thought-provoking conversations, follow other Independent readers and see their replies