Ivanovic grows into role of Australia's adopted daughter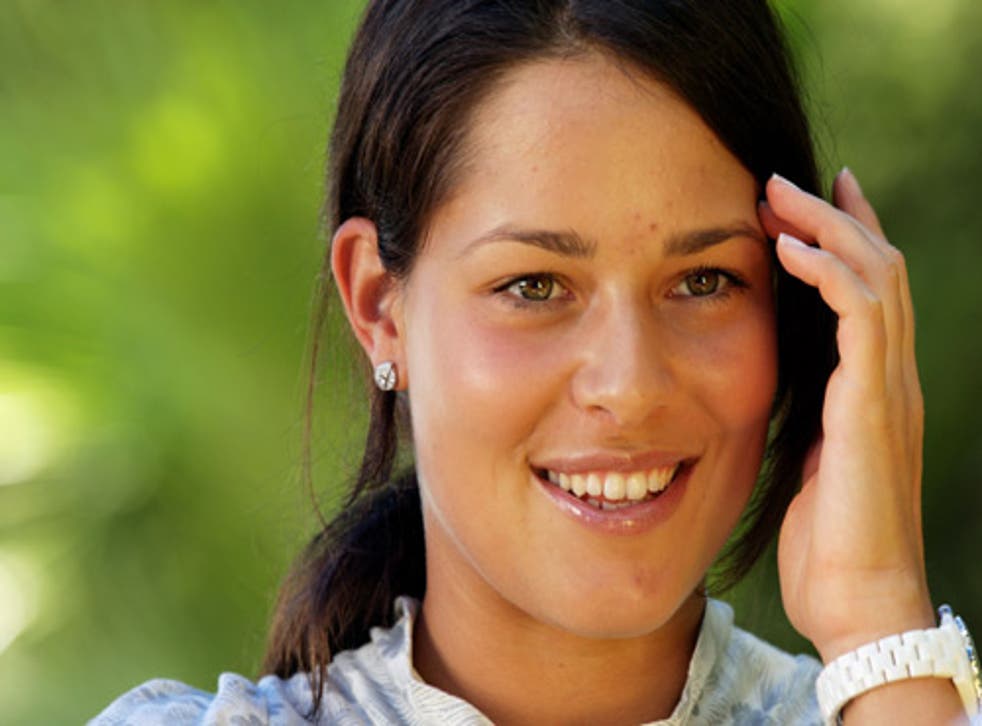 With home-grown heroines hard to find, the Australian Open public have had to adapt and adopt in recent years. Kim Clijsters, who was Lleyton Hewitt's fiancée, was an obvious subject of the Melbourne crowd's affections, but the Belgian retired last year after reaching the semi-finals here in what proved to be her Grand Slam swansong.
Step up, "Aussie Ana". Having an uncle living in the city, not to mention a sizeable Serbian community, has been enough for the fans here to take Ana Ivanovic to their hearts. It helps, of course, that the 20-year-old world No 3 has stunning good looks, speaks near-perfect English, writes a column for the local newspaper and has proved over the last fortnight that she has the potential to claim the game's biggest prizes.
Tomorrow, seven months after freezing in her first major final, she will attempt to win her maiden Grand Slam title when she takes on Maria Sharapova. That line-up did not look likely when Ivanovic lost the first eight games of her semi-final yesterday against Daniela Hantuchova, but a remarkable comeback secured a 0-6, 6-3, 6-4 victory. It might have been an all-Serbian final but for a back injury Jelena Jankovic suffered on her way to a 6-3, 6-1 defeat by Sharapova.
If the marketing executives had been able to nominate the singles finalists here it is a fair bet they would have chosen tomorrow's headline acts. Glamour sells the game just as much as booming forehands and kick serves – Anna Kournikova was one of the most marketable figures even though she never won a singles title – and in a leading tennis website's recent survey to find the game's sexiest players Ivanovic topped the poll with 39.1 per cent of the vote ahead of Sharapova with 15 per cent. Marat Safin, incidentally, beat Rafael Nadal in the men's section.
If Sharapova made the earlier breakthrough of the two 20-year-olds, winning Wimbledon in 2004 and the US Open in 2006, Ivanovic is catching up. The Serb will climb to No 2 in the world rankings behind Justine Henin next week, while Sharapova, who has won only one title in the last 15 months, will remain at No 5.
Ivanovic has come a long way since the childhood days when she had to arrange her training sessions around the NATO bombing raids on her home city of Belgrade. In the winter she practised in a converted swimming pool, where the walls were so tight that the players were told not to play cross-court shots.
Having moved to Switzerland with her mother at 14 in search of better practice facilities, she was taken under the wing of a wealthy local businessman, Dan Holzmann. Within three years Ivanovic, who is now based in Basle, was able to repay his investment, but he remains her business manager.
Remarkably for a player so young, Ivanovic chooses not to have a permanent coach, preferring not to live and breathe tennis 24 hours a day. She is studying for an external finance degree at a Belgrade university and is learning Spanish.
Ivanovic works from time to time with Sven Groeneveld, who is employed as a coach by her kit supplier, though the arrangement is such that he is unable to help her before a match against another of the company's clients. With Henin in the same camp, Ivanovic had to devise her own game plan against the Belgian in last year's French Open final, though her crushing defeat was more a result of freezing on the big occasion than any tactical weakness. It was the first appearance by a Serb in a Grand Slam final since Ivanovic's childhood idol, Monica Seles, won the last of her three French Open titles in 1992.
Ivanovic's two permanent companions on tour are her mother, Dragana, and her fitness trainer, Scott Byrnes, who has become a key figure. Ivanovic has lost weight and is a significantly better mover around the court than she was.
"I worked very hard in my off-season," she said. "I'm really happy to see the results because there were moments when I was struggling. I spent most of the time preparing in Sydney. That was good because I also experienced the heat and different kind of conditions. I did a lot of stair sprints, sprints up the hills, in a gym, and also a lot of footwork on the court."
Her improved movement was evident when she broke Hantuchova to lead 5-4 in the final set of yesterday's dramatic semi-final, which was played under a closed roof because of rain. There were two points where she got to balls which would have been beyond her reach a year ago and a rattled Hantuchova subsequently missed easy shots.
Nevertheless, it was a remarkable collapse by Hantuchova. For the first eight games the Slovakian hardly missed a ball, while Ivanovic looked nervous and tentative. The Serb won her first game after 46 minutes and then rode her luck at break point to level at 2-2 when a ball that was going out struck the net post and bounced back into play. The final set was tight, but Ivanovic showed the greater composure under pressure.
Hantuchova came up with a novel complaint after the match, saying that the squeakiness of her opponent's shoes had put her off as she served, while Ivanovic said the key had been her determination to ride out the early storm. "I just tried to tell myself that she couldn't keep up that level throughout the whole match," she said. "I knew I would get a chance at some point."
In the other semi-final Sharapova raced into a 5-0 lead, though Jankovic had started to make a comeback when she hurt her back at 5-3. Sharapova needed six set points to take the first set and the game was up for Jankovic after she had to go off court for treatment after dropping her serve in the opening duel of the second set.
Sharapova hopes her greater experience will help tomorrow to erase the memory of her crushing defeat to Serena Williams in last year's final. "When you have experience behind your back it's a huge advantage," she said. "Even though I had a tough year last year, you still learn and gain so much, even from bad experiences."
Women's final: Tale of the tape
SHARAPOVA v IVANOVIC
20 Age 20
6ft 2in Height 6ft 1in
9st 4lb Weight 10st 12lb
Nyagan, Siberia Born Belgrade
Bradenton, Florida Resides Basle, Switzerland
5 World Ranking 3
1 Highest World Ranking 3
$10,231,402 Career prize money $3,191,857
16 Titles won 5
Head to head
2006 Linz (hard, indoors), quarter-final, Sharapova won 7-6, 7-5.
2007 Tokyo (carpet, indoors), semi-final, Ivanovic won 6-1, 0-1 retired.
2007 French Open (clay), semi-final, Ivanovic won 6-2, 6-1.
2007 Tour Championships (carpet, indoors), quarter-final, Sharapova won 6-1, 6-2.
Join our new commenting forum
Join thought-provoking conversations, follow other Independent readers and see their replies