Jamie Murray relishing rare chance to take centre-stage at ATP Tour Finals
Exclusive interview: The vast majority of doubles matches are restricted to the outer courts but  the pair will play in front of 17,000 supporters at the 02 Arena
Paul Newman
Friday 09 November 2018 13:21 Comments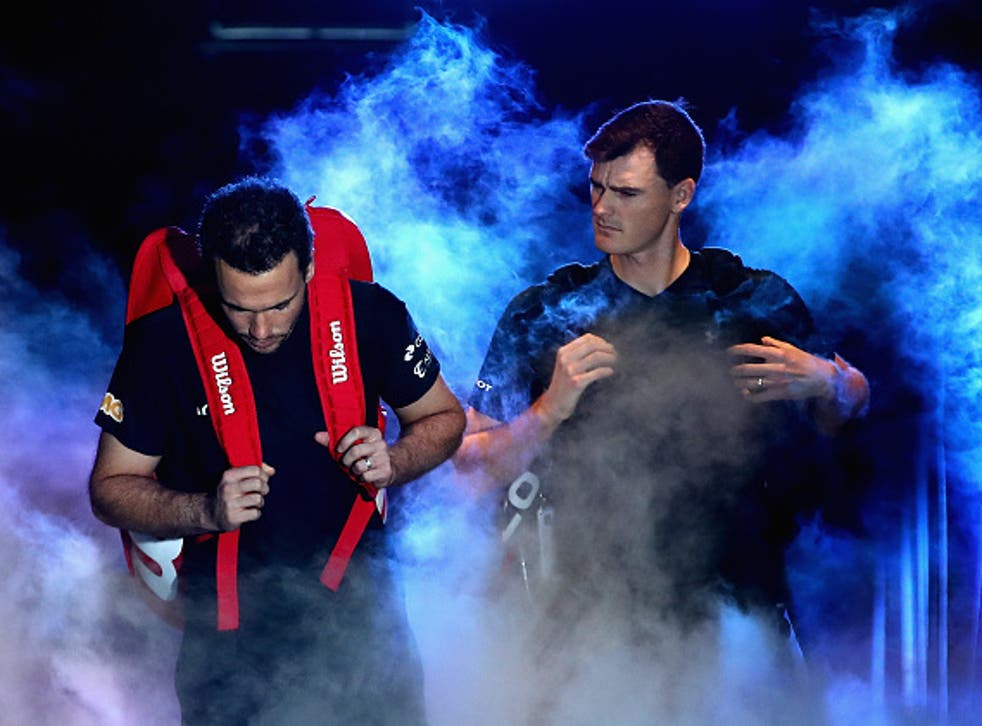 Jamie Murray and Bruno Soares began their 2018 Grand Slam campaign on the most remote of the Australian Open's outside courts but will end their season next week in front of up to 17,000 spectators on centre stage at the O2 Arena in London.
Murray, who has qualified for the Nitto ATP Finals for the fourth year in a row, loves playing at the year-end tournament, where the doubles specialists enjoy the rare chance to share top billing with the singles players. Each session comprises of a doubles followed by a singles match, with all games played in the main arena.
For the rest of the year the vast majority of doubles matches are played on outside courts. Even on finals day, the doubles will often be scheduled several hours before the start of the singles, meaning that crowds are usually sparse.
"This is different to any other tennis event," Murray said as he looked forward to his return to the O2 Arena. "It feels like it's entertainment. You're there to put on a show and everyone wants to be a part of it.
"It's for the best teams in the world, so everyone is fired up to be there. We're well looked after and for that week we feel like we're on some sort of par with the singles guys."
He added: "British crowds like their doubles. Playing doubles is a huge part of tennis at club level in our country - a lot more than singles - so I think the fans can relate to it a lot more.
"I also think doubles has grown a lot in the public eye in Britain over the last few years with us playing some big Davis Cup ties and being on the BBC.
"Probably a lot of people who wouldn't normally tune in to tennis have been exposed to it. A lot of those times it's been me playing the doubles matches, often with [my brother] Andy, sometimes with Dom [Inglot]. From a personal point of view I think that's helped my exposure with the British public."
Prize money provides further evidence of the class divide in tennis. Novak Djokovic, the current singles world No 1, has won $11.2m (about £8.6m) this year, while his doubles counterpart, Mike Bryan, has banked just $1.5m (£1.15m).
Murray, nevertheless, knows that many crowds love watching doubles. "When me and Bruno play at the Grand Slams the courts are packed," he said. "In Australia this year we played our first match [against Frances Tiafoe and Donald Young] on Court 15, right at the back of the site, and it was full. It was like a Davis Cup atmosphere.
"Then in the second round [against Leander Paes and Purav Raja] we played on a show court and it was packed too. My friend left to go to the toilet at the end of the second set and he couldn't get back in until after five games of the third set because of the crowds.
"People want to get out there and watch the doubles. Even some of the tournaments realise now that they need bigger stands on some of the outside courts to cater for the doubles matches."
The only year when there has not been a Murray at the O2 Arena (which has staged the finals since 2009) was in 2013, when Andy was recovering from back surgery. Jamie made his debut in 2015, when he failed to progress beyond the round-robin stage alongside John Peers. In each of the last two years Murray and Soares have reached the semi-finals before going out.
During Andy's latest injury struggles Jamie has prospered. Since his brother limped out of Wimbledon in 2017, Jamie has won three Grand Slam mixed doubles titles – two with Martina Hingis and one with Bethanie Mattek-Sands - and played in eight men's doubles finals on the tour with Soares, winning three of them.
However, there have also been disappointments. Murray, who will be 33 in February, and Soares, a 36-year-old Brazilian, won two Grand Slam titles in their first year together in 2016 but have since failed to go beyond any Grand Slam quarter-final.
At Wimbledon this summer they were the highest seeds to make the last eight but then lost to Raven Klaasen and Michael Venus. At the same stage of the US Open they went out to Radu Albot and Malek Jaziri, ranked No 131 and No 335 in the world respectively.
Doubles players at the highest level can change partners almost as often as they switch rackets, but Murray and Soares have been together for three years now. They make a good team, with Soares' potent returns of serve often creating the chance for Murray to demonstrate his prowess at the net.
"I think we both read the game well," Murray said. "We're good with our communication and how we go about finding the best ways to beat opponents. With the way our games are we're quite well set up to be consistent week to week and to be able to put out on court a level that's difficult to beat. I don't think we often come off court having played really bad matches."
Bryan returned to the top of the world rankings this year at the age of 40. Can Murray envisage himself still playing at the top level at that age?
"Maybe," the Scot said with a smile. "Time goes quickly. I started playing the tour fully in 2007. That's a good 11 years and it's gone by really fast. It's an amazing job to have. It would be tough to replicate in other walks of life the buzz that you get from competing. I imagine that if I'm still feeling fit and healthy and enjoying competing and being on the road, then I'll try to do it for as long as I can."
Register for free to continue reading
Registration is a free and easy way to support our truly independent journalism
By registering, you will also enjoy limited access to Premium articles, exclusive newsletters, commenting, and virtual events with our leading journalists
Already have an account? sign in
Join our new commenting forum
Join thought-provoking conversations, follow other Independent readers and see their replies