Jamie Murray leaves doubles partner John Peers despite best year
The Scot has reached two Slam finals with John Peers in 2015 but after the ATP Tour finale in London they go their separate ways. He tells Paul Newman why a fresh start was necessary
Paul Newman
Thursday 12 November 2015 00:50 Comments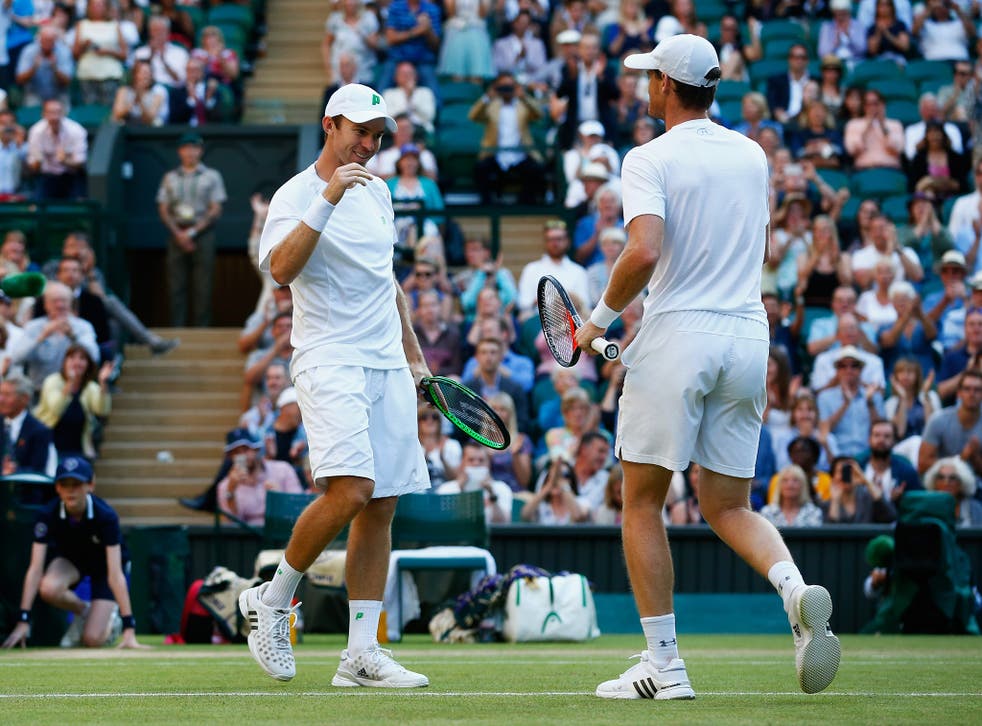 Doubles players in tennis are curious beasts. No sooner do a pair start enjoying success than they go their separate ways, often to the detriment of their results. Jamie Murray, for example, won three tournaments in his breakthrough year in 2007 playing alongside Eric Butorac, parted with the American after eight months and then went into a decline, during which he won only four titles in five years and ultimately wondered about his future in the sport.
Given that experience and the fact that his career took off again only after he teamed up with John Peers at the start of 2013, eyebrows were raised even in the promiscuous world of men's doubles when the Scot and the Australian revealed last month that they would be playing with new partners next year.
For both men this has been the most consistently successful year of their lives, to be capped by their first appearances in the Barclays ATP World Tour Finals. Next week's field at London's O2 Arena comprises the eight pairs who have earned the most ranking points in the year. Only three combinations, headed by the Bryan brothers, have had more successful seasons than Murray and Peers, who were runners-up at Wimbledon and the US Open, reached six other finals and won titles at Brisbane and Hamburg.
London, nevertheless, will be their swansong. Murray has already found a new partner for next year in Bruno Soares, a 33-year-old Brazilian who has won 20 doubles titles but never at Grand Slam level.
"We both wanted a bit of a change, a fresh start," Murray said when asked why he had split with Peers. "We've had a great year, won a lot of matches, played some big matches, some big tournaments, but I'm looking forward to playing with Bruno. I think he'll be a great partner for me with his style of play, though it's obviously risky stuff, I guess, especially with the year John and I have had.
"We've spent most of the last three years of our lives together. It'll be different next year, playing with somebody different, getting to know somebody else, forming a new relationship with somebody else, on and off the court. But that's just the doubles tour, isn't it? People chop and change all the time."
"The decision may have been mutual, but surely either Murray or Peers must have first suggested parting? "We were both in a position where we wanted to do it," Murray said. "After the US Open we were both kind of in the same place. I guess I said: 'I think I'd rather look for somebody else next year.' And he was happy with that."
Murray, in a relaxed mood as he chatted in the players' lounge at last week's Paris Masters, is too loyal a partner and too decent a man to say it himself, but there were times this year – especially at the critical stages of their biggest matches – when the 29-year-old Scot was clearly the stronger link in his partnership with the 27-year-old Australian.
There is arguably no player with quicker reactions at the net than Murray, who can also draw on a deep well of experience, having known what it is like to compete in the spotlight ever since he won the Wimbledon mixed doubles title with Jelena Jankovic eight years ago. Peers, in contrast, had not played regularly at the top until he teamed up with Murray.
Nevertheless, Murray admitted he had gone through tough times, particularly in the years after the split with Butorac. "I didn't have a regular partner, I was playing with a lot of different people, not really having any success at all," he said. "I was lucky if I'd win one or maybe two matches in a tournament. I was kind of just floating about, not really going anywhere, not really improving my game either.
"I played with Colin Fleming at the Australian Open in 2013. I played a terrible match, my ranking was dropping, I didn't have anyone to play with and I didn't want to do another year of just chopping and changing all the time."
It was at that point that Murray teamed up with Peers. Just as crucially, he started working again with Louis Cayer, the Canadian who has coached British doubles players to so much success ever since Judy Murray invited him to work with her first son nearly 10 years ago.
"I always felt like I wasn't doing as well as I could have done," Murray said. "And I always knew I had stuff in my game that was really good, and things that needed to get better. I think once I started to go back to working with Louis again, he really kind of made things clear for me."
Murray's maturity has been evident in his Davis Cup performances this year. His victories in the doubles rubbers alongside his brother Andy in Britain's quarter-final against France and semi-final against Australia were crucial. Against France, in particular, it was actually the elder Murray who showed his partner the way.
Britain's fate will again lie largely in the hands of the two brothers when they face Belgium in Ghent later this month in pursuit of the country's first Davis Cup triumph since 1936. Murray is thrilled at the prospect of playing with his brother again and has joined him at Queen's Club this week to practise on clay in preparation for the final.
"He's maybe the best returner in the game and that's a huge advantage in doubles," Jamie said. "And because he has played so many big matches before, I know he's not going to wobble or choke in the match. He knows what it takes to get through those situations and perform well."
He added: "I'm comfortable playing with Andy. He lets me do what I want to do on the court. I know that my match skills will match up well with him – and I did even in the past, when maybe my ranking wasn't what it is now. I guess maybe it's different for people who are playing us now. They know that I'm playing in Grand Slam finals, playing tour finals, winning proper tournaments that mean things. It's not like I'm a weak link in the partnership."
Murray has watched in admiration as his brother has coped with the pressures on him in the Davis Cup. "He knows that if he doesn't win we can't really win," Jamie said. "You can see how much he wants to win the Davis Cup in the way that he plays and fights for the team. That extra bit of motivation and desire – it makes him that much a better player and harder to beat. His focus is there from the start. It's amazing to watch it."
--
Murray and Co - his regular partners
Colin Fleming (March 2005–July 2006)
Fellow Scot was Murray's most common partner during his early days on the Futures and Challenger circuits.
Eric Butorac (Feb 2007–Sept 2007)
Won three titles with American in breakthrough on main Tour.
Max Mirnyi (Jan 2008–Sept 2008)
High expectations with veteran Belarusian were never realised.
Jonny Marray (Nov 2009–July 2010)
Won four Challenger titles with fellow Briton.
John Peers (Feb 2013–Nov 2015)
Reached 16 finals, including Wimbledon and US Open, and won six titles.
Register for free to continue reading
Registration is a free and easy way to support our truly independent journalism
By registering, you will also enjoy limited access to Premium articles, exclusive newsletters, commenting, and virtual events with our leading journalists
Already have an account? sign in
Join our new commenting forum
Join thought-provoking conversations, follow other Independent readers and see their replies