Johanna Konta relaxed and ready for the remaining weeks of the season after her early US Open exit
Interview: The world No 7 says she has worked hard to get over her defeat to Aleksandra Krunic at Flushing Meadows and is ready to make the best of the remaining weeks of the season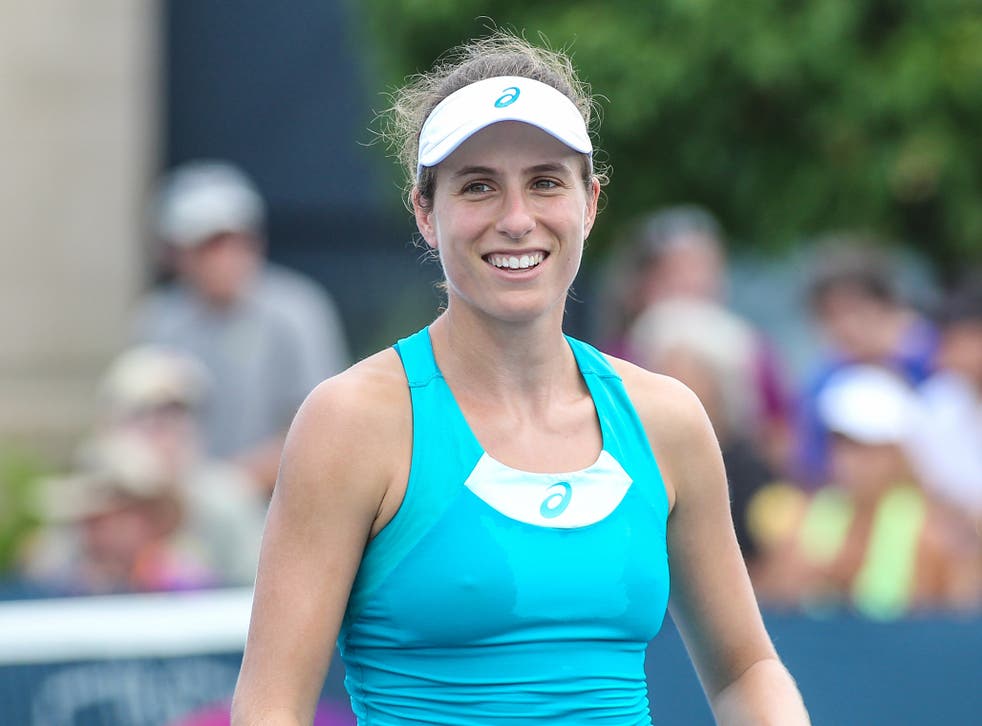 Johanna Konta's Grand Slam year ended in a disappointing first-round defeat at the US Open earlier this month, but the 26-year-old Briton is feeling refreshed after taking a break and is ready to make the best of the remaining weeks of the season.
Konta, who will take on Australia's Ashleigh Barty here on Monday in her opening match at the Dongfeng Motor Wuhan Open, is currently in seventh place in the qualifying list for the eight places at the WTA Finals, though she insists that making the field for the Singapore finale is not her main motivation.
The world No 7 said she had worked hard to get over her defeat to Serbia's Aleksandra Krunic at Flushing Meadows. "I went home after the US Open," Konta said. "I actually took a bit of time away from the court. I did a lot of work with yoga and breathing, plus mental and physical work as well.
"It was a tough loss for me in New York so I wanted to make sure it was something that I really learned from and did not catastrophise. I think it's important to keep things in perspective, as always. I'm enjoying my tennis. I'm feeling motivated to try to make the most out of these last few weeks of the year and to push myself forward."
So what exactly did Konta feel she had learned from her US Open experience? "Although it's personal and there's a little bit that I won't be talking about, I definitely think it's very important for me – and I know it is kind of an old tune – to stay in my own process and not step outside of my 'bubble' and not to give too much attention to what-could-be and what-if.
"It's important for me personally to make sure I keep completing those steps and keep just being hungry to grow as a player and a person."
She added: "Obviously everyone is looking to play for big titles and to achieve a lot of things in the sport, but I'm sure that if you speak to most of the players their motivation is much more than that.
"I'm not playing just for this event here. I'm playing for my life after tennis, to be the kind of person I want to be, how I rise to adversity, how I rise to difficulties. I think for me that's motivation here."
While the US Open was a disappointment Konta described this summer's Wimbledon as "a massive highlight of my career so far". The world No 7 said that becoming the first British woman for 39 years to reach the semi-finals at the All England Club had clearly raised her public profile.
"When I'm at home I do get recognised more often and I don't need to be in sports clothes to be recognised, which is different," she said. "When you're in the supermarket you can usually tell straight away when someone recognises you, or they will come up to me and say 'well done' or things like that. So it's nothing sinister or nothing super-crazy.
"For me it was one of the least stressful Wimbledons that I've experienced. I think I did it in a very different way to maybe how it was perceived from the outside. It was an event that hopefully in the years to come I'll be able to go one step further."
Konta just missed out on a place in last year's WTA Finals when she was pipped to the final spot in the last qualifying tournament by Svetlana Kuznetsova. However, the Briton said she would not be putting too much pressure on herself to qualify this year.
"It's a wonderful thing to be a part of if you find out that you get there, but there are so many moving variables, so many things that could happen so it's not something that I actively think about," she said. "For one thing it depends on how other players do and I have no control over that. I have control over how I'm doing, how I'm improving, how I'm competing."
Konta began her Asia swing last week in Tokyo, where she had a first-round bye but lost in the second round to Barbora Strycova. As one of the top seeds here she again has a first-round bye before a potentially tricky opening match against Barty.
"Obviously I would have liked to have been involved in Tokyo longer but it was a tough first match for me," Konta said. "I'm working towards getting those matches under my belt. It's not easy when you actually have a bye in the first round and you're playing someone who has already played a match."
Barty's game has taken a big leap forward since she took a lengthy break from the game to deal with what she described as "personal reasons". The 21-year-old world No 37, who played professional cricket in Australia's Women's Big Bash League during her time out, began this year ranked No 271 in the world.
Konta beat Barty on grass at Nottingham in the summer, but the Australian, who beat Catherine Bellis 7-5, 6-0 in her opening match here, said: "Obviously grass is very different. The conditions in Nottingham were very different to the conditions here. I'll take what I learned today out on court and try to use that as best I can against Jo."
Register for free to continue reading
Registration is a free and easy way to support our truly independent journalism
By registering, you will also enjoy limited access to Premium articles, exclusive newsletters, commenting, and virtual events with our leading journalists
Already have an account? sign in
Register for free to continue reading
Registration is a free and easy way to support our truly independent journalism
By registering, you will also enjoy limited access to Premium articles, exclusive newsletters, commenting, and virtual events with our leading journalists
Already have an account? sign in
Join our new commenting forum
Join thought-provoking conversations, follow other Independent readers and see their replies