Jonny Marray aiming to cash in with another double delight
Britain's men's doubles Wimbledon champion is relishing prospect of appearing at O2 next week
Paul Newman
Saturday 03 November 2012 01:00 Comments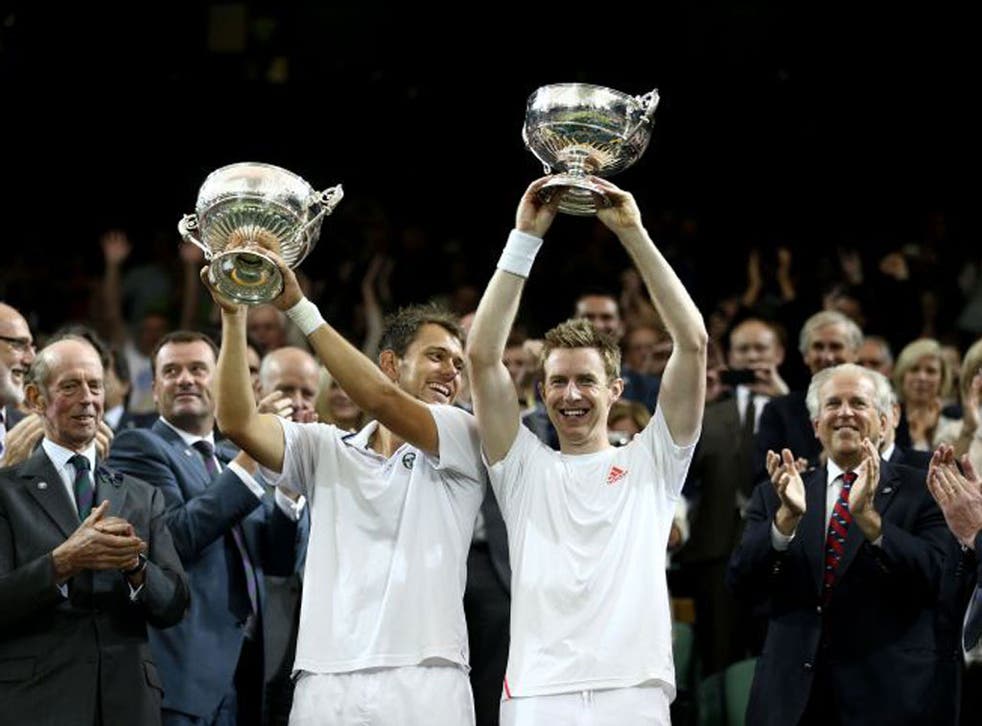 His Wimbledon trophy already has a scratch and a dent in it, but for Jonny Marray it will be a long time before the gloss from his remarkable triumph at the All England Club this summer wears off.
The 31-year-old Liverpudlian has already received his invitation to next month's BBC Sports Personality of the Year awards and next week he will play in front of the biggest crowd in his life when he appears in the doubles at the season-ending Barclays ATP World Tour Finals alongside Freddie Nielsen, the Dane with whom he made history by becoming the first wild cards ever to win the Wimbledon men's doubles title.
Marray and Nielsen, having qualified by virtue of their Wimbledon triumph, will take their places alongside the year's seven most successful doubles pairs in a competition run concurrently with the singles event at London's O2 Arena, where the 17,500-capacity stadium is already a sell-out for most sessions. For Marray, who earned just £1,000 for winning a Challenger tournament at Loughborough in the equivalent week last year, the rewards on offer are huge: $65,000 (about £40,000) per pair just for turning up, $25,000 (£15,500) for each win in the round-robin phase and $330,000 (£205,000) for winning the tournament undefeated.
Thankfully, Marray will not be short of cash when he sends his Wimbledon trophy for repair. "My sister asked if she could take it to a fund-raiser this summer," he said. "Someone ended up dropping it and there was a little bit of a scratch and a dent on it, which I wasn't too happy about. It's only a little scratch. It will survive. It's still in one piece anyway."
While Marray admits that things have become easier from a financial standpoint since he banked his Wimbledon champion's cheque for £130,000 – more than he had won in the previous 11 years toiling away mostly on the Challenger and Futures circuits – his life is little changed in many respects.
He still drives a Ford Fiesta and shares a house in Sheffield with his sister, Siobhan. He bought the house with his brother, David, and rents out part of it. Marray has just about broken even for most of his career but has been particularly grateful for the bonuses paid in recent years by the Lawn Tennis Association under a performance-related scheme.
The Wimbledon win has already brought additional benefits, including a racket contract with Dunlop, a sponsorship deal with the Acer computer company and invitations to hold coaching clinics and exhibitions, and Marray has yet to decide how he will use his All England Club windfall.
"It's going to be a little cushion that I've never had in the past," he said. "Playing doubles at Challenger level you actually have to win the tournament to make any kind of money. I won one in Sarajevo in March and I got 600 euros for it. That covered my expenses. The accommodation is usually paid for, but with flights and food to buy, playing the Challengers is not very rewarding financially."
Marray admits there were times when he wondered whether he should look for "a proper job", but now that he has a world ranking (No 22) – until next July at least – which automatically gets him into the biggest tournaments he wants to carry on playing. "Once you get up there I think it's easier to stay around this kind of ranking," he said. "I'd like to keep playing for as long as I'm still enjoying it and I'm fit and healthy. There are obviously opportunities to make a good living out of it."
After this week Marray's main priority will be to find a permanent partner as Nielsen wants to concentrate on a singles career. The Wimbledon champions, who had played only two previous tournaments together, have played just four since their triumph and won only two matches.
Marray has had seven different partners since Wimbledon and had lost 11 out of 13 matches before this week's Paris Masters, where he has made his best showing since the summer. Marray and Australia's Paul Hanley were playing France's Josselin Ouanna and Nicolas Renavand in the quarter-finals last night.
Playing with different partners almost every other week and at a higher level than he was used to – he had never appeared in a Masters Series tournament until this summer – has not been easy, but Marray considers himself a better and more confident player since Wimbledon.
He still finds it odd to see himself on television screens but admitted that he enjoys being announced as a Wimbledon champion – Britain's first in men's doubles since 1936 – when he goes on court. "The first tournament I played after Wimbledon was at Los Angeles and I was warming up when they made the announcement," he said. "I had a little laugh to myself because I never thought that would be coming out after my name. I'll always have that, however, so it's a great honour. I'll never get tired of hearing that."
Register for free to continue reading
Registration is a free and easy way to support our truly independent journalism
By registering, you will also enjoy limited access to Premium articles, exclusive newsletters, commenting, and virtual events with our leading journalists
Already have an account? sign in
Join our new commenting forum
Join thought-provoking conversations, follow other Independent readers and see their replies