It's a first grand slam final for Kevin Anderson, but resurgent Rafa Nadal is red-hot favourite to win US Open final
Sunday's final will be debutant vs old-timer, but there's a lot more to it than that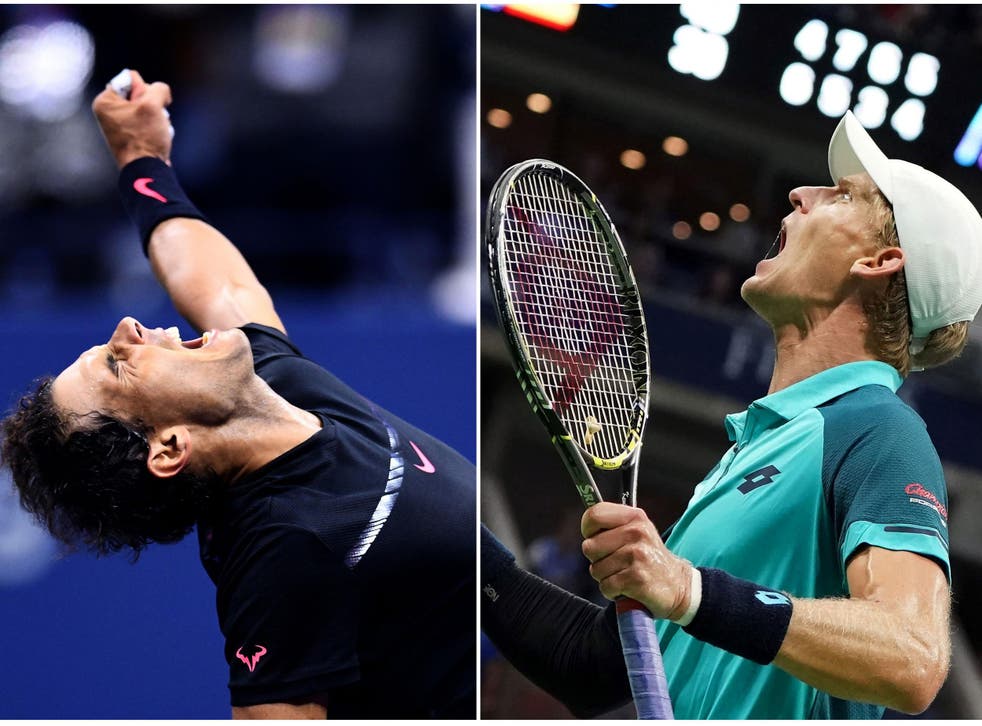 Juan Martin del Potro did his best to recapture the spirit of 2009 but Rafael Nadal underlined his position as one of the men of 2017 by winning their US Open semi-final in emphatic fashion here on Friday.
Eight years after Nadal suffered one of the most comprehensive defeats of his career when he won only six games in losing to De Potro here at the same stage of the tournament, the 31-year-old Spaniard was much too good for the 28-year-old Argentinian, whose physical difficulties finally caught up with him.
Nadal won 3-6, 6-0, 6-3, 6-2 to secure his place in his 23rd Grand Slam final. The world No 1, who won his first Grand Slam title for three years when he won his 10th French Open three months ago, will be the hottest of favourites to claim his third US Open crown when he faces South Africa's Kevin Anderson on Sunday. Anderson, who has won only one set in his four previous meetings with Nadal, reached his first Grand Slam final when he beat Spain's Pablo Carreno Busta 4-6, 7-5, 6-3, 6-4.
If Nadal goes on to claim his 16th Grand Slam title this weekend it will complete a remarkable comeback by the Spaniard and his long-time friend and rival, Roger Federer.
Both men ended their 2016 seasons early in an attempt to recover from serious injuries yet both have returned to play some of the best tennis of their lives. Federer won the Australian Open and Wimbledon while Nadal, who has also reclaimed the world No position, is now just one win away from adding the title here to his Roland Garros triumph.
"Of course it's been an amazing season for me after I had a couple of years with some injuries and tough moments," Nadal said afterwards. "Since the beginning this has been a very emotional year for me so I'm very, very happy.
"It means everything to be back here on this amazing court in front of such an amazing crowd. Just to be in the final and to have the chance to fight for another title is so important for me."
Del Potro enjoyed the greatest fortnight of his career when he beat both Nadal and Federer en route to his only Grand Slam title here eight years ago, but has been beset by physical problems ever since. He has had four wrist operations and spent long periods out of the game, though he has never lost his desire to return to the top.
The Argentinian has also been dealing with flu at this tournament and by the time Nadal started to turn the match around in the second set it was clear that Del Potro was struggling. He was not moving well and although there were occasional thunderbolts from his forehand his serve lost some of its usual potency.
Nadal, meanwhile, has won 15 Grand Slam semi-finals in a row since that defeat to Del Potro here eight years ago. "I just try my best every day," he said. "Every victory gives you confidence and when you are in the semi-finals it's because you've been playing well.
"I think I started the tournament playing only so-so for a couple of rounds, but after my third-round match against [Leonardo] Mayer I said that the last three sets of that match could be a turning point. The last three matches have been very positive."
In the first set, nevertheless, it was Del Potro who set the pace. Nadal appeared too obsessed by a desire to play the ball to his opponent's weaker backhand and Del Potro, anticipating where the Spaniard was going to place the ball, was able to run round it and hit some huge forehands.
Del Potro took the first set with a single break of serve in the fifth game, but the shift in momentum at the start of the second set was immediate. Nadal brought more variation to his game and as Del Potro was forced to chase more and more balls the Argentinian tired rapidly.
Having hit the ball so cleanly in the first set, Del Potro mistimed many of his shots in the second as Nadal, growing in confidence, upped the pace, hitting his forehands in particular with increasing power.
Nadal had won nine games in a row before Del Potro finally got on the board in the fourth game of the second set. The world No 28 did not force a single break point after the fifth game of the first set, while Nadal put increasing pressure on his opponent's serve. The end was swift as Nadal converted his first match point with a backhand winner down the line to complete his victory after two and a half hours.
Asked how he had turned the match around after losing the first set, Nadal said: "I felt that I was playing too much into his backhand. I felt that he was waiting for me there and then he had the opportunity to cover his backhand with his forehand because I was hitting too many balls to his backhand.
"At the beginning of the second set I knew that something had to change. The only way to change was to try to move him more, to be a little bit more unpredictable."
Del Potro admitted after the match that he had been exhausted after his efforts over the previous days but said that Nadal had deserved his victory.
The bottom half of the draw was always going to produce an unlikely finalist after the withdrawal of Andy Murray and the early defeats of Marin Cilic, Alexander Zverev and Jo-Wilfried Tsonga, but few would have guessed that Anderson would be the man to emerge from the section.
At No 32 in the world rankings, the 31-year-old South African is the lowest ranked player to reach the men's final here since the rankings were launched in 1973. He is the lowest ranked man to reach any Grand Slam final since Tsonga was runner-up at the 2008 Australian Open and will attempt to become the lowest ranked men's Grand Slam champion since Gaston Gaudio, the world No 44, won the French Open in 2004.
Carreno Busta, the world No 19, had been the highest ranked player left in the bottom half of the draw ever since Cilic's defeat in the third round. The 26-year-old Spaniard had not dropped a set en route to the semi-finals, though four of his five victims were qualifiers and none were ranked in the world's top 30.
Anderson got off to a slow start, making 14 unforced errors in the first set, which Carreno Busta won after breaking serve in the seventh game. In his previous 90 service games in the tournament Anderson had been broken only three times.
Carreno Busta broke again in the fifth game of the second set, but that was the last time he was able to master Anderson's serve. From the middle of the second set the South African took charge, with his serve a particularly decisive factor.
The 6ft 8in South African's fastest serve at 135mph was 11mph quicker than Carreno Busta's best effort. He hit 22 aces and made just one double fault.
Anderson reached a career-high position of No 10 in the world rankings in 2015 but has had to fight his way back into the top ranks this year. He struggled with a hip injury for much of 2016 and by January of this year had dropped to No 80.
Even after overcoming the hip problem he suffered with other physical issues and had to withdraw from tournaments this summer at Queen's Club in London and at Winston-Salem in the United States with leg and elbow injuries respectively.
"It's definitely an amazing feeling to be in this position," Anderson said after reaching the final. "I've worked very hard to get here."
Nadal said Anderson had an "unbelievable serve" and played exceptionally well on hard courts. "I've known him since we were 12 years old," Nadal said. "It's great to see him in the final of one of the most important events of the year. It will be a tough one and I'll need to play at my best."
Register for free to continue reading
Registration is a free and easy way to support our truly independent journalism
By registering, you will also enjoy limited access to Premium articles, exclusive newsletters, commenting, and virtual events with our leading journalists
Already have an account? sign in
Register for free to continue reading
Registration is a free and easy way to support our truly independent journalism
By registering, you will also enjoy limited access to Premium articles, exclusive newsletters, commenting, and virtual events with our leading journalists
Already have an account? sign in
Join our new commenting forum
Join thought-provoking conversations, follow other Independent readers and see their replies