It's feast or famine for Kyle Edmund after latest first-round exit following defeat by Andreas Seppi
Edmund climbed to a career-high No 23 in the world rankings on Monday after his excellent first week on clay in Morocco but fell at the first hurdle against Seppi at the Monte Carlo Masters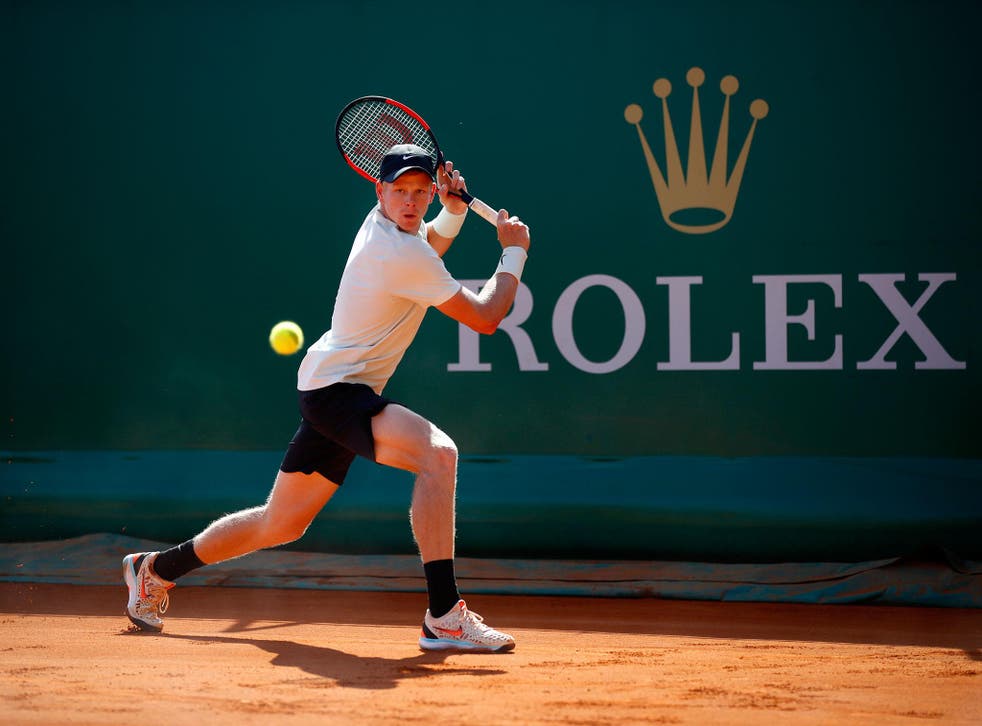 This is proving to be a year of feast or famine for Kyle Edmund. The 23-year-old Briton's season so far has been highlighted by his memorable run to the semi-finals of the Australian Open in January and his appearance in his first tour-level final in Marrakech two days ago, but he fell at the first hurdle for the third time in his last four tournaments here at the Monte Carlo Masters on Tuesday when he was beaten 6-3, 5-7, 6-2 by Andreas Seppi.
Edmund climbed to a career-high No 23 in the world rankings on Monday after his excellent first week on clay in Morocco, where he eventually lost to Pablo Andujar. Edmund then had to hire a private jet to get him to Monte Carlo in time to practise yesterday, but the task of beating Seppi, a solid and experienced campaigner, less than 48 hours after the final proved beyond him.
"I just didn't play well enough consistently enough," Edmund said afterwards. "It was nothing really to do with the turnaround. That's pretty normal for tennis."
Unlike most of his fellow countrymen, Edmund loves playing on clay. He has won at least one match in all three of his appearances at the French Open.
In his first appearance here last year Edmund beat his fellow Briton, Dan Evans, in the first round and took Rafael Nadal to three sets in the second. Dominic Thiem and Fabio Fognini were the only other players to take a set off Nadal in the king of clay's 25 matches on his favourite surface in 2017.
"I've always said that I like the surface, though I've also had some good results on hard courts," Edmund said here. "Clay has different aspects to it and some suit me well. I don't know why. It's just maybe the way I've played my game and been brought up, so that suits it. I haven't designed my game around clay. It's just sort of happened."
As he showed last week in his first clay-court tournament for more than 10 months, Edmund has little trouble adapting to the surface.
"You hit so many balls as a tennis player you find ways to adapt quicker as you get older," he said. "When you become more experienced as a professional, I guess auto-pilot kicks in and you also know what to expect with conditions and bounces."
The match against Seppi was played on one of the smaller courts here at the Monte Carlo Country Club, but the confrontation between the Briton and the Italian drew a good crowd.
Edmund had won both his previous encounters with Seppi, including their fourth-round meeting at this year's Australian Open, but paid on this occasion for failing to take his chances. Both players had 11 break points in the match but Seppi converted four of his and Edmund only two.
Seppi won five of the first six games and took the first set with something to spare. He fended off five break points in the second set before Edmund converted one at the sixth attempt to level the match as the world No 62 netted a backhand.
Edmund held on at the start of the third set, saving three break points in the opening game, but faded after failing to take a chance on Seppi's serve in the second game. Seppi broke in the third game and again in the seventh before closing out victory with an unreturned serve.
"He was pretty solid," Edmund said. "I wasn't too far off in terms of playing well, but sometimes it was really up and down, which was probably the most frustrating thing."
After a brief break in London, Edmund will resume his clay-court campaign the week after next at Estoril in Portugal. He will then play the Masters Series tournaments in Madrid and Spain before heading to the French Open. With only 45 ranking points to defend between next week and Roland Garros, he has a good chance to break into the world's top 20 over the next few weeks.
Thiem, who was the second best player on clay last year behind Nadal, survived a scare against Andrey Rublev, who scorned a match point on his own serve when he narrowly missed a forehand at 5-4 in the deciding set. Two games later Thiem secured a 5-7, 7-5, 7-5 victory, converting his first match point when Rublev double-faulted.
"I was 10 centimetres from being out of the tournament," Thiem said afterwards. "But I'm happy that I played two hours and 40 minutes."
Register for free to continue reading
Registration is a free and easy way to support our truly independent journalism
By registering, you will also enjoy limited access to Premium articles, exclusive newsletters, commenting, and virtual events with our leading journalists
Already have an account? sign in
Register for free to continue reading
Registration is a free and easy way to support our truly independent journalism
By registering, you will also enjoy limited access to Premium articles, exclusive newsletters, commenting, and virtual events with our leading journalists
Already have an account? sign in
Join our new commenting forum
Join thought-provoking conversations, follow other Independent readers and see their replies