US Open 2018: British No 1 Kyle Edmund knocked out in first round after struggling with cramp
Edmund took medication after seeing the tournament doctor at the end of the third set for what appeared to be cramp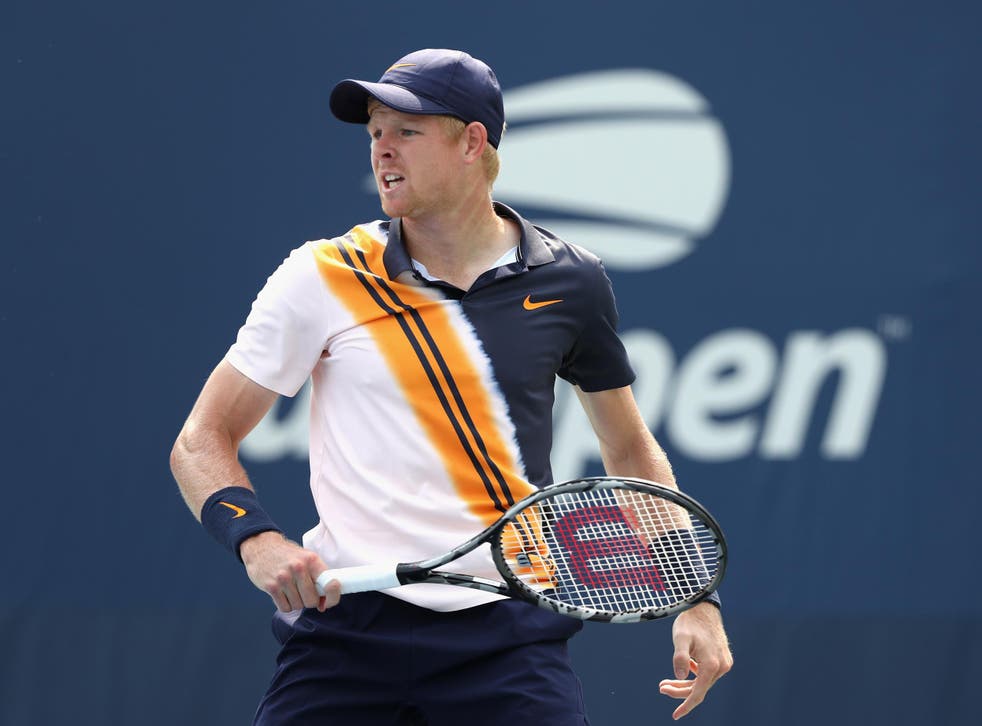 Kyle Edmund had been the last British singles player left standing in the four previous Grand Slam tournaments but the world No 16 became the first Briton to go out of the US Open here on Monday. Struggling with cramp as a result of an illness which he later revealed had been troubling him for five weeks, Edmund was beaten 4-6, 6-4, 7-5, 6-1 by Paolo Lorenzi, a 36-year-old Italian ranked No 94 in the world.
Edmund took medication after seeing the tournament doctor at the end of the third set and towards the end of the match there were times when he barely seemed capable of running for the ball. The hot and humid conditions made it all the more difficult.
"It's been going on for about five weeks, while I've been trying to play matches," Edmund said afterwards. "It takes a long time when you're playing elite-level sport to get [your fitness] back."
He added: "I don't really know what it is. There's a name for it but I don't really want to say too many details about my illness, but it's basically put me back quite a bit."
Worryingly for Edmund, this is the second time this year that he has fallen ill in similar circumstances. He suffered the same soon after reaching the semi-finals of the Australian Open.
Edmund said he was not sure whether rest would be the solution, but there must be a doubt as to whether he will be fit for Britain's Davis Cup tie against Uzbekistan in Glasgow next month and the Laver Cup in Chicago.
The Briton pointed out that he had rested after the Australian Open but had still fallen ill. "Physically I need to get better," he said. "It's an indication of where I'm at."
Having made a sound enough start, this match gradually slipped from Edmund's grasp after he lost the second set. Both players hit more than 50 winners, but Edmund's 55 unforced errors – compared with 36 by Lorenzi – were decisive.
This was certainly not the Edmund we had seen earlier in the year playing in his first Grand Slam semi-final in Melbourne and later breaking into the world's top 20.
A fit Edmund would have been expected to make short work of Lorenzi, who has been sliding down the world rankings since reaching a career-high position at No 33 last year. The Italian is at his best on clay and before arriving here had not played a match on hard courts for seven months.
There have been times in the past when Edmund has struggled in difficult conditions and there were plenty of other players who suffered in the heat and humidity on the opening day of the year's concluding Grand Slam tournament. During the changeovers players sought shade and cooled themselves down with ice towels or packs of ice.
It was already 27C and rising at 11am when Edmund and Lorenzi walked out on to Court 13, which is on the southern edge of the Billie Jean King Tennis Centre.
Although No 13 is one of the smaller courts, all of them have been equipped with Hawk-Eye cameras for the first time at a Grand Slam tournament. Shot clocks are also in operation on all courts, ensuring that the 25-second rule between points is enforced.
Both players looked edgy at the start. Lorenzi, serving first, immediately went 0-30 down after two loose shots, upon which he changed his racket. Edmund went on to break serve at the first attempt with a rasping inside-out forehand winner.
The first three games all went against serve, but from 2-1 and 0-30 Edmund finally stopped the rot, three successive aces and another big forehand winner taking the Briton into a 3-1 lead.
Edmund took the first set after 45 minutes and did not appear to be in any trouble until he served at 4-5 in the second. A service winner saved Lorenzi's first set point but on the second Edmund hit a forehand beyond the baseline.
After an early exchange of breaks the third set followed a similar pattern. Serving at 5-6, Edmund went 40-0 up but then lost five points in a row, hitting a forehand long on set point.
Before the start of the fourth set Edmund called for the doctor, who gave him some medication, but the Briton looked to be in increasing trouble in the latter stages. He went 5-0 down in the fourth set before finally winning a game, but Lorenzi went on to close out victory with his 21stace of the match.
Join our new commenting forum
Join thought-provoking conversations, follow other Independent readers and see their replies