Loser Fleming cheered by partner Hutchins' fight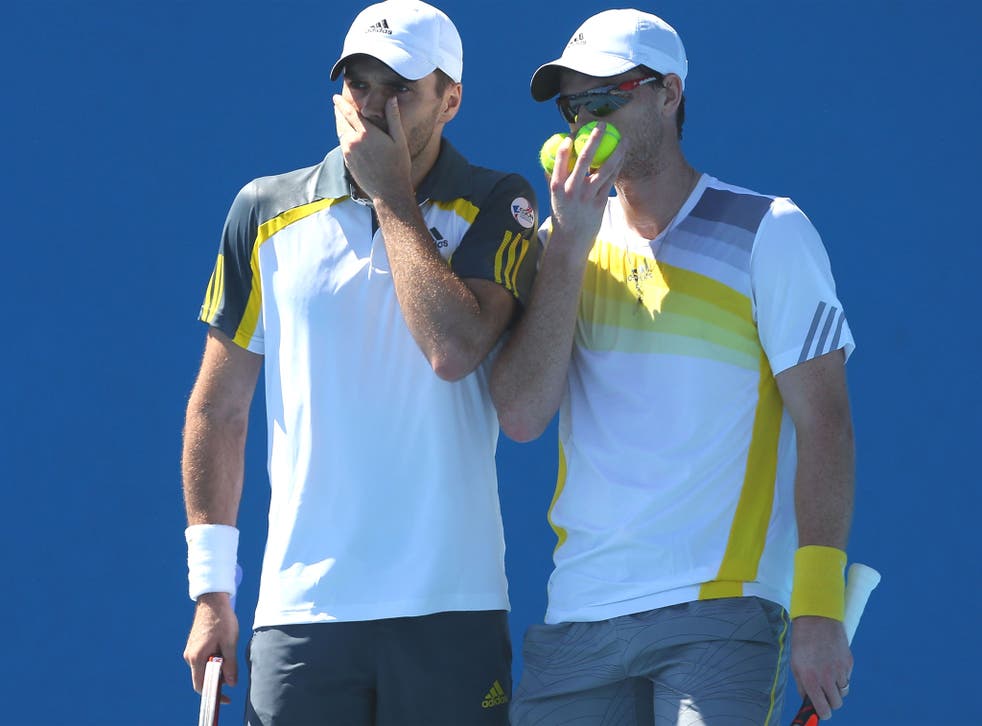 Colin Fleming lost his first-round doubles match in the Australian Open with Jamie Murray today but said afterwards that the approach of his regular partner, Ross Hutchins, in fighting cancer was proving "really inspirational".
In the wake of a 7-5, 7-5 defeat by Michael Kohlmann and Jarkko Nieminen, Fleming said that he had been in contact every day with Hutchins, who was diagnosed with Hodgkin's lymphoma three weeks ago and has just begun a course of chemotherapy.
"It's really inspirational how well he's doing," Fleming said. "He started his treatment on the 10th. He said his treatment is fine, but he said he's feeling a little bit nauseous. I think he's tired and he's enjoying being at home to rest up.
"But it's amazing. He's been nothing but positive and strong and wishing everyone to do well. He's not begrudging of anyone who's still playing. He's wishing everyone well – and everyone wishes him well too."
Fleming, the world No 27 in doubles, and Murray, the world No 75, used to be regular partners, but are now likely to go their separate ways. Because of Murray's low ranking they would not make it into the fields for Masters Series events, which is one of Fleming's aims this year.
Both players said they would be considering their options in terms of partners in the weeks ahead. Fleming is determined to resume his partnership with Hutchins, though that is unlikely to happen before the end of the year. Novak Djokovic, the defending singles champion and world No 1, gave a demonstration of the gap between the current top players and the next generation when he beat Ryan Harrison 6-1, 6-2, 6-3 in just 91 minutes. Harrison, a 20-year-old American, is regarded as one of the best young players in the game.
"Tennis has changed," Djokovic said. "It's much more demanding nowadays with the competition that is around the tour and many quality players. It's more difficult to make that breakthrough for a youngster. He [Harrison] needs patience and he needs to believe in himself and wait for a chance.
"Mentally he's probably going to go out on the court knowing he doesn't have anything to lose. He's going to try to smack serves and forehands. I went with that kind of mindset on the court, just trying to play as sharp as possible from the start, and I've done so."
Harrison conceded he felt powerless against a man with no perceptible frailty. He said: "I'm wanting to step up, but I am running side to side and I look like I'm on a string."
Register for free to continue reading
Registration is a free and easy way to support our truly independent journalism
By registering, you will also enjoy limited access to Premium articles, exclusive newsletters, commenting, and virtual events with our leading journalists
Already have an account? sign in
Register for free to continue reading
Registration is a free and easy way to support our truly independent journalism
By registering, you will also enjoy limited access to Premium articles, exclusive newsletters, commenting, and virtual events with our leading journalists
Already have an account? sign in
Join our new commenting forum
Join thought-provoking conversations, follow other Independent readers and see their replies