Mardy Fish wins first match in two years to set up Andy Murray match in Cincinnati
Fish has battled anxiety and mental illness
Paul Newman
Tuesday 18 August 2015 18:29 Comments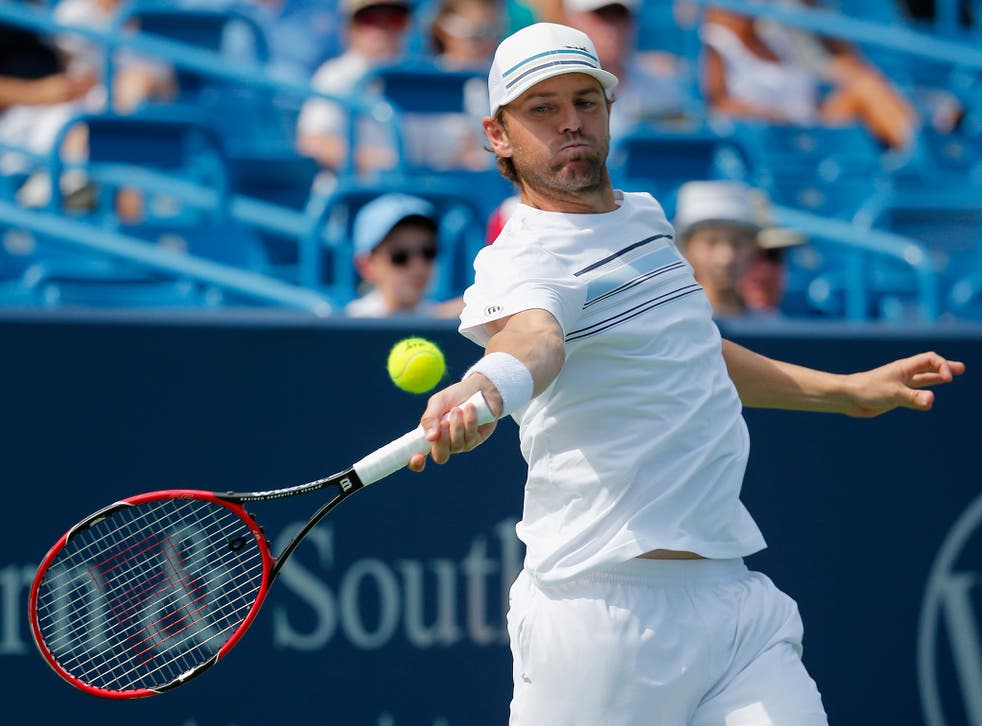 There is unlikely to be a happier moment all week at the Cincinnati Masters than Mardy Fish's celebration of his first-round victory. The 33-year-old American's 6-2, 6-2 win over Viktor Troicki earned a meeting with Andy Murray, but, more importantly, it meant that he would retire next month having savoured victory at least one more time.
Fish will put his rackets away for good after the US Open, which starts in 12 days' time. The former world No 7 has fought a lengthy battle with mental illness. He had a successful heart procedure three years ago, but has suffered with panic attacks ever since.
At the 2012 US Open he was due to play Roger Federer in the fourth round but was in such a bad state mentally that he pulled out. There have since been periods when he has been unable even to venture out of his house.
Fish, who is on medication and is undergoing therapy, now talks openly about his illness in the hope that he can help others. "I had tennis taken away from me because of it," he told ESPN.com. "I had my job, which I loved to do, which I was really good at. I was at the top of my career, and I had it all taken away because of a mental illness."
He added: "Speaking about it was very therapeutic for me. That was one of the things I really struggled with in the beginning - not talking about it, sort of holding it in. The more and more I spoke about it, the more I found out how many people deal with it. The more I read about it and researched it, the more you start to realise how many Americans deal with some sort of mental illness on a daily basis. That gave me comfort."
Trying to make a comeback in 2013, Fish retired mid-match during a tournament after another panic attack. He did not play again until March this year. He lost first time out in Indian Wells and again in Atlanta last month in his only other singles appearance. "I just really wanted to be back one more time here," he said in a post-match interview after his victory over Troicki in Cincinnati.
Fish, who beat Murray in three of their four most recent meetings, all of them in 2010, said recently that he was "still fighting the battle of the anxiety disorder, trying to get a firm grip on how I feel after matches".
He added: "The part that helps me is all the different reps and things like that that you get. I used to struggle with sleep. Once you go to sleep at night so many times, you get better and better at it, you get more confident with it. It's hard for me to do the matches because there's not very many and there's only so many situations I can kind of put myself in."
Fish said he was looking forward to the US Open, "where it all came crashing down for me in 2012" and wanted to "sort of conquer that place". He explained: "I mean just get back out on the court there. I have a lot of demons from that place."
Register for free to continue reading
Registration is a free and easy way to support our truly independent journalism
By registering, you will also enjoy limited access to Premium articles, exclusive newsletters, commenting, and virtual events with our leading journalists
Already have an account? sign in
Register for free to continue reading
Registration is a free and easy way to support our truly independent journalism
By registering, you will also enjoy limited access to Premium articles, exclusive newsletters, commenting, and virtual events with our leading journalists
Already have an account? sign in
Join our new commenting forum
Join thought-provoking conversations, follow other Independent readers and see their replies