Billie Jean King calls on Australian Open to rename arena after Margaret Court's homophobic and transphobic comments
The 24-time Grand Slam champion expressed views against homosexual and transgender people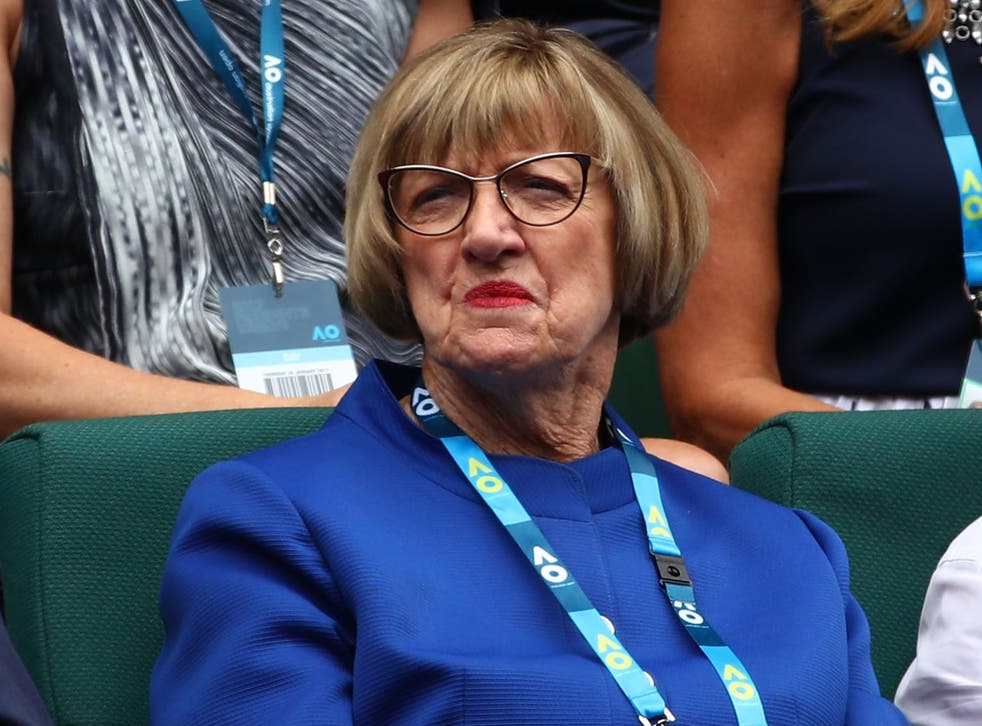 Billie Jean King has called for Australian Open organisers to rename the Margaret Court Arena in Melbourne following the controversial comments made by the former Australian tennis player about homosexuality and transgender people.
Seventy-five-year-old Court claimed last year that a gay lobby was trying to get into the minds of children, and also that transgender identity was "the work of the devil", which triggered a fierce backlash from a number of leading figures in the game.
Court also criticised Australian player Casey Dellacqua for having two children with her female partner, and her comments led to a threat of a boycott at the third show court in Melbourne that was named after the 24-grand slam winner in 2003.
She first made statements against gay and lesbian rights in 2012, and calls for the arena to be renamed are now stronger than ever ahead of this year's Australian Open, which gets underway on Monday.
King, who won 12 Grand Slam singles titles during her illustrious career, has become the latest to hit out at Court and claimed that if she were playing in the upcoming tournament, she would refuse to play until the name was either removed or changed.
"If I were playing today I would not play there," King said at an Australian Open press conference after being named Women of the Year in association with the tournament's new equality initiative, Open4All.
"It's really important if you're going to have your name on anything that you're hospitable, you're inclusive, you open your arms to everyone that comes.
"Over time I've reflected. I was fine until lately when she says so many derogatory things about my community. That really went deep in my heart and soul and I personally don't think she should have her name (attached to the arena) any more."
Court, who will not attend the championship this year because she is going "crabbing", is a Pentacostal minister and has also faced harsh criticism from 18-time Grand Slam champion Martina Navratilova for her outspoken views.
King, who is a leading gay rights and equality activist, added that she is disappointed that Court will not be in attendance this year as she would like to have discussed the issue with her face-to-face, and claimed that she has a responsibility to live up to by having her name attributed to such a venue – just like she does at Flushing Meadows in the United States.
"I think if you were talking about indigenous people, Jews or any other people, I can't imagine the public would want someone to have their name on something.
"I have my name on the whole facility in the US (the US Open is played at the Billie Jean King National Tennis Center) and every time I see my name up there I can hardly breathe because of the responsibility.
"When she talked about transgender people being children of the devil, that really put me over the edge because we're all God's children.
"I wish Margaret were here this year. I was looking forward to seeing her. We usually sit next to each other in the Royal Box and have a great time. I wish she here so we could further this discussion."
Register for free to continue reading
Registration is a free and easy way to support our truly independent journalism
By registering, you will also enjoy limited access to Premium articles, exclusive newsletters, commenting, and virtual events with our leading journalists
Already have an account? sign in
Register for free to continue reading
Registration is a free and easy way to support our truly independent journalism
By registering, you will also enjoy limited access to Premium articles, exclusive newsletters, commenting, and virtual events with our leading journalists
Already have an account? sign in
Join our new commenting forum
Join thought-provoking conversations, follow other Independent readers and see their replies