Meet the mystery cowboy always on Centre Court
When Nadal plays Djokovic today, look out for the man in the Stetson in the players' box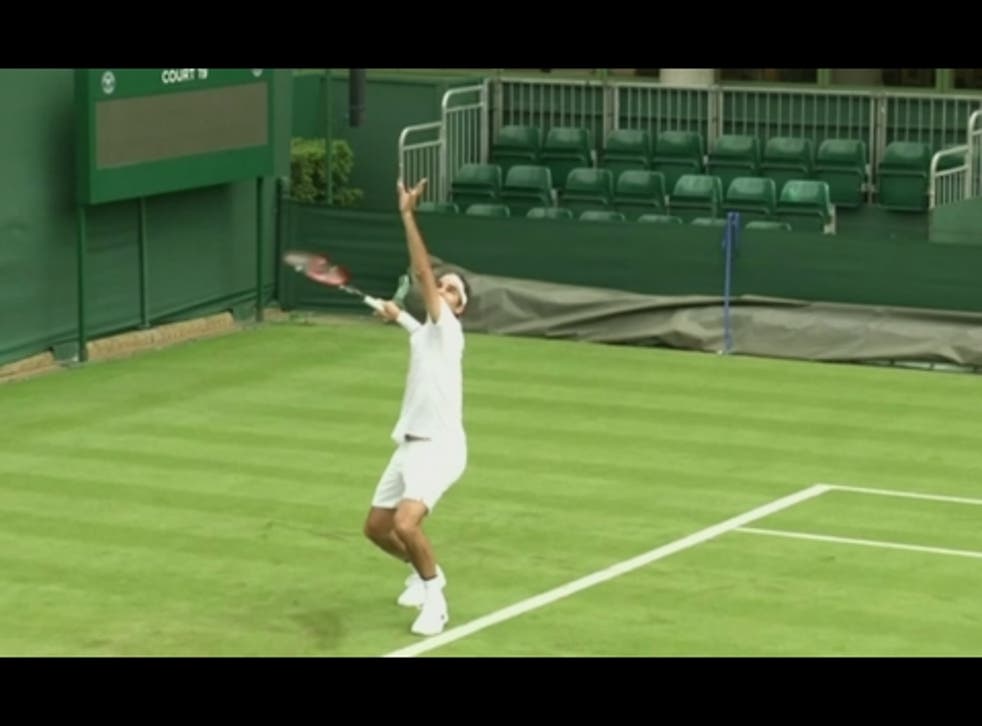 Behind every Wimbledon Centre Court contender is an entourage of family and friends. And behind them, occupying seat number seven in the players' box, is an incongruous figure with a distinctive goatee and a black Stetson cowboy hat.
Titles have come and gone, but the mystery over this man remains. Who is he? Why the hat? And why for the past 15 years has his presence been caught by television cameras fixated on the brow-furrowed anxiety of spouses and parents, and girl and boyfriends? Observers have likened him to General Custer, Colonel "KFC" Sanders and even Goran Ivanisevic's father.
But we can reveal that he is one David Spearing, and, at 75, he is the Championships' longest-serving steward. He's held the Centre Court seat for 15 years – and shows no sign of giving it up. "When I leave this box," he has said, "it will be in another box."
Mr Spearing spends most of the year in Abu Dhabi, where he has lived for more than 40 years and where he runs a structural engineering consultancy which bears his name. It is also in Abu Dhabi where he acquired the Stetson hat which he has sported for good luck at every final since the 1990s. He is an active member of the British Business Group and a well-known and respected figure in the Emirati community.
Wimbledon: A Beginner's Guide
But it is the June fortnight every summer where his location downsizes to "a friend's spare room" and the job is to get up close and personal with the public as well as the players. "I'm there primarily to help the public. I'm up at six each morning and get to the Championships an hour later. I make the announcement for the queues at 7am.
"I have time for a short cup of coffee and then have to be on the concourse at 10.30, then I come to the players' area, have a quick lunch and by one I'm on Centre Court for the first game of the day."
It is this protocol that Mr Spearing has followed religiously since 1974, when a friend invited him to try out as a steward. His die-hard dedication and loyalty have propelled him up the ladder, and now he acts as host to the families and coaches in the players' box on Centre Court.
Mr Spearing, who says he was good friends with the Henman family back in the day, has now struck up acquaintances with the Federers and, of late, the Nadals. Of Andy Murray's family, he says they were "a little bit depressed" after the player's semi-final defeat on Friday. "When I saw them leave they seemed very down," he said. "But they know this feeling well – they have suffered the grand-slam finals defeats before. Eventually, though, they'll be right as rain. No one better than Andy realises that he's got to pick himself up."
Not that Mr Spearing is too concerned. His predictions for a British victory lie firmly with next summer, by way of an odd calculation. "Our last British [men's singles] winner was Fred Perry in 1936. Thirty-eight years later I joined the Wimbledon stewards. That was 1974. If you add 38 years to that, it's 2012. So Murray must win next year, I'll get good odds."
Mr Spearing, who was born in Wallington and moved to Blackburn before the war, cites the 2001 final between Patrick Rafter and Goran Ivanisevic as one of his favourites. "Because of the rain it was delayed until the Monday, and there were no pre-sold tickets. It was just £10 to buy a ticket at a turnstile and you could sit anywhere. Wimbledon almost closed with the queues forming, and the atmosphere was one like never before."
Today his money in on Nadal for a five-setter. "Djokovic is playing amazing tennis, but Nadal has the edge."
Once the tournament finishes, Mr Spearing has a few matters to attend to before returning to Abu Dhabi and making his plans for a return – in 50 weeks' time.
Join our new commenting forum
Join thought-provoking conversations, follow other Independent readers and see their replies