Monte Carlo Masters: Andy Murray relieved to emerge from 'very scrappy' encounter with Pierre-Hugues Herbert
The Scot claimed a 6-2, 4-6, 6-3 victory in his opening match of the tournament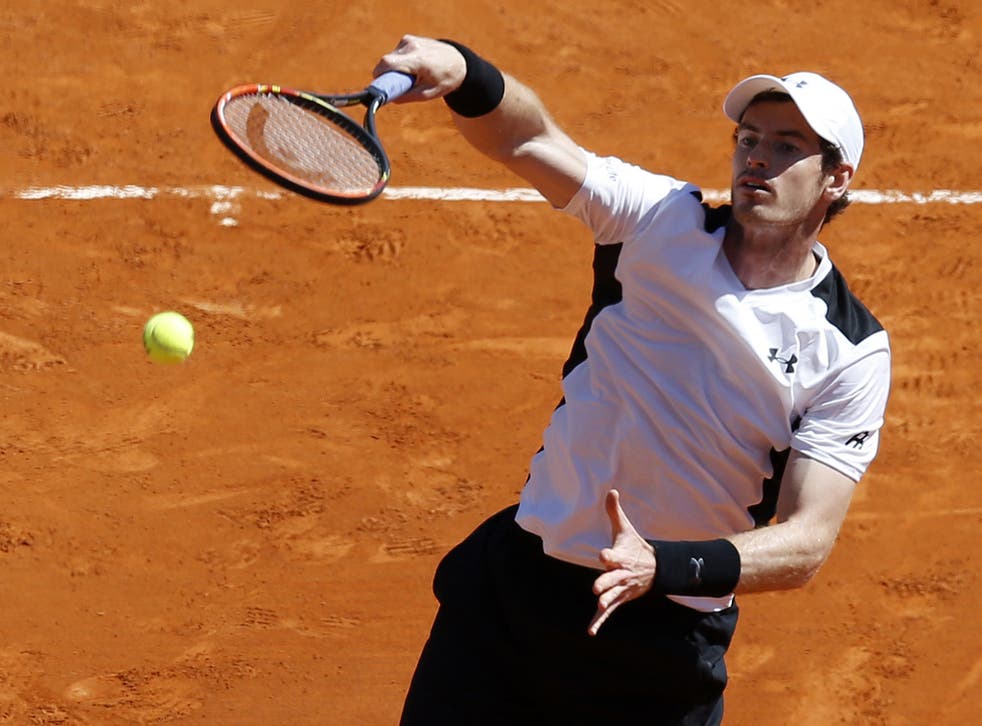 Andy Murray was relieved to come through what he acknowledged was "a very scrappy match" to beat France's Pierre-Hugues Herbert 6-2, 4-6, 6-3 in his opening match here at the Monte Carlo Masters, but the Scot admitted that he was concerned about the lapses of concentration that have affected his play in recent weeks.
Having made a fine start to the year by reaching the final of the Australian Open and leading Britain to victory over Japan in the Davis Cup, Murray was in patchy form last month in Indian Wells and Miami. In both Masters Series tournaments he won only one match before losing to Federico Delbonis and Grigor Dimitrov respectively.
Against Herbert his level again dipped at times. Having capitalised on the Frenchman's struggles with his serve in the first set, Murray himself was broken three times in the second and made too many errors as the world No 95 levelled the match. However, Murray stood firm in the deciding set, playing his best tennis of the match to close out victory after two hours and six minutes.
"It was obviously up and down in the second set for me," the world No 2 said afterwards. "On this surface, that's something that shouldn't happen. It's possible to get broken, but the consistency of your tennis should be better because it's a slower court, so you have got more time on the ball."
He added: "I've definitely been a little bit flat since the Davis Cup really. I don't know exactly why that's been the case. But in a lot of my matches, it's been that way, with some good stuff mixed in with some pretty bad stuff.
"The norm is bad just now, so I need to improve on that. Even when I'm not playing my best, [I need to] play more solid, make it more difficult for my opponents.
"When I've been playing well, I'm actually hitting the ball very clean. But just the consistency has not been there, maybe not as sharp as I could be mentally. Concentration's not been so good.
"That's something that, again, especially on this surface, needs to be better. On grass you can get away with hitting a couple of big serves and the point's over, whereas here you have to work hard for every point, and you need to concentrate better."
Murray said he had not worked out yet why he was having lapses of concentration. "I don't know exactly," he said. "I could also be looking too much into it as well.
"It's just that I have been in winning positions for the matches. Sometimes your opponents can play great tennis and you don't have a chance after that, but I have felt like in a couple of the matches that it's been myself that's dropped my level. Normally I'm very good at finishing off matches when I'm ahead.
"Today, as well, in the third set it was also very, very tight at the end. The 3-1 game was a long game. I think the 4-2 game was also a long game, a deuce game, on my serve. At those moments I just need to buckle down and not make as many mistakes, be a little bit more solid."
Murray denied that his concentration problems had anything to do with becoming a father two months ago. "If that was the case I would have played rubbish in the Davis Cup," he said. "That was immediately after the birth and I played well there. That's really the best match I played in the last couple of months, so I don't think that has anything to do with it.
"It's down to me really when I'm on the court to find a way to stop that and give myself clear goals as to what I want to achieve when I'm out there. It's happened to me in the past before. I've had some tough losses. Even after I won Wimbledon, I had some tough losses before the US Open that year. It's not the first time that's happened, but normally I find a way to turn it around. I have absolutely no doubt I'll do the same again this time."
Register for free to continue reading
Registration is a free and easy way to support our truly independent journalism
By registering, you will also enjoy limited access to Premium articles, exclusive newsletters, commenting, and virtual events with our leading journalists
Already have an account? sign in
Register for free to continue reading
Registration is a free and easy way to support our truly independent journalism
By registering, you will also enjoy limited access to Premium articles, exclusive newsletters, commenting, and virtual events with our leading journalists
Already have an account? sign in
Join our new commenting forum
Join thought-provoking conversations, follow other Independent readers and see their replies