Murray hits 145mph in fast start to title defence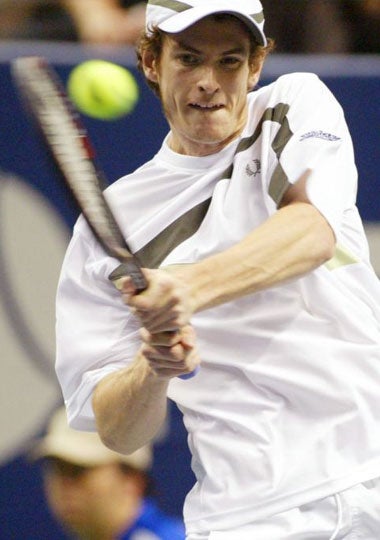 Andy Murray's movements in the world rankings list have been almost exclusively in one direction until now, but the 19-year-old Scot could be in unfamiliar territory after this week.
After winning the SAP Open in San Jose last year, Murray is back in California trying to retain the 175 ranking points which came with the victory. Currently at a career-best 13th in the Association of Tennis Professionals list, which operates on a rolling 12-months system, he could drop as many as three places if he does not retain the only title he has won at senior level.
The No 3 seed got off to a fine start in defence of his crown, beating America's Kevin Kim, the world No 125, 6-3, 6-1 on Tuesday night. In last night's scheduled second round, he was due to face Denmark's Kristian Pless, the world No 83.
Murray hit a career-best 145mph serve and 11 aces to beat Kim in just 57 minutes. "I've been working on my serve during the off-season," he said afterwards. "My serve-and-volley game is much stronger," he added.
The Scot was broken when serving for the first set at 5-1 but did not waste his second opportunity and overwhelmed Kim with his superior shot-making in the second set.
"I hadn't been hitting the ball that well in practice because I'd been doing a lot of fitness work, but I think I played well," Murray said, adding that he felt much stronger since adopting a new training programme. "The court was probably 40 per cent faster than last year, which I wasn't expecting. I'd probably like it a little bit slower, but I play pretty well indoors."
Victory over Pless would earn Murray a quarter-final against either Simon Greul or Hyung-Taik Lee, with the top seed, Andy Roddick, who lost to Murray in last year's semi-finals, his scheduled opponent in the last four. Roddick was due to play Frank Dancevic last night, while James Blake, seeded to meet Marat Safin in the other semi-final, was up against Igor Kunitsyn.
Gustavo Kuerten, three times a winner of the French Open, won his first match for 18 months when he beat Italy's Filippo Volandri, the No 7 seed, in straight sets in a tournament at Costa da Sauipe in his native Brazil. Kuerten, 30, has had hip surgery and has also been recovering from muscular problems.
The Stella Artois tournament at Queen's Club has scrapped plans to adopt a round-robin format this summer. The event, which takes place pre-Wimbledon, had wanted to become one of the Association of Tennis Professionals' guinea-pigs for the round-robin system, but has decided that it would be impractical.
In order to fit in all the matches, tournament organisers wanted to start this year's event a day early on Sunday 10 June, but the ATP has an agreement to avoid any clashes with the French Open, which ends on the same day. With bad weather always a fear, and a tournament where many of the top singles players also like to compete in the doubles, it was decided to revert to a conventional knock-out format.
Join our commenting forum
Join thought-provoking conversations, follow other Independent readers and see their replies