Murray outplayed by Nadal in semis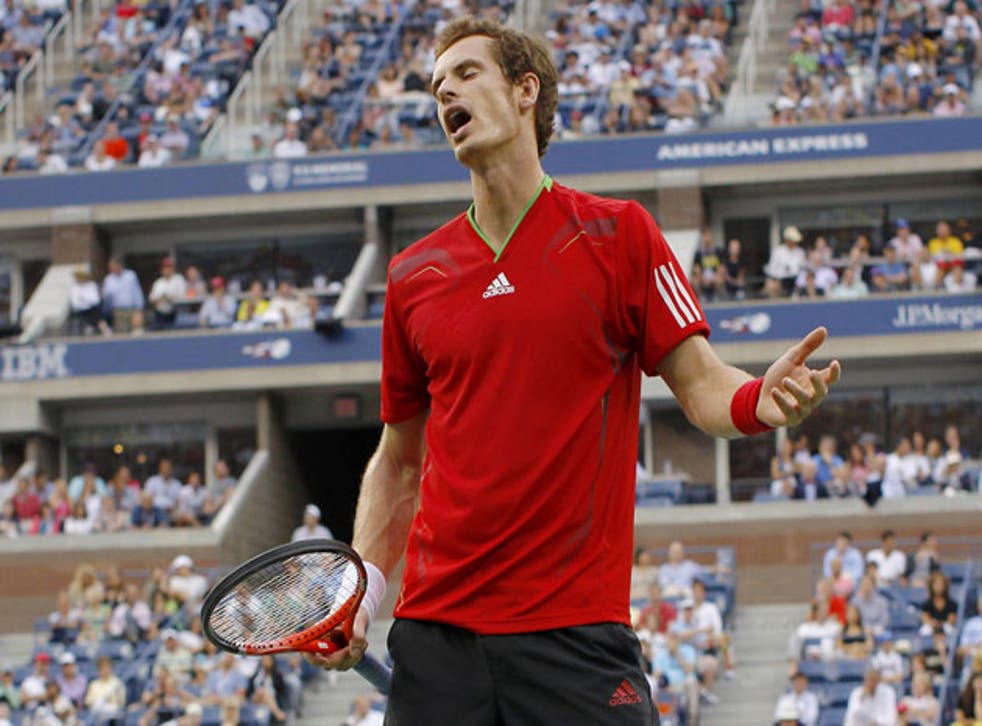 It has been the best year of Andy Murray's career but his latest Grand Slam campaign ended in familiar fashion here last night.
Having beaten Murray in the semi-finals of three Grand Slam tournaments in the previous 14 months, Rafael Nadal denied the 24-year-old Scot at the same stage once again, winning 6-4, 6-2, 3-6, 6-2 to book a place in tomorrow's US Open final against Novak Djokovic.
Despite the inevitable disappointment, Murray could be proud of the way he fought back after being outplayed in the first two sets. After becoming the first player to take a set off Nadal here this year, the world No 4 had a chance to get his nose in front in the fourth set, only for the Spaniard to hold firm and then resume control.
In reaching the last four Murray had joined an elite group of seven Open era players who have played in the semi-finals of all four Grand Slam tournaments in the same year, but his ambition of landing one of the game's great prizes remains unrealised. He is unfortunate to be playing in an era dominated by two of the finest players ever in Nadal and Roger Federer, with Djokovic snapping at their heels.
After the fireworks in Djokovic's remarkable comeback victory over Federer earlier in the day, the second semi-final felt like a damp squib when Nadal took a two-set lead. Arthur Ashe Stadium, which had been alive with excitement two hours earlier, was quiet for long periods as the defending champion quickly took command.
Murray had beaten Nadal in four of their nine previous meetings on hard courts – including their semi-final here three years ago and their quarter-final in last year's Australian Open – but the Scot looked ill at ease in the early stages. He tried to attack but did not always make the best decisions and frequently berated himself at the back of the court for failing to carry out his game plan properly. When he did create chances he failed to take them.
The world No 4 recovered from 0-30 down in his first two service games but could not do so a third time. From 0-40 down at 3-3 Murray saved two break points, the second of them with a superb cross-court backhand, but on the third a mishit forehand gave Nadal the first breakthrough. As Murray knows all too well, the world No 2 is a great front-runner and Nadal took the set by dropping only one point in his next two service games.
Having failed to take his only break point of the first set when leading 3-2, Murray missed out on three more opportunities when 1-0 up in the second. On the third the Scot manoeuvred himself into an excellent position to hit a winning backhand down the line, only to put the ball in the net.
Three games later Murray was made to pay for not making the most of his chances. He saved one break point with a smart volley, but when he tried to repeat the play on the second he punched the ball wide. At 2-4 Murray saved three more break points, but Nadal outrallied him on the fourth and went on to serve out for the set.
Murray has come back to win matches from two sets down on six occasions and raised real hopes of a comeback by winning the third set. He started to play more conservatively, attacking only when he had opened up the court, and broke serve for the first time in the second game. Despite dropping his own serve in the following game, he continued to work his way back into the match and broke again to lead 5-3 before securing the set.
At this stage Nadal was starting to look tired, while Murray began the fourth set with a new spring in his step. In the second game a thumping backhand earned him a break point, which he failed to convert when netting a routine backhand.
It proved to be a major turning point. Nadal eventually held serve and went on to break in the following game after Murray hit a forehand long when going for a winner. Murray, who was troubled by a sore back in the latter stages, bravely held serve from 0-40 down at 1-4, but was unable to repeat the feat two games later. After embracing his opponent and friend at the net, Nadal leapt in the air in delight at setting up a second successive final here against Djokovic.
"I think the first two sets were probably crucial," Murray said afterwards. "I had chances to go up a break in the first and the second sets and didn't. I was playing better in the third and fourth sets. I had a chance to go up in the fourth but didn't quite take it. Obviously then I managed to hang on relatively well right until the end. It was a tough match because I think both of us had quite a lot of chances."
Murray felt he played "smarter tennis" in the latter stages. "I was maybe going for too many big shots at the beginning of the match," he said. "Then in the third and fourth sets I started being more patient and started picking the right moments to come forward."
The Scot said he continued to believe that he has it in him to win a Grand Slam title. "I've still got hopefully three or four more years where I'm playing the tennis at my peak," he said. "I need to stay healthy and improve, because if I don't then it's going to be difficult to win one. But if I do, then I'm getting a little bit closer each year. This year was the best year for me in the Slams."
Register for free to continue reading
Registration is a free and easy way to support our truly independent journalism
By registering, you will also enjoy limited access to Premium articles, exclusive newsletters, commenting, and virtual events with our leading journalists
Already have an account? sign in
Register for free to continue reading
Registration is a free and easy way to support our truly independent journalism
By registering, you will also enjoy limited access to Premium articles, exclusive newsletters, commenting, and virtual events with our leading journalists
Already have an account? sign in
Join our new commenting forum
Join thought-provoking conversations, follow other Independent readers and see their replies