Nadal: 'Family is important. I don't like to be alone, I like to be with people'
Rafael Nadal lives with his in-laws during Wimbledon. This keeps him focused and happy, he tells Paul Newman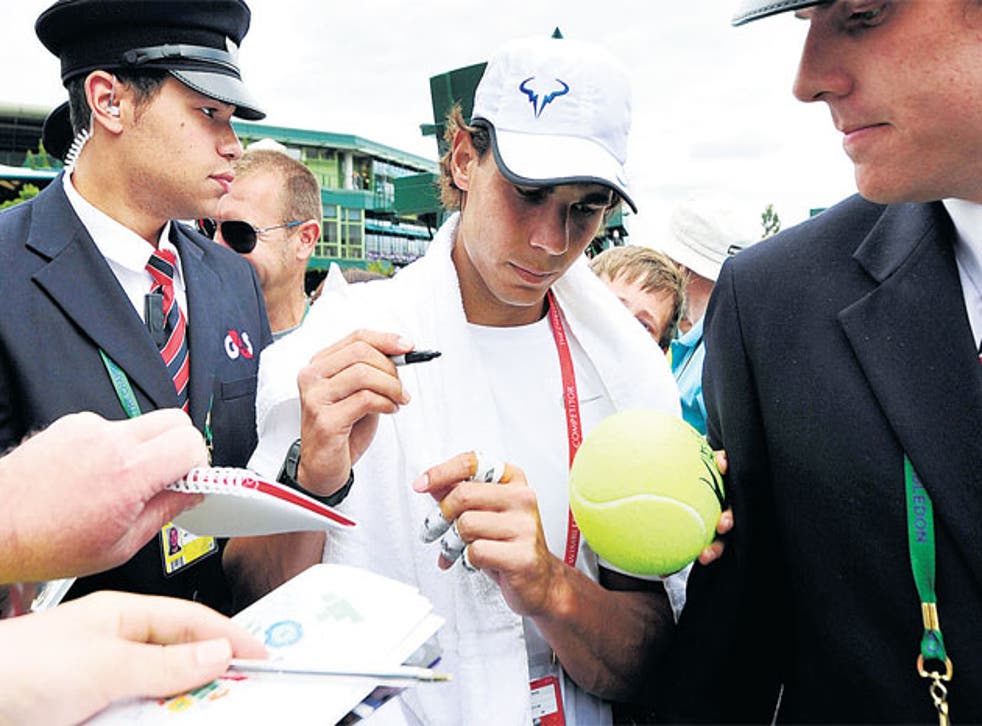 If you go to one of the fancier restaurants in Wimbledon during the current fortnight you are more than likely to bump into a player or two. If you go to the local supermarket you might run into Rafael Nadal as the defending champion scours the fruit and veg department or the fresh fish stall for ingredients for the dinner he will prepare for his family and friends.
"I have my theories," Nadal said here yesterday after his final practice session before this afternoon's semi-final against Andy Murray. "If you lead a normal life and just go along normally, fewer people bother you. But if you go out with security and things like that, everybody knows that something is happening there. You live normally, it's OK. I've been to the supermarket two or three times. Otherwise my girlfriend or my Mum do the shopping."
In this celebrity age Nadal is the most humble of champions. When he has a holiday he spends it at home in Mallorca, fishing, playing golf and spending time with those he has grown up with. At Wimbledon he welcomes the chance to live in a rented house, surrounded by familiar faces, rather than stay in a hotel. He is sharing a house just a short walk away from the All England Club with Toni, his uncle and coach, Rafael Maymo, his physical trainer, and a revolving cast of family and friends.
"For me, family and friends are very important," Nadal said. "If you're from smaller places everything is easier, everything is closer. I'm from Mallorca, from a small village, so I always have my family around – not just my mother and sister, but my uncles, my cousins, everyone. Everybody is really close. I see all my family every day."
It was Carlos Costa, Nadal's manager, who suggested staying in a house during Wimbledon. "I first tried it in 2006 – and I'm never going back to a hotel," Nadal said. "With the conditions and the weather here, I think it's a big advantage to have a house near the club. In New York, there's no chance to do that. In Roland Garros, you can maybe. In Australia, we are very close to the tennis. Here, the traffic is sometimes tough and there are problems with the rain too. It's a different experience.
"I've only spent one week at home in the last five or six months, so being in a house with the family and the team makes things a bit less tiring. Sometimes it's good not to be in a hotel. I love being on the sofa watching the TV. In hotels they give me big rooms, but usually I'm alone. Here I'm in a house and you have more people around. I don't like being alone very much. I like to be with people."
Sitting in a small office at the All England Club, Nadal could hardly have been more relaxed. At one point Warren Jacques, the former British Davis Cup captain, popped his head round the door, having apparently lost his way out of the building. The ever-polite Nadal ushered him through the room.
Tennis is never far from the Spaniard's mind – he apologised for breaking off the conversation momentarily to watch a television screen as Petra Kvitova had match point against Victoria Azarenka – but clearly enjoys the chance to lead a normal life.
"I've been cooking a lot," he said. "I do salad a lot of times, fish, pasta, meat. I like making pasta. The quality in the British supermarkets is good, but maybe there is a difference between the fish here and in Mallorca. One day I had some monkfish, but after that it's salmon or tuna. In Spain, I know all the fishes and I know which ones I like. Here it's difficult."
Does Toni ever cook? "No, never," Nadal said. "I don't cook for him because he's on a special diet, but it's a diet when you eat at every moment. Before dinner he eats and after dinner he eats 100 more things!"
Who does the washing up? "That's something a bit more difficult for me. Toni cleans his things. We have a dishwasher. When I cook, the others wash."
Dinner over, Nadal likes to relax in front of the television. "I watch a lot of the sports channels. We have satellite TV and there are a lot of sports channels. I don't understand cricket much. It's very static. It's like baseball. I like sports with more movement.
"I like golf, that's true. I don't understand cricket a lot and that's probably why I don't appreciate how difficult it is, but golf is a bit different. Today is Thursday, when golf tournaments start, so that is always positive for me. In the afternoon I can always watch the golf from the European tour and in the evening I can watch the PGA tournaments."
Nadal says he argues with his uncle Toni almost every day – "We talk about tennis, football, life, a lot of things and we don't see things in exactly the same way" – but the respect between the two men is evident. Toni, Rafael's father Sebastian, and a third brother, Miguel Angel, share a business in Mallorca and the three men agreed early on that Toni's job would be to guide his nephew through his professional career. The family's shared values of respect and humility are clear in everything Rafael does.
Are there times when he goes along with Toni's views on tennis matters even when he does not agree with them? "I trust him because he is my coach and I have to believe in him," Nadal said. "I think I've always listened a lot – to all the people and, for sure, my uncle too. Sometimes I cannot agree with a few things, but if he told me something on the practice court, even if I do not agree I will do it. Inside you might not agree, but it's probably easier to watch what's going on from the outside."
Toni is one of the few coaches who applauds opponents' good shots. His nephew approves. "If somebody's doing something really good, the normal thing is to congratulate the opponent and probably that's what Toni does when he claps my opponent. That's not going to affect my match.
"A lot of people believe competition is like life, but that's not how I see it. I love to win, I love the competition and I will try my best until the last moment, but what happens off the court is not going to affect what happens on it. We can try our best on the court and when we are off it we can be close friends."
Murray and Nadal have been friends for the best part of a decade and if the Spaniard is not holding the trophy aloft on Sunday night he hopes that it will be the Scot. Nadal agreed it was strange, given the Lawn Tennis Association's huge resources, that it is 75 years since a British man won Wimbledon, but added: "Sometimes when things are easier it can be more difficult to get results. After that, your weather here is probably not the best.
"The weather conditions, for sure, affect the practice. I am sure of that. If you have better conditions it's easier to practise anywhere. Here, most of the time you have to find an indoor court, you have to find the right place to practise, and always it's a bit more difficult. With better weather probably you have more chances to practise well."
With that parting thought it was time to leave. The fridge back at the house was empty and there were mouths to feed.
Murray v Nadal: Grand Slam record
Australian Open 2007
Nadal won 6-7, 6-4, 4-6, 6-3, 6-1 in the fourth round but Murray competed well.
Wimbledon 2008
Nadal won this quarter-final 6-3, 6-2, 6-4. Murray did not serve well and Nadal was quick to punish anything short.
US Open 2008
Murray won 6-2, 7-6, 4-6, 6-4. Perhaps the best performance of Murray's career to reach the final.
Australian Open 2010
Murray won 6-3, 7-6, 3-0 (retired). Nadal suffered a knee injury in this quarter-final but already looked a beaten man.
Wimbledon 2010
Nadal won 6-4, 7-6, 6-4. Although a closer semi-final than the scoreline suggests, Nadal played the big points better.
French Open 2011
Nadal won 6-4, 7-5, 6-4. A tight semi-final that took more than three hours.
Register for free to continue reading
Registration is a free and easy way to support our truly independent journalism
By registering, you will also enjoy limited access to Premium articles, exclusive newsletters, commenting, and virtual events with our leading journalists
Already have an account? sign in
Register for free to continue reading
Registration is a free and easy way to support our truly independent journalism
By registering, you will also enjoy limited access to Premium articles, exclusive newsletters, commenting, and virtual events with our leading journalists
Already have an account? sign in
Join our new commenting forum
Join thought-provoking conversations, follow other Independent readers and see their replies