Novak Djokovic defends himself against motivation doubts after early Australian Open exit to Denis Istomin
Winning the French Open last season completed Djokovic's career grand slam, but he claims he played with the same intensity in his second round defeat by wildcard Istomin in Melbourne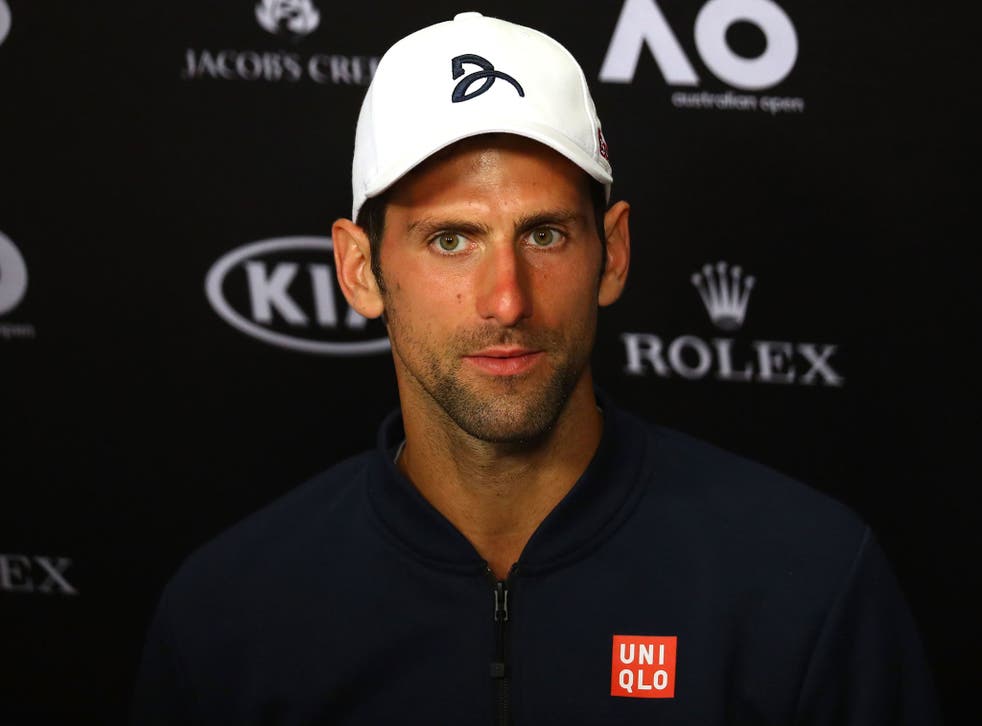 Novak Djokovic had to defend himself against accusations of lacking motivation after the 12-time grand slam champion crashed out of the Australian Open.
Djokovic fell victim to one of the greatest shocks in grand slam history as he lost 7-6 (10/8) 5-7 2-6 7-6 (7/5) 6-4 to Uzbek wildcard Denis Istomin.
The result leaves Andy Murray in pole position to claim his first title at Melbourne Park while after winning four grand slams in a row between 2015 and 2016, Djokovic has now gone three without adding to his 12 major triumphs.
He completed the set by lifting the French Open title last year but has since lost in the third round at Wimbledon, the first round at the Olympics, the final at the US Open and now the second round here.
Asked if his long-awaited victory at Roland Garros had taken the edge off his hunger, Djokovic said: "I don't know. I mean, it's not a time now to go so deep into it.
"I didn't reflect on that at all at this stage. I started a new season, a new year, as everybody else did. I forgot about it, in a way. It's not affecting me."
After his disappointing second half of 2016, the new season was supposed to represent a fresh start for Djokovic, who began by beating Murray at the Qatar Open earlier this month.
Defeat to Istomin, however, ranked 117th in the world, halts his revival and raises questions about the world number two's drive to reach his former heights.
"I started the season very well. Again, it's a tennis match," Djokovic said. "On any given day, you can lose. I mean, nothing is impossible.
"There is over a hundred players playing in the main draw. I guess the quality of tennis keeps rising each year. Everybody becomes more professional. I guess they improve.
"They get better on the court. What can I do? I did try my best till the last shot, but it didn't work."
Djokovic did appear to lack intensity at times on Rod Laver Arena, laughing and joking with Istomin, and after a 16-minute opening game, telling his opponent "we may as well go straight to a tie-break".
His jovial demeanour was well-received but also remains at odds with the ruthless, steely attitude he once depended on.
"There was intensity, of course," Djokovic said. "We played four-and-a-half hours.
"It's just one of these days when you don't feel that great on the court, don't have much rhythm, and the player you're playing against is feeling the ball very well. That's sport.
"Of course, I'm not used to losing in the Australian Open second round. I've always played so well. Through the last 10 years, I've won six titles here.
"This court has been so nice to me. I enjoyed it very much. Of course, it's disappointing. But at the end of the day I have to accept it."
Istomin, meanwhile, goes through to face 30th seed Pablo Carreno Busta in a quarter of the draw that now looks open for the likes of Grigor Dimitrov and Dominic Thiem to capitalise.
This was only Istomin's second win in 34 career matches against a top-10 opponent but he was virtually unplayable at times, hitting 63 winners and reeling off 17 aces, many in crucial moments.
"It is unreal," Istomin said. "If somebody said I would beat Novak Djokovic at the Australian Open, I would say, 'are you crazy or what?' Especially in five sets, for sure."
Istomin, wearing a fluorescent yellow headband and matching glasses, has never gone past the fourth round at a major tournament before and has been coached by his mother for most of his career.
"The good thing is that I don't need to pay the coach extra, everything goes to my mother," Istomin said, smiling.
"We have a good relationship. We understand each other very well, just the results never came.
"What did she say after the match? 'Good job'."
PA
Join our new commenting forum
Join thought-provoking conversations, follow other Independent readers and see their replies