Novak Djokovic coy on Andre Agassi split as he enjoys fresh start in Monte Carlo with cruise through opening round
Djokovic has reunited with his long-time coach Marian Vajda for the Monte Carlo Masters but has no agreement beyond the current tournament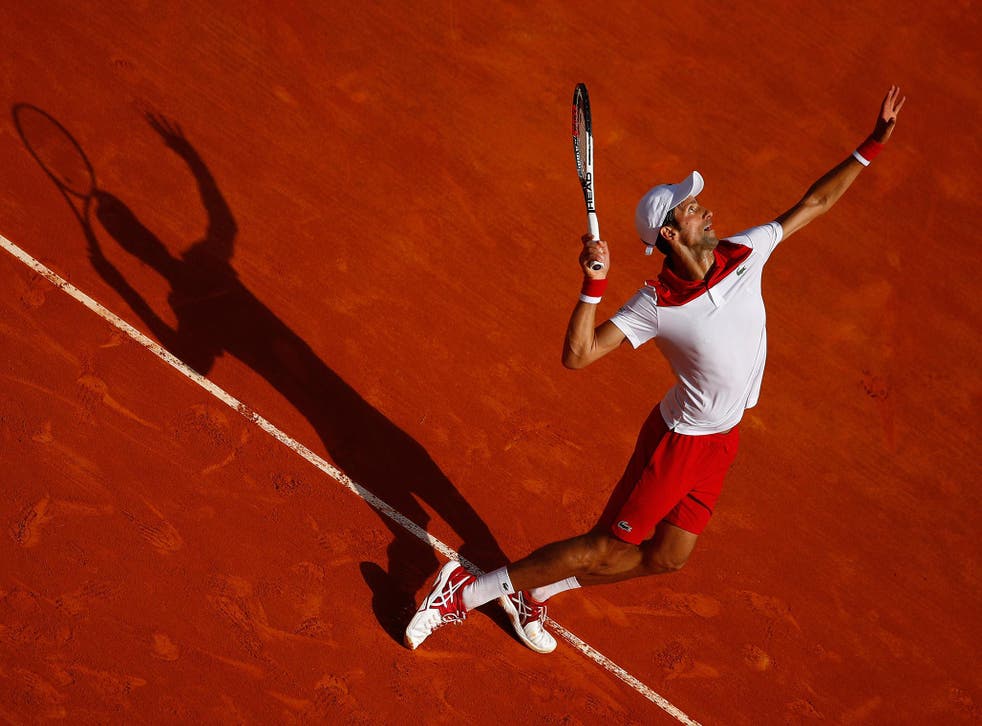 Novak Djokovic won his first match for three months here on Monday and said his reunion with his long-time coach, Marian Vajda, would be "a fresh start" following his split with Andre Agassi.
Djokovic, who needed just 56 minutes to beat his fellow Serb Dusan Lajovic 6-0, 6-1 in the first round of the Monte Carlo Masters, also said that he was playing without pain for the first time in two years following surgery to cure the right elbow problem which had kept him off the court for the last six months of 2017.
"It was a great start to the tournament," Djokovic said afterwards. "Considering I haven't played many matches I thought I played well."
Djokovic, who said nevertheless that he has no agreement to continue working with Vajda after this tournament, has won only two minor titles in the last 20 months. He has had a particularly turbulent time since parting company with his entire coaching team, including Vajda, after this tournament last year.
The former world No 1 began working with Agassi at last year's French Open but was struggling with his elbow problem and did not play again after Wimbledon.
On his comeback at the Australian Open in January Djokovic suffered more elbow pain when losing to Hyeon Chung in the fourth round. He subsequently had surgery, but looked out of sorts when he made another comeback last month, losing to Taro Daniel and Benoit Paire in his opening matches in Indian Wells and Miami respectively.
Djokovic said that he had been advised last year not to have surgery, but that it had later become necessary. He admitted that he might have returned too quickly following the operation. "The elbow was not as good as it has been in the last seven days," he said. "After two years I can finally play without pain."
Agassi said last month that he and Djokovic had "far too often found ourselves agreeing to disagree". However, Djokovic was reluctant to go into details here about reasons for their split. "We just decided that it's better to part ways because both sides did feel that that it was best for me and for them," he said.
The world No 13 stressed that his coaching relationship with Agassi had never been a formal arrangement. "We didn't have any commitment," he said. "We didn't have any contract. He was not working with me officially. He was helping me out. He was really genuinely wanting to help and to give me advice and to share his experience with me."
Djokovic said he remained friends with both Agassi and Stepanek, who joined his entourage at the end of last year. The Serb that even when they had agreed to part Agassi had said he should always feel free to contact him.
"I can call him any day to speak with him, ask for tips and advice, or share something," Djokovic said. "The last eight or nine months with Andre was just amazing with the amount of things that I've learned, not just about tennis but life in general. For that I'm very grateful."
Vajda started coaching Djokovic in 2006 before taking a back seat when the Serb turned to Boris Becker. "I think this is a fresh start for both of us," Djokovic said of their latest reunion. "I missed him. I have a feeling that he missed me – or tennis, or both. We've both enjoyed the last 10 days of practice a lot.
"He knows me better than any tennis coach I've worked with. He's a friend. He's someone I can share a lot of things with, whether it's professional or private life. He's always there for me. He knows me inside out. He knows what I need in order to get to the highest possible level of play."
Djokovic added: "We don't have any kind of long-term commitment with each other. We just want to see how it goes in this tournament. So far there have been a lot of positive things and only positive emotions – every practice session and today on the court.Hopefully we can keep going in the right direction."
On a typically glorious spring afternoon on the Cote d'Azur Djokovic looked in good shape from the start against Lajovic, a friend and Davis Cup team-mate. His confidence was evident in the way he won the second point of the match with a beautifully judged drop shot.
Having shortened his service action because of his elbow problems, Djokovic had not looked at ease with it during the Australian Open. Here, however, he appeared to be serving with more freedom. There was certainly no problem with his ground strokes as he struck the ball with power and precision.
Lajovic, who had never won a match in his two previous appearances here, was outclassed throughout. The world No 93 won only eight points in the opening set and won his only game at the start of the second as Djokovic eased through to the second round, in which he will face Croatia's Borna Coric.
Jared Donaldson, meanwhile, was involved in an angry confrontation with the umpire, Arnaud Gabas, during the American's 6-3, 6-3 defeat to Albert Ramos-Vinolas. Donaldson screamed in the face of Gabas after a dispute over a line call and demanded to see a tour supervisor after being given a code violation.
Register for free to continue reading
Registration is a free and easy way to support our truly independent journalism
By registering, you will also enjoy limited access to Premium articles, exclusive newsletters, commenting, and virtual events with our leading journalists
Already have an account? sign in
Register for free to continue reading
Registration is a free and easy way to support our truly independent journalism
By registering, you will also enjoy limited access to Premium articles, exclusive newsletters, commenting, and virtual events with our leading journalists
Already have an account? sign in
Join our new commenting forum
Join thought-provoking conversations, follow other Independent readers and see their replies