Familiar foes fight it out for supremacy – but it's Novak Djokovic who has the edge over Rafa Nadal
The Wimbledon and US Open champion has his rival's No 1 ranking in his sights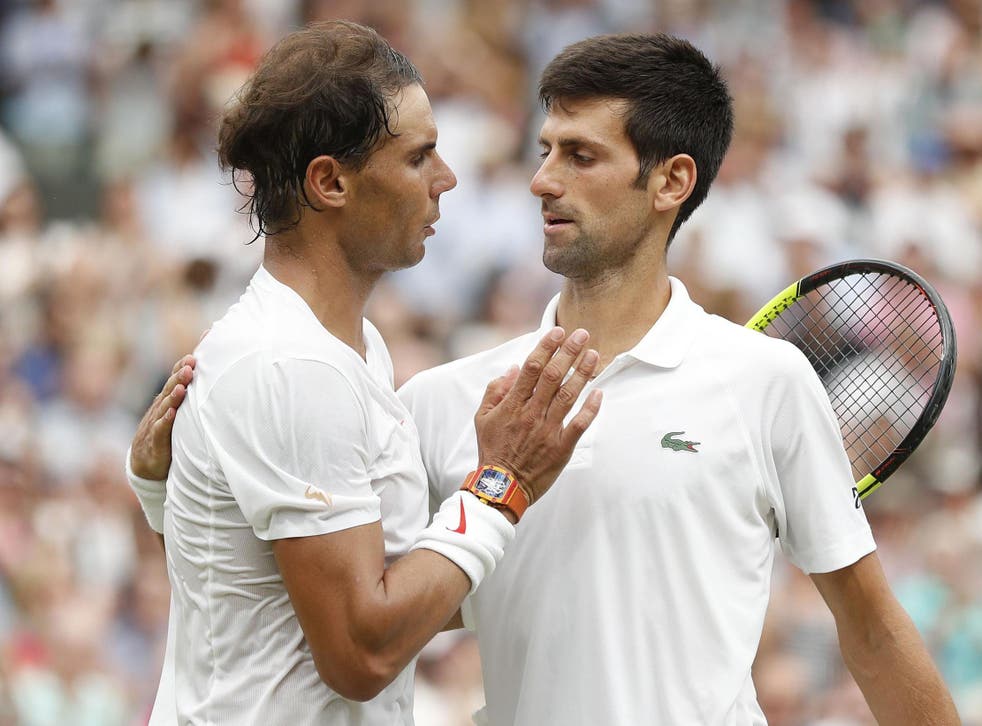 No current players have met as frequently as Novak Djokovic and Rafael Nadal and as the 2018 season heads towards a climax, the Serb and the Spaniard are locked in another major struggle. Ever since the French Open Djokovic has been taking large chunks out of Nadal's lead at the top of the world rankings, to the point where the Wimbledon and US Open champion is now the favourite to finish the year as world No 1.
Nadal, who is returning to competition after nearly two months out with injury, goes into this week's Rolex Paris Masters with a lead at the top of the rankings of just 215 points over Djokovic, who has enjoyed a remarkable run since the summer.
Djokovic trailed Nadal by 7,105 ranking points going into the grass-court season, when he was world No 21, but his 7-5, 6-1 victory over Joao Sousa in his opening match here on Tuesday evening was the world No 2's 28th win in the 29 matches he has played since his loss to Marin Cilic ​in the final of the Fever-Tree Championships at Queen's Club in June. In that period he has won Wimbledon, the US Open and Masters Series tournaments in Cincinnati and Shanghai.
US Open final: Novak Djokovic vs Juan Martin del Potro

Show all 11
Djokovic leads Nadal by 27 wins to 25 in their head-to-head record, but in the battle for the year-end world No 1 ranking – which will be decided at next month's Nitto ATP Finals in London, whatever happens here – the 31-year-old Serb should draw even greater encouragement from another set of statistics.
Of the 80 titles Nadal has won, the Spaniard has won only four in the period between the US Open and the end of the season: the China Open in 2005 and 2017, the Madrid Masters in 2005 (when it was played indoors in October) and the Japan Open in 2010. Djokovic, in contrast, has won a remarkable 22 of his 72 career titles in the same post-US Open period.
While Nadal can seem almost a spent force after his efforts in the first half of the year, Djokovic has generally performed more consistently throughout the campaign and comes good in the latter part of the season in particular. Thriving on hard courts and in indoor tournaments, he has won the China Open six times, the year-end finals five times and the Shanghai and Paris Masters four times each.
Nadal's fitness, meanwhile, is often a major concern at this stage of the year. He has qualified for the year-end finals for 14 years in a row but failed to take part because of injury on five occasions. Last year he played only one match at the O2 Arena before withdrawing because of knee trouble.
A recurrence of tendinitis in the knee forced Nadal to retire from his US Open semi-final against Juan Martin del Potro seven weeks ago. The 32-year-old Spaniard has not played since, but with the world No 1 ranking in the balance he is making his comeback here in the city where he was won 11 of his 17 Grand Slam titles. He has a tricky opening match on Wednesday against his fellow countryman, Fernando Verdasco.
Nadal said he had rested after the US Open and had not pushed himself too hard since resuming practice. "I just go day by day," he said. "I am happy to be here. I am feeling better on court. I am practising a little bit more every day, trying to improve the positive feelings. This city is so special for me, so that's a little bit more motivation to be here."
He added: "I am not thinking about big improvements or big things. I am just thinking about small improvements. That's the goal."
Nadal, who has been world No 1 for all but eight weeks since August 2017, said that his latest injury was "nothing new" for him.
"It's something that has happened in my career a couple of times," Nadal said. "We know the process more or less and we know what works well and what doesn't work so well. We are trying to do things our way, staying calm and positive every day. We know that things do not change very quickly with this type of injury."
Djokovic, who last topped the world rankings in November 2016, said that after reuniting with long-time coach Marian Vajda in the spring he had set a target of peaking again at this summer's US Open, only to reach that goal at least two months early.
"Of course we are very, very pleased with what was achieved in the last four or five months," Djokovic said. "With Rafa's injury and him not playing in China and so forth, it has put me in a position to be very close to him in the rankings and to fight for the year-end No 1. I'm of course aware of that and I'm going to give my very best to try to achieve it.
"At both the US Open and Shanghai, I've played as well as I ever have. I'm really enjoying my tennis at the moment and enjoying competing. Obviously when you're winning that many matches you have a lot of confidence."
He added: "I don't want to sound pretentious or arrogant but I always knew and believed that I could get back to this level."
Join our new commenting forum
Join thought-provoking conversations, follow other Independent readers and see their replies