Andre Agassi unlikely to provide the long-term solution to Novak Djokovic's problems, says John McEnroe
McEnroe doesn't think Agassi will be able to help Djokovic rediscover his best form unless he's willing to devote a lot more of his time to working with the former World No 1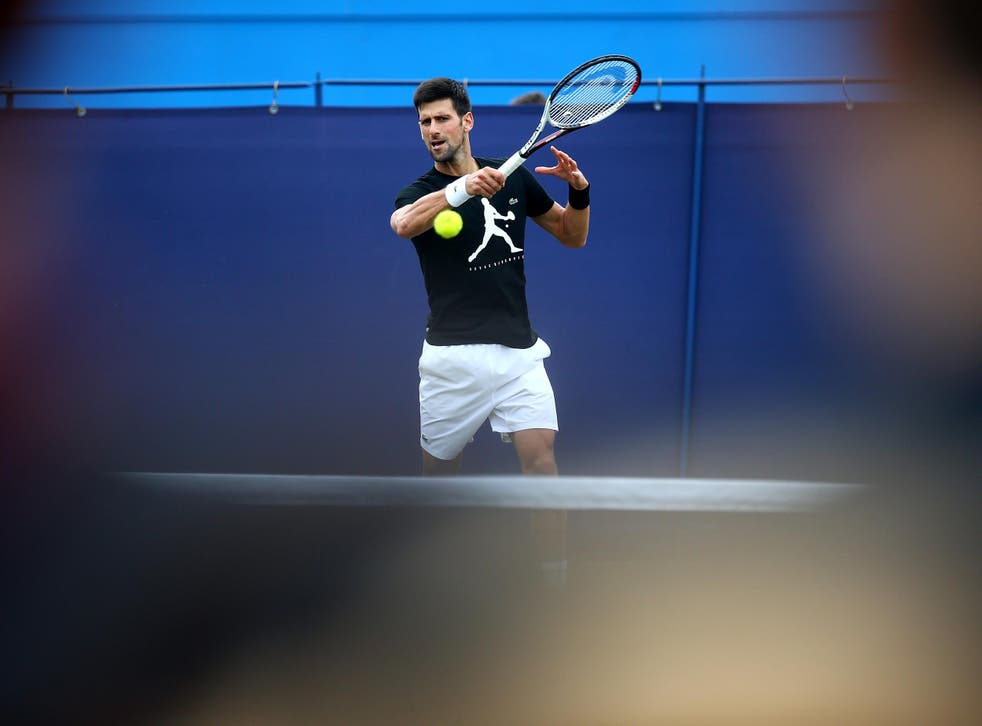 John McEnroe believes that Andre Agassi will not provide a long-term solution to Novak Djokovic's problems unless his fellow American is prepared to devote more time to working with the former world No 1.
Djokovic, whose latest attempt to revive his fortunes will be to play in this week's Aegon International at Eastbourne, turned to Agassi last month after dismissing his entire coaching team.
Agassi worked with the Serb at the French Open but left Paris before the end of the first week because of other commitments.
Djokovic, who said that he hoped to work again with Agassi at Wimbledon, which starts next week, went on to lose to Dominic Thiem in straight sets in the quarter-finals.
"It looks great on paper when you bring in Andre Agassi, and it is great for tennis," McEnroe said.
"He did have this career renaissance, so there are reasons why it makes sense, but it is hard to think that could make sense so fast. If you leave after the first week or you're only there for a few days, with any person it's going to take some time."
McEnroe said he did not expect the partnership to be successful in the long term if the two men worked together only for "very brief moments", though he thought Agassi could make a difference if he was able to find a window of a month or more to be with Djokovic.
Agassi, however, has many other interests, including the charter school he set up in his home city of Las Vegas. He also revealed in Paris that he was not taking any payment for his time with Djokovic.
McEnroe, who will be part of the BBC's commentary team at Wimbledon, recalled his own situation last summer, when he joined Milos Raonic's coaching team for the grass-court season.
Although his time during Wimbledon was restricted by his broadcasting commitments, McEnroe worked with the Canadian before, during and after the Aegon Championships at Queen's Club. Raonic reached the finals at Queen's and Wimbledon, losing to Andy Murray on both occasions.
"If I showed up two days before Wimbledon, at that point it is really hard to make any impact," McEnroe said.
"At the very least, you need what I had – [time] to get a feel for his routine and what makes him tick and to see what you can add. There is no question that Andre could add something and personally I would like to see that work because it would be good for the sport."
Djokovic dropped to No 4 in the world rankings – his lowest position for eight years – after the French Open. Since winning at Roland Garros last summer, when he became the first man since Rod Laver in 1969 to hold all four Grand Slam titles at the same time, Djokovic has won only two titles and made, by his standards, early exits at Wimbledon, the Australian Open and French Open.
Last summer the Serb talked of off-the-court problems he had been dealing with, but insisted by the end of 2016 that they had been resolved.
"I suppose we shouldn't be totally shocked that he had a let-down after becoming the first guy in 47 years to hold all four Slams," McEnroe said. "I don't know exactly what happened, but we've seen how the off-court stuff has affected him. He hasn't found the balancing act and that contributes to this whole thing."
He added: "It's hard to enjoy it so much when you have had the type of success he has had and you are losing early. Let's face it, that is less enjoyable.
"When I go out now and play a dumb seniors match, it still feels better when I walk back in having pulled off a win than if I had lost. And I'm 58 years old.
"You can imagine when the stakes are so much higher that it is pretty hard to feel good about it when you get some better perspective. I think he is just trying to figure out the balancing act that is required to be the man you want to be and the player you need to be.
"From an emotional standpoint, he perhaps felt he wanted to bring in somebody who wants to give people a lot of hugs.
"That does not necessarily translate to having that killer instinct. It does not automatically lose it, but you don't want to get into a situation where it is all peace and love and then have to go out and try to stomp on somebody's head in competition."
Since 2010 Djokovic has not competed in any warm-up grass-court tournaments before Wimbledon, preferring instead to play just one or two matches at exhibition events a few days before competition starts at the All England Club.
However, the Wimbledon champion of 2011, 2014 and 2015 has accepted a wild card into Eastbourne, where he will face Vasek Pospisil or Jiri Vesely in his opening match after a first-round bye.
The next highest ranked man at Eastbourne will be Gael Monfils, the world No 16, who lost in the first round at Halle last week.
These days it is very rare for the top men to play in tournaments the week before a Grand Slam event as they prefer instead to focus on practice. If Djokovic were to triumph at Wimbledon next month he would be the first man to win a Grand Slam title having competed in the preceding week since Pat Rafter won the 1998 US Open.
McEnroe has sympathy with Djokovic, whose wife, Jelena, is expecting their second child later this summer. McEnroe won the last of his seven Grand Slam titles at the age of 25 and took a seven-month break from the sport in 1986 when his future wife was expecting their first child. He was still only 27 when he returned but never reached another Grand Slam final.
"I was trying to juggle family and wanting to put some time to being a father and husband," McEnroe said.
"I had also exerted a lot of energy and effort for eight years to get to that stage where I felt I needed to regroup. I never got back to that level. The reason I took time off was to get better, but it didn't happen.
"In retrospect, if you had asked me to map out what I would have done differently, I would have taken the entire year off, regrouped and started over. I felt pressure to come back personally because of contracts, rankings. I think that's the wrong reason to come back."
Asked if he thought Djokovic might take a break, McEnroe said: "His best surface if you look at his record is hard courts, so I would say that the end of the US Open would be when he would decide if he needed to take significant time off, if he is going to do that. I would be amazed if it was before then."
McEnroe said that the examples of Roger Federer and Rafael Nadal, who both took time off last year and have come back refreshed in 2017, have shown how beneficial breaks can be.
"It had appeared that Murray and Djokovic had blown by those two guys, but now it's been their turn to blow past them," McEnroe said.
"It was the most exciting moment of 2017 watching Federer and Nadal play in the Australian Open final. What were the odds on that happening?"
In McEnroe's opinion a wake-up call in terms of some surprising defeats can be of benefit to top players and he is not so concerned by Murray's in-and-out form. The Scot lost first time out at Queen's Club last Tuesday and is set to play two exhibition matches at Hurlingham this week.
McEnroe puts Murray's struggles down to the super-human efforts he made at the end of last year to become world No 1. "I think Andy is different," McEnroe said.
"His situation seems much more settled. He just spent himself trying to do something that maybe even he thought wouldn't have happened with those three other guys in front of him."
John McEnroe is part of the BBC Sport team for Wimbledon 2017. Coverage of The Championships is on BBC TV, radio and online from 3-16 July
Register for free to continue reading
Registration is a free and easy way to support our truly independent journalism
By registering, you will also enjoy limited access to Premium articles, exclusive newsletters, commenting, and virtual events with our leading journalists
Already have an account? sign in
Register for free to continue reading
Registration is a free and easy way to support our truly independent journalism
By registering, you will also enjoy limited access to Premium articles, exclusive newsletters, commenting, and virtual events with our leading journalists
Already have an account? sign in
Join our new commenting forum
Join thought-provoking conversations, follow other Independent readers and see their replies