Porsche Tennis Grand Prix: Johanna Konta keen to put defeat to Anna-Lena Friedsam into perspective
The 24-year-old's first match of the clay-court season ended in a 6-3, 6-3 defeat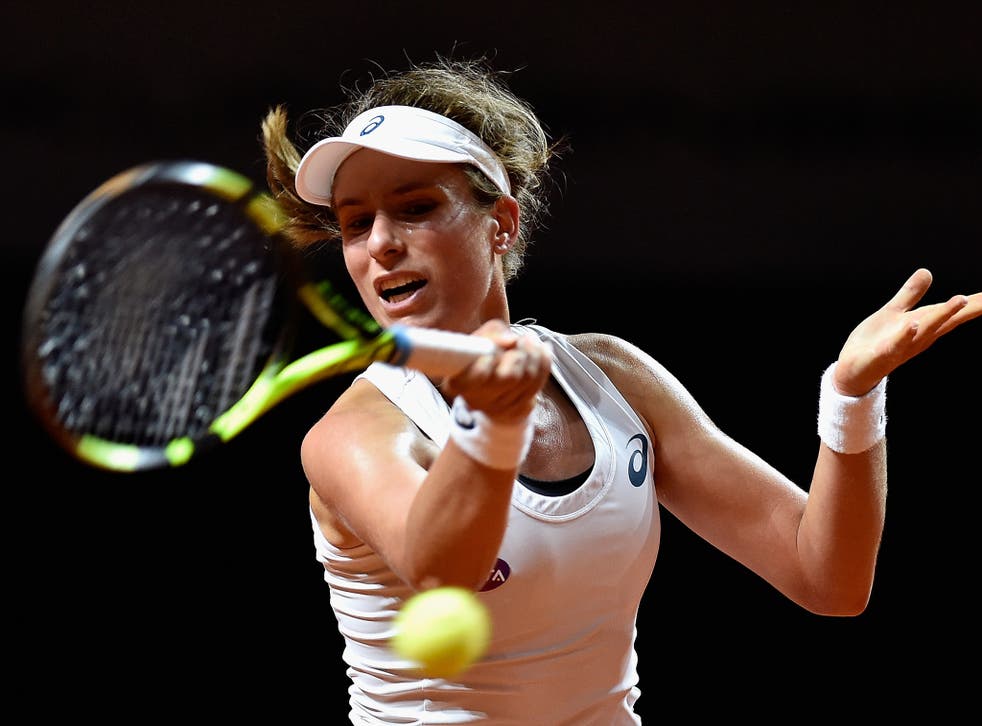 Going out in the first round of a tournament is not what any player wants, but Johanna Konta was keeping everything in perspective after losing 6-3, 6-3 to Germany's Anna-Lena Friedsam here at the Porsche Tennis Grand Prix.
It was the 24-year-old Briton's first match of the clay-court season and she can still look forward to the doubles, in which she will partner Laura Siegmund against Caroline Garcia and Kristina Mladenovic in the first round.
There are also some off-court advantages to playing in this tournament, with the sponsors making their products available for the players to test-drive. Konta has been behind the wheel of a Porsche for the last two days and even took her father out for a spin. "We didn't get to the autobahn, which was a little disappointing," Konta smiled.
This was the world No 22's fifth tournament since the Australian Open, where she made the semi-finals, and the first since Melbourne in which she has failed to win a match. In her previous appearance she had enjoyed a good run in Miami, where she reached the quarter-finals before losing to Victoria Azarenka, the eventual champion.
Friedsam has also made good progress this year. Having ended 2015 ranked No 99 in the world, the 22-year-old German has since climbed to No 52 thanks largely to a fourth-round appearance at the Australian Open. Here Konta got to 3-3 in both sets but then made too many errors as she tried to rush the points instead of building the rallies.
Konta, who arrived in Germany after practising for 10 days on the clay courts at the National Tennis Centre at Roehampton, said: "The first match of the year on clay isn't easy for anyone. I think she did a better job than I did dealing with the conditions. I'm happy I'm involved in doubles here. All the matches I can get on clay going into Roland Garros will be an added bonus.
"I just don't think I did enough in terms of getting Anna-Lena out of her comfort zone. I think I need to give myself time and keep things in perspective. This was my first match on clay for nearly a year, so I need to go a little easy on myself and keep looking forward."
She added: "On hard courts you grow used to generally playing shorter points and getting certain responses from certain shots that you hit – which may differ on a clay court because the ball obviously slows down a bit.
"More balls are always going to come back than would happen on a hard court. It's just a question of adapting. You also get sore in different areas. My body is adjusting to the surface and the different movement that comes along with it.
"I think once you can find your bearings and are less like Bambi on ice the sooner you are able to play the kind of tennis that you need to on this surface. The better you are able to stay in the points the better you are able to set up for your shots."
Konta believes that clay is a surface on which she can do well. "I've had good results on clay in the past and I really enjoy it," she said. "I keep maintaining that I don't have a favourite surface."
It is easy to forget that 12 months ago Konta was ranked No 138 in the world and playing in minor tournaments. One of her big breakthroughs came at last year's French Open, where she made the main draw after winning three matches in qualifying. However, Konta traces the start of her rapid rise to the weeks before Roland Garros.
"I definitely played three very good matches in Paris, but I had many matches on clay under my belt before I went into that tournament," she said. "I actually had many matches in general because I played the whole of April in the US at some Challengers and had a very good time there."
Konta's present plan is to play in Madrid and Rome before heading to the French Open, where she is set to be seeded at a Grand Slam event for the first time.
However, Konta dismisses the idea that being seeded will give her a major advantage in Paris. "Like we saw today, Anna-Lena is No 52 in the world and I think it matters less and less where you are in the draw, because every player you're going to encounter is going to be an incredibly tough challenge," she said.
"That's a wonderful aspect of our sport right now. The depth and the level within it is getting higher and higher. It's great for women's tennis to have such a level through the rankings."
Join our new commenting forum
Join thought-provoking conversations, follow other Independent readers and see their replies